Toyota 4Runner
Model Overview
New Toyota 4Runner


Used Toyota 4Runner
Toyota 4Runner
Overview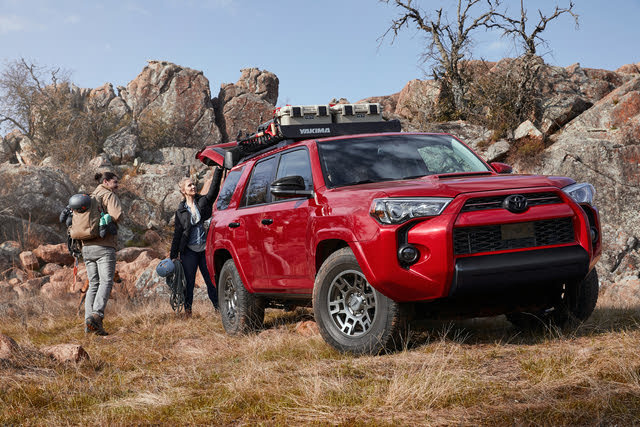 Though today's roadways play host to a vast assortment of car-based crossovers, it wasn't all that long ago when shoppers were clamoring for the latest and greatest—if not simply the largest—SUV. Unlike crossovers, SUVs are rugged, body-on-frame vehicles that trade efficient use of space and fuel for capability, whether it be hauling heavy loads or crawling over rocks. Such has been the appeal of the Toyota 4Runner, a rear-wheel-drive (RWD) or 4-wheel-drive (4WD) model that has filled that role since it was first introduced in the mid-1980s. Now, as one of the few midsize SUVs still on the market, the up-to-7-passenger 4Runner continues to attract buyers who want to venture far off the beaten path, or at least want to know their vehicle can do so at a moment's notice. Within Toyota's lineup, the 4Runner is positioned above the RAV4 compact crossover and alongside the Highlander midsize crossover.
CarGurus has reviewed the Toyota 4Runner several times in recent years, recognizing it with the following overall scores: 8.2 (2014), 7.3 (2015), and 7.2 (2016, 2019).
Pros: Off-road capability, resale value
Cons: Fuel economy, lack of engine choices and refinement, dated design, absence of key features, mediocre safety scores
Model Generations
2010-Present Toyota 4Runner: 5th Generation
In car design terms, 10 years might as well be a century. But, that's exactly how long it's been since Toyota introduced the latest iteration of its venerable midsize SUV. The fifth-generation 4Runner debuted for the 2010 model year, offering somewhat tighter interior accommodations compared to its predecessor and sharing various bits and pieces with the Tacoma pickup an FJ Cruiser SUV. Available with standard 5-passenger or optional 7-passenger seating, the 2010 4Runner could be ordered in Base, SR5, Limited, or Trail Edition guise and, depending on configuration, RWD or a choice of part-time or full-time 4WD systems. Under the hood, the previous generation's V8 engine was gone, though the 4.0-liter V6 and 5-speed automatic transmission pairing carried over with a bump up to 270 horsepower. This year also saw the introduction of an available 157-horsepower 2.7-liter 4-cylinder engine (used in the Tacoma, as well) mated to a 4-speed automatic gearbox. These mechanical changes led to towing capacity dropping from a maximum of 7,300 lbs. to 5,000 lbs., though EPA-rated highway fuel economy registered a rather impressive 23 mpg for the 4- and 6-cylinder engines.
Nothing noteworthy changed for 2011 and, not surprisingly, the underpowered 4-cylinder engine was dropped for the 2012 model year. A few slight equipment revisions were also made, but it wasn't until 2014 that the 4Runner saw several enhancements. These included a freshened appearance highlighted by a massive new grille and slimmer headlights, interior tweaks, and added safety features like a rearview camera and anti-sway control for towing.
For 2015, the Toyota 4Runner lineup expanded with the launch of the off-road-oriented TRD Pro trim level and its upgraded suspension components. Fast forward to 2017 and the lineup changed once again, with the discontinuation of the Trail Edition and the addition of SR5 Premium, TRD Off-Road, and TRD Off-Road Premium variants. Various package updates followed in 2018, and then a black-accented Nightshade Special Edition arrived for the 2019 model year. CarGurus tested the 2019 4Runner, ultimately recommending the SR5 Premium 4WD model based on its available features and sub-$40,000 starting price.
As the Toyota 4Runner entered the 2020 model year, it underwent a host of significant upgrades, the least of which was the introduction of a Venture trim level accented by unique wheels and a standard roof rack. More importantly, the list of standard features for all 2020 4Runner's grew to include adaptive cruise control, lane-departure and pre-collision warning systems, automatic high-beam headlights, and an 8-inch touchscreen infotainment system with Apple CarPlay, Android Auto, and Amazon Alexa compatibility. This focus on tech had been sorely missing in the 4Runner.
A new, sixth-generation 4Runner is said to be in development but, at the time of this writing, no details have been released.
2003-2009 Toyota 4Runner: 4th Generation
Aside from pickup trucks and some best-selling cars, few vehicle nameplates have been around consistently for more than 30 years. 4Runner is one of those, dating back to the original model debut for the 1984 model year, and subsequent redesigns in 1990 and 1996.
By 2003, Toyota had completed its fourth overhaul of the 4Runner. What had once been a rather bare-bones 2-door SUV with a removable hardtop had transformed into a relatively sophisticated, 4-door multitool. Larger than the model it replaced, the 2003 Toyota 4Runner provided seating for 5 and, for the first time, an optional 4.7-liter V8 boasting 235 horsepower and 320 pound-feet of torque. This engine was mated to a 5-speed automatic transmission and was shared with the Tundra pickup, which debuted a few years earlier. The extra muscle pushed the 4Runner's towing capacity to an impressive 7,300 lbs. Alternatively, shoppers could opt for the standard 4.0-liter V6 with its 245 horsepower and 282 lb-ft of torque, all routed through a 4-speed automatic transmission to the rear or all 4 wheels. According to the EPA, a RWD 4Runner equipped with the V6 would average 20 mpg on the highway. Trim levels for the 2003 4Runner included the SR5, Sport, and Limited.
Typically, little changes immediately following a redesign, yet the 2004 4Runner offered a newly available reversing camera and third-row seat. For 2005, the 4-speed automatic transmission was dropped and the V8 gained horsepower (figures were later revised to 236 horsepower for the V6 and 260 horsepower for the V8), while the 2006 4Runner was treated to freshened styling.
As the fourth-generation Toyota 4Runner entered what would be the end of its run, standard side-curtain and front-side airbags were added and then, in 2009, a Trail Edition model arrived with locking differentials and other upgrades.
Shoppers Also Consider
Toyota's old-school 4Runner hasn't changed a great deal over the years, but its competitors have. Vehicles such as the Nissan Pathfinder, once a genuine SUV ready to tackle gnarly terrain, have since morphed into crossovers with less off-road capability. The same can be said, to varying degrees, of models like the Ford Explorer and Chevrolet Blazer. That leaves only two primary competitors: the Jeep Grand Cherokee and Jeep Wrangler Unlimited.
Given the shift in buyers' preferences, its shrinking segment, and its antiquated design, one would assume the 4Runner's best days were in the past. Oddly enough, that's not the case. In fact, 2018 marked the 4Runner's best sales year with nearly 140,000 units sold. Clearly, there remain plenty of buyers for rugged body-on-frame SUVs.