Toyota 4Runner
Model Overview
New Toyota 4Runner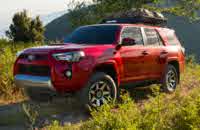 Used Toyota 4Runner
Toyota 4Runner Questions
Four Wheel Drive Light Want Come On Or Engage .
My Trac off light is my abs light is on cel is on my four wheel drive light want come on or engage . It runs rough an sometimes on 40 mph an it's a 2016
Toyota 4Runner,
I have a 2003 Toyota 4 runner the traction control light came on along with the check engine light any ideas
Check Engine Light Along With The VSC Trac And VSC Off Lights????
My Check engine light along with the trac control and 2 other lights came on a lot. I ended up replacing the gas cap. Worked for a couple months. Now, whenever my gas tank falls below the 1/4 tank l...
Activate And Deactivate My 4runner's 4 Wheel Drive System, I Bought It Used...
how do i activate and deactivat my 2001 4runner's 4wheel drive system, i bought it used with no manual
2013 4 Runner Shakes
As I start to accelerate, my 4 runner will shake really bad. As I gain speed or just gun the gas, its stops.
Older Toyota 4Runner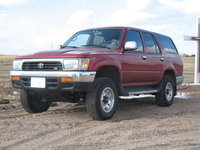 1994 Toyota 4Runner reviews: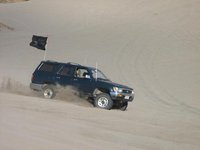 1993 Toyota 4Runner reviews: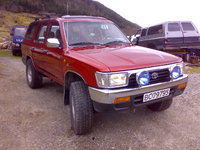 1992 Toyota 4Runner reviews:
1991 Toyota 4Runner reviews: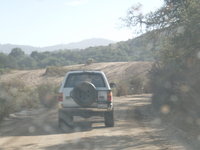 1990 Toyota 4Runner reviews: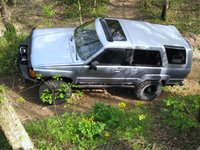 1989 Toyota 4Runner reviews: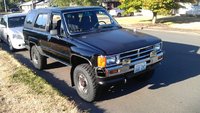 1988 Toyota 4Runner reviews: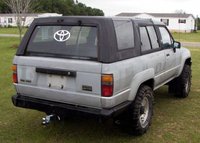 1987 Toyota 4Runner reviews: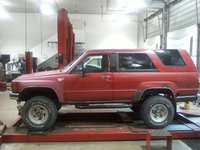 1986 Toyota 4Runner reviews: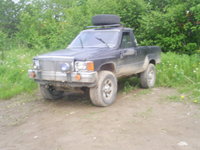 1985 Toyota 4Runner reviews: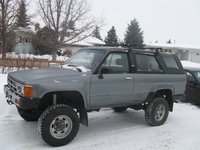 1984 Toyota 4Runner reviews:
Toyota 4Runner
Overview
From a covered-up pickup truck to a near-luxury sport utility vehicle, the Toyota 4Runner has had a mixed history since its introduction in 1984.
The first generation of the 4Runner was identical to the Toyota Pickup, but with a fixed canopy on the bed. The original vehicles were panned for being unsafe--they were nearly undrivable at highway speeds and extremely likely to topple over. Later versions had a wider wheelbase and many other safety features.
The 4Runner has gone through a stunning transformation, going from a cobbled-together pickup in disguise to a fully formed, comfortable SUV with available options like a V8 engine. Toyota also upgraded the exterior, and the newer versions suggest a mini Land Cruiser.
This mid-size SUV has had the option of having the same engine put into much larger vehicles, such as the Land Cruiser and Sequoia. As a result, this sporty SUV can have great pick-up and is generally fun to drive. It has remained one of the longest-lasting and most dependable SUVs. It can be an awesome off-road vehicle.