Toyota Highlander
Model Overview
About the Toyota Highlander
Available Now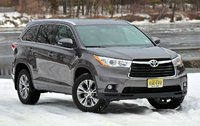 The innovative Toyota Highlander broke new ground when it debuted at the 2000 New York Auto Show for the 2001 model year, as it was the first vehicle to combine a car-like ride with SUV flexibility and convenience, creating the midsize crossover SUV automotive segment. Based on the Lexus RX 300, which debuted at about the same time, the Highlander kicked off a new wave of vehicles that now numbers more than 20 competitors, including the Honda Pilot, Ford Edge, Chevy Traverse, Nissan Murano, Kia Sorento, Hyundai Santa Fe, and the Mazda CX series.
Rather than build the Highlander on a truck platform, like the larger 4Runner, Toyota borrowed a front-wheel-drive (FWD) platform from the Camry, which it also used for the RX 300. As a result, the Highlander delivered a sedan-like ride, as well as the functionality of a minivan and the cargo space of an SUV. Although initially available as a two-row, five-passenger vehicle, Toyota soon offered an optional third-row seat, which expanded seating capacity to seven.
Early testers praised the Highlander's nimble handling, good road manners, and smooth, supple ride, as well as its overall performance on paved surfaces. The Highlander also performed well off-road when equipped with optional full-time four-wheel drive (4WD), which split torque 50/50 between the front and rear wheels during normal driving conditions, but sent additional torque to specific wheels when it detected slippage.
Currently in the middle of its second generation, which debuted in 2008, the Highlander receives a mid-generation refresh for 2011. Updates include a new front fascia, hood, and bumpers, as well as redesigned headlights and taillights. Toyota continues to offer the Highlander in Base, SE, and Limited trims, available in either FWD or 4WD. Among other features, the SE receives a power liftgate as standard equipment for 2011, while the Limited gets new 19-inch wheels and silver roof rails. Both the SE and Limited trims receive a new Tech Audio system with XM satellite radio and Bluetooth.
In addition, Toyota adds a third-row bench seat as standard equipment for all Highlander trims for 2011. Previously, the third-row seat came standard in Limited trims and was optional for the other trims. The third-row bench folds down, so owners can convert it to a flat cargo area. The 40/20/40 second-row bench seat includes the Center Stow feature, which allows owners to fold up the center section of the seat and stow it in an area under the front center console, enabling passengers to walk down the middle of the vehicle to the rear seat.
Power for the Highlander Base and SE trims comes from a 187-hp, 2.7-liter four-cylinder engine, which joined the lineup in 2009. The EPA estimates fuel-economy numbers for the four-cylinder engine at 20/25 mpg. It mates to a six-speed electronically controlled automatic transmission. The Limited trim retains its 270-hp, 3.5-liter V6 engine, which links to a five-speed automatic with a manual-shift feature. The V6 is available as an option in the other two trims, and manages fuel economy numbers of 18/24 mpg for FWD trims and 17/22 for 4WD trims.
In addition, Toyota offers the Highlander in a Hybrid trim, powered by a Hybrid Synergy Drive consisting of a high-torque electric motor and a new 3.5-liter V6. Combined output for the hybrid powerplant totals 280 hp. Outside, the Highlander Hybrid displays a unique grille and bumpers, as well as chrome accents and vertically stacked foglights. For 2011, Toyota offers a new Leather Package for the Hybrid, which includes leather-upholstered heated front seats, a leather-trimmed steering wheel, and a power moonroof. The Hybrid posts fuel economy numbers of 28/28 mpg.
Throughout its production run, the Highlander has scored generally good marks with reviewers, who like its exterior styling, upscale features, interior versatility, and overall affordability. However, some reviewers would like to see more horsepower under the hood, while others find the suspension tuning a little too soft. Other nicks against the Highlander include its numb steering and somewhat bland interior.
Model History
Debuting with the 2001 model year, the Toyota Highlander initially came in Base and Limited trims, with seating for five passengers in two rows. Geared toward families who spent most of their time shuttling kids around town to school and sports activities, the first-generation Highlander turned heads by mashing up the best attributes of an SUV, a minivan, and a station wagon. It sat on a 106.9-inch wheelbase, and overall length measured 184.3 inches, which resulted in a roomy cabin and a comfortable ride.
The Base trim came equipped with such features as cruise control, air conditioning, a CD player, and 17-inch alloy wheels, while the SE added a power moonroof and heated front seats. The Limited included three-zone automatic climate control, a power-adjustable driver's seat, keyless entry, and 19-inch alloy wheels. Owners could add an optional Leather Package, which included heated front seats, to either trim.
Power for the first-generation Highlander came from a 155-hp, 2.4-liter four-cylinder engine or an optional 220-hp, 3.0-liter V6, which linked to a four-speed automatic transmission. Both trims were available with either FWD or 4WD. Fuel economy numbers topped out at 27 mpg on the highway with the four-cylinder engine in a FWD trim.
The first-generation Highlander came standard with antilock brakes with electronic brake distribution and brake assist. Owners could add Toyota's Vehicle Skid Control system, which included traction control, as an option. Dual front airbags were also standard, while side-impact airbags were optional.
In 2004, Toyota gave the Highlander a mid-generation refresh. Exterior updates included a new grille, updated bumpers, and redesigned headlights. Toyota also offered an optional third-row seat, expanding passenger capacity to seven. In addition, the automaker replaced the four-speed automatic transmission in V6-powered trims with a five-speed automatic. The four-speed remained in four-cylinder trims. Toyota added traction control to the standard equipment list.
The Highlander Hybrid debuted at the 2004 North American International Auto Show in Detroit, and went on sale in mid-2005 for the 2006 model year. It came standard with three rows of seating, making it the first seven-passenger hybrid vehicle, and came with either FWD or 4WD.
Toyota also added a new Sport trim to the lineup in 2006. The Sport came equipped with a unique grille and wheels, among other features, and rode on a sport-tuned suspension. In addition, Toyota added its stability control system, called Vehicle Stability Control, as a standard feature for the Limited trim in '06.
In 2007, side-impact airbags became standard equipment, and Toyota gave the Highlander a few exterior design updates, including new chrome door handles, color-keyed mudguards, foglights, and chrome exhaust tips. Inside, the Highlander received an upgraded audio system.
For the second-generation Highlander, which debuted at the 2007 Chicago Auto Show for the 2008 model year, Toyota stretched the wheelbase by nearly 3 inches, to 109.8 inches, while overall length measured 188.4 inches, an increase of 4.1 inches. As a result, interior cargo space increased from a maximum of 81.6 cubic feet for the first generation to a maximum of 95.4 cubic feet.
All 2008 trims were powered by a new 3.5-liter, 270-hp V6, borrowed from the Camry and the RAV4. Due to the Highlander's increased weight, the automaker dropped the 2.4-liter four-cylinder engine from the lineup. However, Toyota introduced a new, environmentally friendly 187-hp, 2.7-liter four-cylinder in 2009. The new four cylinder drove five-passenger FWD trims.
Standard safety features for the 2008 Highlander included front side-impact airbags, traction control, and hill-start assist, as well as antilock brakes. Toyota continued to equip the Limited trim with Vehicle Stability Control system, which was optional on the other trims.
In 2010, Toyota replaced the Sport trim with the SE trim and added electric power steering to the standard feature list. In addition, the automaker offered a new towing package for the Highlander, which increased towing capacity to 5,000 pounds.
Used Versions
Prospective buyers have two distinct choices when shopping for a used Highlander. First-generation trims helped pave the way for the crossover SUV segment, with their innovative design concept. For its first three years of production, the Highlander offered five-passenger seating. A third-row seat, which came standard in Limited trims and optionally in the other trims, was introduced in 2004, expanding seating capacity to seven. However, third-row legroom proved too tight for most adults to ride comfortably.
The second-generation Highlander, which debuted in 2008, added more interior space as well as more cargo space, so buyers who require a still-tight but usable third row of seating, as well as maximum cargo space, should look for second-generation trims.
Another difference between pre- and post-2004 trims concerns access to the spare tire. Prior to the arrival of the third-row seat in '04, owners could access the spare tire from the cargo area inside the vehicle. However, after 2004, the spare tire was accessible only from under the vehicle, due to the placement of the third-row seat.
Buyers who place a premium on safety will want to look for Highlander trims built after 2004, when traction control became a standard feature. In addition, the Limited trim was equipped with stability control starting in 2006. The system was optional on other trims.
Buyers should also be aware the Highlander was among the vehicles affected by the recall problems a few years ago, which involved possibly defective gas pedals. Prior to purchase, buyers should ensure any necessary repairs concerning the gas pedal have been made to the vehicle.
New Toyota Highlander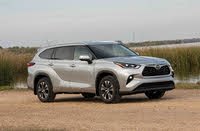 Used Toyota Highlander
Toyota Highlander Questions