Nissan Pathfinder
Model Overview
New Nissan Pathfinder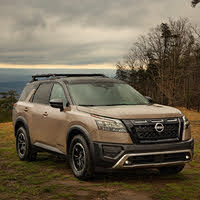 The 2023 Nissan Pathfinder has been announced, but it is not yet available for purchase.
Used Nissan Pathfinder
Nissan Pathfinder Questions
Nissan Pathfinder
Overview
The Nissan Pathfinder is a midsized SUV, now larger than the Xterra and Murano but smaller than the Armada. The Pathfinder is a truck-based SUV and is currently based on the Frontier platform.
The Pathfinder originally came in a two-door body style only, but switched to four-door in 1990. Early Pathfinders had the appearance of a truck with a canopy fused on top.
As sport utility vehicles grew in popularity, the Pathfinder evolved into a more sophisticated and comfortable vehicle. The corners became more rounded, and overall the Pathfinder grew into a larger and more attractive vehicle.
The Pathfinder was last redesigned in 2005, and a new Pathfinder is expected in 2008.