Jeep Grand Cherokee
Model Overview
About the Jeep Grand Cherokee
Available Now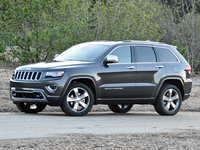 Welcome back, Jeep fans - your Grand Cherokee off-road pro has finally arrived with the upscale feel, fuel-efficient power, car-like grace and elbow room you so dearly craved out of previous generations. The 2011 overhaul improved on nearly everything about this family-fun-size outdoor warrior, bringing it once again to the top of the shopping list.
Although the JGC still seats just 5, the 2011 edition finally offers ample room for fully grown folk in the rear. The new baseline engine takes charge of any path - beaten or otherwise - with 290 horses raging out of the 3.6-liter V6, and it will go the distance on 16 mpg city/22 highway in four-wheel drive (4WD). A new fully independent suspension softens the ride, while the quiet and elegant cabin invites riders to explore worlds unknown and bring something back in the improved cargo area.
Whether you opt for the Laredo, Limited or Overland flavor, each offers a 5-speed automatic transmission and rear-wheel drive (RWD) by default with several advanced 4WD options - all of which are available in any flavor except for the Overland-exclusive Quadra-Lift air suspension. Otherwise you can get a standard four-wheel-drive experience with Quadra-Trac I, opt up for the Quadra-Trac II for selectable terrain options and hill controls, or control every bit of power on every wheel with Quadra-Drive II.
Towing up to 7,400 pounds is no problem for the JGC when properly equipped, and that "proper equipment" starts with the optional 360-hp 5.7-liter V8. Although you lose about 3 miles on every gallon compared to the V6, the additional gears below and above the usual 5 for this engine definitely put the "utility" in Sport Utility Vehicle.
Standard equipment includes 17-inch alloy wheels, automatic headlights, fog lights, cruise control, keyless ignition, dual-zone air conditioning, power driver seat, tilt-and-telescoping leather-wrapped steering wheel and a 6-speaker system with satellite radio, auxiliary audio jack and CD player - but you will have to ante up for the Security and Convenience option package for USB, iPod and Bluetooth connectivity, among other things. Also available for the Laredo are a back-up camera, power passenger seat, leather upholstery and a serious radio upgrade with touchscreen.
The Limited, however, gains all the Laredo's optional equipment plus 18-inch wheels, bi-xenon headlights, rear parking sensors, automatic wipers, auto-dimming mirrors, dual-pane panoramic sunroof, dual-zone automatic climate control, driver memory functions, heated seats all around and a leather-wrapped shift knob.
Options include powered tailgate and steering-wheel adjustment plus a heated steering wheel, ventilated front seats, navigation system, real-time traffic, 30GB of storage for your driving tunes and big 20-inch wheels. The Overland gets all that plus special wood-and-leather interior touches and the option of a Sirius Backseat TV entertainment system with a normal sunroof.
In terms of promised features, space and power, the 2011 Jeep Grand Cherokee breathes new life into the nameplate and sets it up to be a real contender. Unfortunately it looks like this Jeep is just like every other - you could get lucky, or you could end up in the repair shop for weeks on end trying to figure out a phantom issue. Even the Overland is not exempt from the odd problems cropping up in everything from the radio to the transmission, including most commonly the key fob and suspension.
Perhaps the 2012 will address those issues along with the exciting re-introduction of the ultra-powerful SRT8. So far they say the new engine brings it from 0 to 60 in just 4.8 seconds - if that's true, the Jeep Grand Cherokee just might redefine "muscle car."
Model History
The Ford Explorer started a revolution, and the Grand Cherokee was Jeep's quick response to the new demand for a family-size urban sport utility. Although its Cherokee was still selling well at the time, Jeep wanted to offer something that was still nimble on-road and off, but with an urban style and more comforts for the modern family than the standard Cherokee could offer.
The Grand Cherokee has since become one of the top-selling SUVs and even at its birth gained a significant market share due to certain design aspects that put it well ahead of its time. Only recently have other automakers made the move to a unibody chassis for their SUV lineup, but the Grand Cherokee was born that way, immediately benefitting from car-like handling, entry and safety.
The Grand Cherokee then continued to lead the curve with its advanced four-wheel-drive (4WD) technology and generous features, but fell from grace toward its third generation as the competition continued to offer more room for legs and cargo on top of setbacks from poor reliability and a low-budget look and feel.
The first Grand Cherokee debuted for 1993, just 2 short years after Ford's Explorer, and already came equipped with a driver-side airbag and 4-wheel ABS. The base model, Laredo and Limited all used a 5-speed manual transmission by default for the standard 190-hp 4-liter V6 engine with three distinct 4WD systems. Two-wheel-drive options became available later that year, along with the upscale one-year-wonder Grand Wagoneer powered by a 220-hp 5.2-liter V8.
The base model was renamed to SE the following year, and the V8 carried on as an optional engine with the 4-speed automatic transmission only. The '95 Grand Cherokee only came in SE and Limited flavors with a Laredo option package for the SE, but the manual transmission was dropped for good. A flip-up window joined the one-piece standard liftgate for '95 as well, and the V8 gained some torque in a tweak.
Until the final year of its first generation in 1998, the Grand Cherokee gained only in safety and a few creature comforts, including cruise control switches in the steering wheel, all-disc brakes and a passenger-side airbag. A few models came and went, such as the Limited-based '95-'97 Orvis and the '97 and '98 TSi. For its grand finale before the '99 overhaul, Jeep released a 5.9 Limited Grand Cherokee powered by a giant 245-hp 5.9-liter V8, which could only be mated with the automatic transmission and Quadra-Trac permanently engaged 4WD - but it too was short lived and would be discontinued for the incoming generation.
The second generation brought more power, more room, and more 4WD innovation in the usual Limited and Laredo flavors. Now 4 inches longer and 2 inches taller with the spare tire tucked beneath the rear floor, the new Jeep Grand Cherokee could also come equipped with Quadra-Drive - a new 4WD system that sends every bit of power to any wheel at any time. Rear-wheel drive, selectable 4WD Selec-Trac and permanent 4WD Quadra-Trac were also still available on select models. The baseline 4-liter V6 gained 10 hp for a total of 195, and the 220-hp 5.2-liter V8 was replaced by a more refined and remarkably fuel efficient 4.7-liter V8 good for 15 additional hp over its predecessor.
For 2000 Jeep allowed the V8 in Selec-Trac and rear-wheel-drive models, and added a few comforts as standard features. The V8 gained a gear in its automatic the following year for a total of 5, plus an additional overdrive gear for highway efficiency. The Laredo gained the option of the bigger 17-inch wheels now standard on the Limited, and along with several interior touches all Grand Cherokees also gained a connector for electric trailer brakes, child seat anchors, and a rear storage net.
Jeep got fancy in 2002 and introduced a Sport trim, featuring leather upholstery and heated mirrors standard, and the Special Edition with 10-disc CD changer and upscale exterior trimmings. Topping the upscale cake was the new Overland powered by a 260-hp V8 with completely fresh styling inside and out. In addition to the safety features gained in '02, the following year also saw new seats throughout with the LATCH child-seat attachment system for the rear. In 2004, the final year of this generation, the upscale Overland came in a rear-wheel flavor, and a navigation system joined the options list.
Although the third-generation Grand Cherokee was 5 inches longer than its predecessor overall, the interior was hardly roomier for it. The real improvements were under the hood, starting with the end of that 4-liter V6 in favor of a 210-hp 3.7-liter V6 as the baseline engine and a new independent front suspension. The Limited now got a 230-hp 4.7-liter V8 standard, with the option of a 325-hp 5.7-liter Hemi V8 featuring Chrysler's Multi-Displacement system capable of saving fuel by shutting down half of the engine while idling or at speed. Still the only transmission available was the 5-speed automatic, this time with a manual shift gate and low-range gearing for the V8 engines.
For now all Grand Cherokees were available as either rear-wheel drive or 4WD, this time with differing systems in each, including Quadra-Trac II or Quadra-Drive II systems depending on the engine, and the option of front and rear limited-slip differentials to go with it.
The previously optional 17-inch wheels and two-piece rear liftgate were now standard across the board, with new options like front and rear curtain side airbags, rear obstacle detection, satellite radio, DVD entertainment system, and UConnect hands-free cellular system along with the usual options of a navigation system, power-adjustable pedals, heated front seats, tire-pressure monitor and an off-road package.
Jeep waited to bring out the big guns until 2006, debuting an all-new SRT8 and re-introducing the Overland, this time with front and rear limited-slip differentials, rear obstacle detection and the UConnect hands-free cellular system. However the SRT8 was the real star of the show - being the quickest and most powerful Grand Cherokee ever produced - pumping 420 horses out of its 6.1-liter V8 and losing none of the fun on a sport-tuned suspension, but it was only available in all-wheel drive (AWD).
A new 215-hp 3-liter V6 turbodiesel joined the optional engines list for 2007 along with the options of a rear-view camera and remote start, but rollover-deployed curtain side airbags now standard on all models. The 4.7-liter V8 made a big jump from 235 hp to 305 for 2008, and hill descent control joined the features list. 
The 2009 5.7-liter V8 boasted 27 horses more than before for a total of 357 hp, and a UConnect multimedia suite added a 30GB hard drive and navigation system to the hands-free cellular capabilities of previous UConnect packages - but nothing changed for the final year of the Grand Cherokee's third generation except for the elimination of the turbodiesel.
The 2011 overhaul quieted critics - and road noise - with better cabin materials, more room for passengers and cargo, double the fuel economy and a significantly updated 290-hp 3.6-liter V6 baseline engine. The fully independent suspension and solid chassis improved the ride and driving dynamics to near car-like grace, and the nicely trimmed interior encloses riders in a blissful cone of silence.
The upscale Overland joined the usual Laredo and Limited starting lineup this time, with the SRT8 taking a short vacation. Rumor has it the 2012 SRT8 zooms from zip to 60 in 4.8 seconds thanks to a 465-hp 6.4-liter Hemi V8 and special sport tuning, but nothing yet on what changes may come for the rest of the Grand Cherokee lineup.
Used Versions
The most reliable oldies but goodies - by far - are the '97 and newer models from the first generation. Although the '96 is still a decent catch, you might want to throw it back for all of its problems. Aside from the safety, power, and feature improvements attracting buyer's eyes, you will have to deal only with oil leaks, a dead fuel pump and a shaky ride in a '97 or '98 - all of which are perfectly fixable on the cheap if the previous owners didn't already take care of them.
As for the second generation, it seems like Jeep didn't get it right until the final model year - 2004 - and even then you will have issues with sensors and suspension. Unless you're trying to get a date with the mechanic, there is no reason to buy any earlier in this generation, and the price gap proves it. Spring for the $7k+ later model, or be prepared to fork out the $700 difference inside your first year of ownership on repairs and retrofitting.
In the third generation, the Grand Cherokee apparently went through a midlife crisis and forgot what it was built to do - sitting in cold weather does awful things to this generation. The best model years are the '06 and '08 for both reliability and features, but you should still expect to sit in a repair shop a fair amount, especially if you intend on using your JGC for its, well, intended purpose.
In any case, the V6 engines should be avoided for all but the most plutonic purposes, such as commuting and grocery shopping. However, so long as space and comfort are not high on the list, a V8-powered Jeep Grand Cherokee is the perfect companion to bring you to the most remote locations - just be sure to treat it very well.
New Jeep Grand Cherokee

Used Jeep Grand Cherokee
Jeep Grand Cherokee Questions
Cooling System Fan Relay
Where is it located on a 2007 Jeep Grand Cherokee srt8
Usb Update
my radio wouldnt turn on when i started my jeep. so my buddy tried the usb update, and it got frozen at 67% ... tried it multiple times and now my radio doesnt work at all and it keeps saying "wait...
Death Wobble Repair
I have a 2001 Grand Cherokee. At 45mph, going down hill and slightly applying the brakes, the entire front end shakes to beat the band! I have replaced the track bar, lower control arms, rotors, p...
Death Wobble
The Jeep death wobble about 50 miles an hour on the highway
Jeep GC Laredo
My Jeep GC Laredo won't start. I have already replaced the ignition coil, because I thought at the time that was why. I realized that the engine isn't getting any gas, so I have starting working o...
Older Jeep Grand Cherokee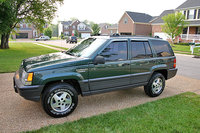 1994 Jeep Grand Cherokee reviews: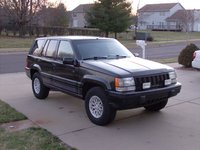 1993 Jeep Grand Cherokee reviews:
Find great deals from top-rated dealersTM
Search