Jeep Grand Cherokee
Model Overview
New Jeep Grand Cherokee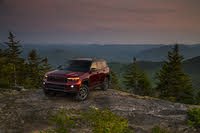 Used Jeep Grand Cherokee
Jeep Grand Cherokee Questions
Jeep Grand Cherokee
Overview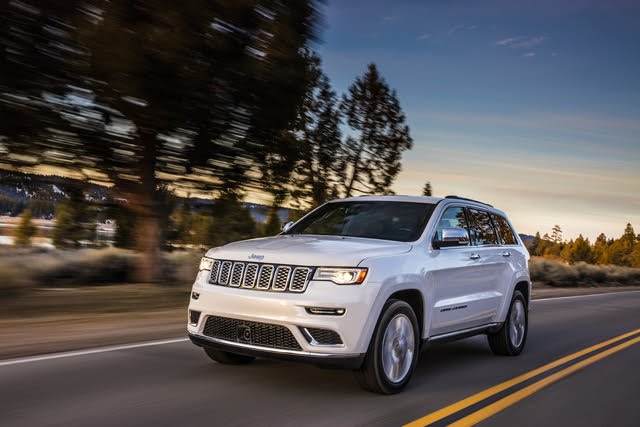 The Jeep Grand Cherokee debuted in 1993, making it one of the original SUVs that made sport/utility ownership practical for the masses.
From the start, it's been a 5-passenger vehicle combining genuine off-roading capability with a comfortable interior and an upscale look and feel. Jeep expanded the Grand Cherokee lineup with high-performance Street and Racing Technology (SRT) versions, but never added a third row.
Over the years, engine choices have ranged from inline and V-type 6-cylinder, numerous V8 engines, and both diesel and SRT-tuned powertrains. Rear-wheel drive (RWD) and an automatic transmission have always come standard, and Jeep offers several different 4-wheel-drive (4WD) systems depending on the owner's off-roading requirements.
Regardless of the changes over more than 25 years of production, the Grand Cherokee has always worn–and probably always will wear–Jeep's distinctive 7-bar grille, promising a lifestyle imbued with the spirit of outdoor adventure.
Pros: It offers plenty of power, plenty of capability, plenty of comfort, and plenty of style in spite of its age.
Cons: It has decade-old engineering, unimpressive crash-test rating, some materials too cheap for more expensive trims.
Model Generations:
2011 to Present: Current Generation
Jeep introduced the fourth-generation Grand Cherokee for 2011. It shares a platform with the 7-passenger Dodge Durango. While the Durango is intended primarily for street use, the Grand Cherokee retains its go-anywhere, do-anything capability.
A 290-horsepower V6 engine is standard. Options include a 360-hp V8 and a 188-hp diesel V6. Those looking for greater adrenaline surges can choose the Grand Cherokee SRT for its 470-hp V8. But if you're looking for something really special, Jeep sells an SRT Trackhawk powered by a monstrous 707-hp, 6.2-liter supercharged V8.
Fuel economy for these engines varies. In combined driving, fuel economy ranges from 13 mpg for the Trackhawk to 25 mpg for the diesel versions. The popular V6 and V8 get anywhere from 15 mpg to 21 mpg in combined driving.
A wide range of trim levels is available for the fourth-generation Grand Cherokee; the 2020 model year alone includes 12 different ones. We recommend the popular Limited, Limited X, or Trailhawk (not to be confused with Trackhawk) variants. Limited trim provides access to the features most people want, Limited X has a custom street look, and Trailhawk adds equipment that enhances the Grand Cherokee's already impressive off-roading talents. All three were priced under $50,000 when new, but overall Grand Cherokee pricing ranges from just above $30,000 to almost $90,000.
The Grand Cherokee offers timeless design and true SUV off-roading capability but lags behind modern competitors when it comes to overall safety scores. It also exhibits iffy reliability, with plenty of recalls for various problems throughout its years.
CarGurus has reviewed the fourth-generation Grand Cherokee five times. Some reviewers liked it, rating it 8.7 in 2015 and 8.5 in 2017. One was less charitable, giving the Grand Cherokee ratings of 7.5 or less in 2014, 2016, and 2019.
2005 to 2010: 3rd Generation
One goal Jeep had for the third-generation Grand Cherokee, which debuted for the 2005 model year, was to improve the SUV's on-pavement ride and handling. To that end, an independent front suspension replaced the previous live-axle setup. Jeep also introduced new 4WD systems. It was during this timeframe that the first diesel and SRT-tuned Grand Cherokee trims arrived.
Though the Grand Cherokee has never offered more than two rows of seats, the third-generation model shared a platform and powertrains with the short-lived Jeep Commander, which existed from 2005 to 2010. With boxier styling, the Jeep Commander had enough room for a third-row seat and two extra passengers.
In 2005, the Grand Cherokee came with Laredo and Limited trims. The more upscale Overland joined in 2006, and the powerful SRT8 arrived in 2007. Criticized for its cheap interior, the Grand Cherokee's cabin got a substantial freshening for 2008, improving quality.
The Grand Cherokee's standard engine was a 3.7-liter V6. The 4.7-liter V8 was a popular upgrade, and it got a major horsepower bump in 2008 (to 305 hp). A 5.7-liter Hemi V8 was also available, and a 6.1-liter V8 came exclusively in the SRT8. Jeep canceled the 4.7-liter V8 and the Mercedes-sourced diesel V6 in 2010 in advance of the Grand Cherokee's complete redesign.
Combined fuel-economy ratings ranged from 12 mpg combined for the SRT8 to 20 mpg for the diesel. Donated by then-corporate-partner Daimler, the Mercedes diesel made the Grand Cherokee more fuel-efficient than ever.
Overall, fewer problems plagued this generation Grand Cherokee than the previous one. However, the Grand Cherokee had at least three recalls every year, most often pertaining to its 4WD system and electrical issues. Complaints about the lousy fuel economy, a cramped back seat, and cheap interior materials were common.
Still, the Grand Cherokee was lauded for its off-roading capabilities and the SRT8's surprising acceleration.
2000-2004: 2nd Generation
Jeep introduced the second-generation Grand Cherokee for 1999, so the 2000 model was the second year of the new generation. Jeep offered the Grand Cherokee in Laredo and Limited trim levels; in 2002, the SE, Sport, and Overland trims joined the lineup. Three special edition versions came along in 2004 as Jeep readied the completely redesigned 2005 Grand Cherokee for its debut.
Powertrain choices included a 195-hp, 4.0-liter inline 6-cylinder engine and a 4.7-liter V8 that made 235 hp. They sent power to the rear wheels, a part-time 4WD system, or Jeep's Quadra-Drive full-time 4WD system.
Combined fuel-economy numbers ranged from 14 to 17 mpg for both engines and all drivetrains. The 4.0-liter 6-cylinder was slightly more efficient, but not by much. In 2001, Jeep replaced the 4-speed automatic transmission with a 5-speed unit, resulting in a slight improvement in fuel economy.
The second-generation Jeep Grand Cherokee was subject to a host of recalls. Owners of the 2002 model alone received 16 recall notices. Airbags were a consistent source of problems, as were engine cooling, steering gear, fuel systems (earlier years), and electrical systems (later years). The 2001 Grand Cherokee had the fewest recalls.
The best things about the Grand Cherokee were its good looks, comfortable front seats, plush interior, and down-to-business off-roading talent. However, its thirsty engines, tiresome on-pavement driving dynamics, unimpressive reliability, and poor crash-test ratings make it hard to recommend.
Shoppers Also Consider:
First and foremost, the Jeep Grand Cherokee is a 5-passenger SUV that can actually go off-roading. That makes its primary competitor the Toyota 4Runner for its similarly rugged construction and four-wheeling talents. Over the decades, however, the Nissan Pathfinder (before its 2013 softening) and Xterra were similar to the Jeep, as was the Hummer H3 and Volkswagen Touareg.