Dodge Durango
Model Overview
New Dodge Durango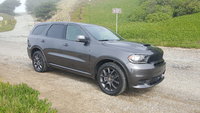 Used Dodge Durango
Dodge Durango Questions
Will A 4.7L Engine From A 2001 Dodge Durango 4x2 Fit Into A 1999 Dodge Dura...
I have a 2001 Dodge Durango that has a 4.7 L engine with only 98000 miles on it, but it has an electrical problem, will this engine fit and run and work properly 9in a 1999 Dodge Durango SLT 4x4 t...
Remote Start
I just purchased a new 2019 Durango RT. My remote start wont work unless I'm standing right next to it. What's going on ?
Engine Swsp
Will a 4.7l engine from a 2001 Dodge Durango 4x2 fit into a 1999 Dodge Durango 4x4 that has a blown 5.9
Stall In Any Gear 2000 Dodge Durango 4.7 L
I recently change my transmission filter fill it back up and now it stalled out in any gear r,d,12 what happened to my truck
Drained Battery
What can be causing the dead battery if its not the alternator?
Dodge Durango
Overview
It's an SUV that looks like a truck, acts like a truck, gets the gas mileage of a truck...so is it a truck? Originally based on the Dakota pickup truck platform, the Dodge Durango was introduced in 1998 as a mid-size SUV that offered the power and towing capacity of a full-size truck, but the handling and manueverability of a compact SUV, with the interior comfort and luxury of a car. It's all things for all types.
Its popularity stemmed from its enormous cargo space, three rows of seating, and engine power, headlined by a 5.9-liter, 335-hp Hemi V8. Claiming to be the biggest, fastest, and strongest of its class, the Durango delivered on its promises, with lots of storage compartments and front seat legroom, quick acceleration on straightaways or uphill, and the ability to tow up to 8900 pounds.
Later models of the Durango moved away from its truck heritage, emphasizing its full-size SUV profile. Post-2004 models received a redesigned platform, safety features, and suspension and steering system to provide a smoother ride and more car-like handling capabilities, without sacrificing power, attitude, or interior space. Miserable fuel economy being a number one concern, the Dodge Durango is working on more fuel efficient engines and a hybrid model for 2008.