Dodge Durango
Model Overview
New Dodge Durango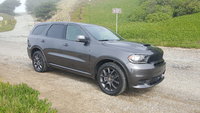 Used Dodge Durango
Dodge Durango Questions
Will Running For Long
My jeep will start be doesn't stay running I have check and change the spark plugs and the wire but the seem problem
2009 Dodge Durango Will Start With Remote Start But Not Start With Regular ...
2009 dodge durango will start with remote start but not with regular key or spare- it cranks but doesn't catch to start
Transmission
Can a transmission out of a 2001 4.7 2 wheel drive work in a 2004 4.7 2 wheel drive?
Rear Brakes Locking Up On My Dodge Durango 1999 Slt Plus. I Am Scare To Pre...
Heater
Heater blows cold air in the rear 2nd & 3rd row seating thru the air vents? How can I fix this issue?
Dodge Durango
Overview
It's an SUV that looks like a truck, acts like a truck, gets the gas mileage of a truck...so is it a truck? Originally based on the Dakota pickup truck platform, the Dodge Durango was introduced in 1998 as a mid-size SUV that offered the power and towing capacity of a full-size truck, but the handling and manueverability of a compact SUV, with the interior comfort and luxury of a car. It's all things for all types.
Its popularity stemmed from its enormous cargo space, three rows of seating, and engine power, headlined by a 5.9-liter, 335-hp Hemi V8. Claiming to be the biggest, fastest, and strongest of its class, the Durango delivered on its promises, with lots of storage compartments and front seat legroom, quick acceleration on straightaways or uphill, and the ability to tow up to 8900 pounds.
Later models of the Durango moved away from its truck heritage, emphasizing its full-size SUV profile. Post-2004 models received a redesigned platform, safety features, and suspension and steering system to provide a smoother ride and more car-like handling capabilities, without sacrificing power, attitude, or interior space. Miserable fuel economy being a number one concern, the Dodge Durango is working on more fuel efficient engines and a hybrid model for 2008.