Dodge Durango
Model Overview
New Dodge Durango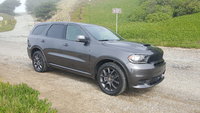 Used Dodge Durango
Dodge Durango Questions
Back Hatch Door Will Not Latch
Favorite Song/Artist On Durango Radio
One day the favorite artist/song information went away on our 2018 Dodge Durango. A notice at the top of the screen used to say "favorite song" and then you could see a list of your selected favorit...
Yesterday My 2000 Dodge Durango The Temperature Started Climbing Towards Th...
My 2000 dodge Durango with the 4.7 idles a t a light the temp climbs up then when j drive it starts to go down when jnoark the SUV I notice there's coolant that came out if the overflow what can be...
2018 Dodge DURANGO
Has anyone had a problem with the radio switching stations then the rear backup camera comes on and off then the Bluetooth called you and hangs up then calls random numbers and hangs up the heater...
Mil On
Eng. light on . Scan for codes. None Clear out light and comes back on when Eng starts.
Dodge Durango
Overview
It's an SUV that looks like a truck, acts like a truck, gets the gas mileage of a truck...so is it a truck? Originally based on the Dakota pickup truck platform, the Dodge Durango was introduced in 1998 as a mid-size SUV that offered the power and towing capacity of a full-size truck, but the handling and manueverability of a compact SUV, with the interior comfort and luxury of a car. It's all things for all types.
Its popularity stemmed from its enormous cargo space, three rows of seating, and engine power, headlined by a 5.9-liter, 335-hp Hemi V8. Claiming to be the biggest, fastest, and strongest of its class, the Durango delivered on its promises, with lots of storage compartments and front seat legroom, quick acceleration on straightaways or uphill, and the ability to tow up to 8900 pounds.
Later models of the Durango moved away from its truck heritage, emphasizing its full-size SUV profile. Post-2004 models received a redesigned platform, safety features, and suspension and steering system to provide a smoother ride and more car-like handling capabilities, without sacrificing power, attitude, or interior space. Miserable fuel economy being a number one concern, the Dodge Durango is working on more fuel efficient engines and a hybrid model for 2008.