Dodge Durango
Model Overview
New Dodge Durango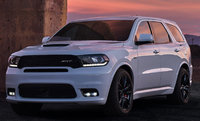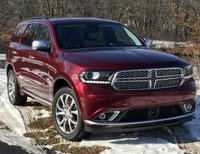 Used Dodge Durango
Dodge Durango Questions
Will Trany And Transfer Swap 99 Durango 318 To A 99 Ram 1500 With 360
Durango has 318 my 99 ram has 360 will transmission and transfer case enter change between the two different engine sizes?
Transmission Doesn't Go Into Gear
Truck has been running great. Suddenly lost all gears while driving. 2005 Durango Limited, 5.7L Hemi, AWD, 5-45RFE No movement in any gear selection. Selector moves normally. Transmission whines. So...
Wet Floorboards And No Heat
my drivers and passangers floor boards are soaked and I have no clue why?? also I have no heat in the front... she blows great in the back but nada in the front... what gives??? PLZ help me
No Power And Don't Start Sometimes
My durango has no power when the gas pedal is all the way down but when you let up on it it gets more power. Also when I shut it off it will start back up right away. Let it sit a minute and it do...
Is 5/20 Oil Type Ok To Use For 2004 Dodge Durango
5/20w ok to use for 2004 dodge Duran
Dodge Durango
Overview
It's an SUV that looks like a truck, acts like a truck, gets the gas mileage of a truck...so is it a truck? Originally based on the Dakota pickup truck platform, the Dodge Durango was introduced in 1998 as a mid-size SUV that offered the power and towing capacity of a full-size truck, but the handling and manueverability of a compact SUV, with the interior comfort and luxury of a car. It's all things for all types.
Its popularity stemmed from its enormous cargo space, three rows of seating, and engine power, headlined by a 5.9-liter, 335-hp Hemi V8. Claiming to be the biggest, fastest, and strongest of its class, the Durango delivered on its promises, with lots of storage compartments and front seat legroom, quick acceleration on straightaways or uphill, and the ability to tow up to 8900 pounds.
Later models of the Durango moved away from its truck heritage, emphasizing its full-size SUV profile. Post-2004 models received a redesigned platform, safety features, and suspension and steering system to provide a smoother ride and more car-like handling capabilities, without sacrificing power, attitude, or interior space. Miserable fuel economy being a number one concern, the Dodge Durango is working on more fuel efficient engines and a hybrid model for 2008.