Ford Explorer
Model Overview
About the Ford Explorer
Available Now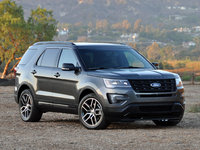 Seating up to 7 passengers with plenty of multimedia options, the all-new 2011 Ford Explorer is the perfect getaway car. No, not OJ's kind of getaway - unless your road trip just isn't complete without a troupe of blues on your tail. In which case your eccentric tastes are perfectly suited to the Explorer's futuristic design - so long as the grand departure from its Bronco roots doesn't ruin it for you.
Available only as a Base, XLT or Limited, Ford has done away with the upscale Eddie Bauer trim for good and probably shelved the Sport version for at least a little while. Standard power for this new generation of Explorer comes from a 6-speed automatic transmission controlling a 3.5-liter, 290-hp V6 capable of better pickup than its predecessor, with better fuel economy too at 17 mpg city/25 highway. Front-wheel drive is standard, though you can get 4-wheel drive with the Terrain Management System, a selectable four-mode system that adjusts traction for different road conditions, including hill-control options.
Standard equipment includes 17-inch steel wheels, privacy glass, blind spot mirrors, roof rails, cruise control, power driver seat, tilt-and-telescoping steering wheel, MyFord advanced trip computer and a 6-speaker sound system with CD player and audio jack.
The XLT adds 18-inch alloy wheels, automatic headlights, foglights, rear parking sensors, upgraded cloth upholstery, leather touches, keyless entry and satellite radio. The XLT can be upgraded with either a 201A or 202A Rapid Spec option group for features like a rear-view camera, auto-dimming rear-view mirror, MyFord Touch, Sync, an upgraded sound system with a display screen and inputs to match, power passenger seat, leather upholstery and heated front seats.
The Limited includes all of the XLT's standard and optional features and adds 20-inch wheels, keyless ignition/entry, remote start, a 110-volt power outlet and a 12-speaker Sony sound system with HD radio. The Limited can be upgraded with a Rapid Spec 301A package, which includes a power liftgate, navigation system, better powered passenger seat, ventilated front seats and a power-folding third row. Upgrading with the Rapid Spec 302A package adds serious tech like automatic parallel parking, adaptive cruise control, collision warning and brake support, a blind-spot warning system and a couple of cosmetic niceties.
The options don't end there for the XLT and Limited, with additional upgrades including things like a dual-panel sunroof, rear-seat entertainment system, second-row captain's chairs and other standalone options otherwise offered in larger packs.
Altogether the new Explorer is almost unrecognizable from its '90s roots - although very similar in many regards, Ford has upgraded this iteration quite handsomely with a comfy car-like ride and enough tech to make a geek forget his pocket protectors.
Model History
Remember the Bronco? Of course you do. That's the white thing you saw driving down the highway at, well, city speeds for a fateful prime-time "chase" in 1994. Although there's still some debate as to whether OJ really killed his wife, he definitely killed the Bronco, and the Explorer - brought on for 1991 to replace the Bronco II - is where those buyers went.
Two years after the OJ chase, Ford discontinued the Bronco and spawned the Expedition, but the Explorer was already a well-loved staple of its self-created niche by then. That fact never really allowed the Expedition to gain much ground even despite the Explorer's shortcomings after the Bronco's demise.
The Explorer ultimately defined an entirely new segment with its Ranger-based utility and grown-up comforts. Initially the Explorer was available as an XLS or XLT trim with either 2 or 4 doors, rear- or all-wheel drive, and a 4-speed automatic or 5-speed manual.
The 155-hp 4-liter V6 could be optioned up to tow 5,600 pounds, but came well-equipped to handle everyday tasks by default with power accessories, cruise control and 81 cubic feet of cargo capacity in the 4-door. The Eddie Bauer and Sport editions added in the Explorer's second year offered all that utility in luxurious style, and for 1993 Ford tweaked the engine to get 5 more horses and standardized antilock brakes for all trims.
For its second generation the Explorer gained another 5 horses in its standard engine and the option of a 210-hp 5-liter V8. Trims this time around included the 4-door XLS, XLT, Eddie Bauer and Limited with a 2-door Sport. After '97 the 210-hp V6 became available, but these 1995-'01 models were still very much a rough ride on-road or off - not to mention a bit unstable with a certain set of Firestone tires.
That changed - and dramatically so - for the third generation, which spans from 2002 to 2010. The longer wheelbase and independent suspension made enough room for a decent third row, and the other suspension upgrades greatly improved ride comfort and driving dynamics. The 210-hp V6 carried over as the standard engine alongside an optional 4.6-liter, 239-hp V8, but the manual transmission was scrapped in favor of just a 5-speed automatic.
The Sport was excluded from the first year's lineup, leaving the XLS, XLT, Limited and Eddie Bauer as the only options for this generation's first year. For 2003 however, Ford added an XLS Sport with the expected 2 doors and an NBX trim with all-terrain tires and a roof rack.
Until 2006 safety upgrades were the only significant changes for the Explorer, although it got a few of those for 2006, too, including airbags and standard stability control along with a completely new style. The V8 engine was also upgraded to 292 hp and came with a new 6-speed automatic transmission. The voice-activated Sync interface and revised navigation system were added over the last 3 years of the generation.
Then came the grand re-design for 2011, with a completely overhauled style to go with the new platform, affording a car-like ride with much of the same utility. Although the towing capacity has been downgraded to 5,000 pounds and cargo room is just 80 cubic feet with the seats folded down, the ride and tech certainly put this generation leap years ahead of its first incarnation - as much as the raw specs might look the same.
While other options might be roomier or feel less bulky, the new Explorer offers a grand buffet of technological infusion and utility coupled with good fuel economy and a cozy ride.
Used Versions
Typical of Ford, you can expect quite a few repairs even in late-model used Explorers. While it's relatively problem-free 2005 and newer, you will still have to deal with transmission reprogramming, leaks, various ABS issues, faulty fuel sensors and vents, hard starts and steering noise, though any faulty radiator clamps should have been replaced with a recall.
The '06 and '08 Explorers are the best bargains of this bunch for both their price and features, having gained significant upgrades in both those years - not the least of which is standard stability control for '06. For less than $20K you can have a well-equipped modern car with 7,300 pounds of towing capacity, albeit without that nice ride the newest generation affords.
Any older than the '04 (which has a common issue with the speed differential sensor costing roughly $300 to fix) and you start getting into serious issues with various engine bits, the 4-wheel-drive systems and the front bearing hubs along with the typical leaks, squeaks and tweaks. Don't be tempted by that low sticker - the repairs absolutely will run you up to the $11k tag on the '06, so you may as well hold out for something better.
More reliable models are not seen until you dip into the mid-'90s, with the '96 having fewer problems than the '95 - but both are just as good so long as you don't go with the problematic 4-wheel-drive system. Those mid-'90s and older models are a great buy for under $2k, especially with the V8 engine, but they definitely drive and ride like a truck. If you don't mind that, it's a great reliable beater for at least a few hundred thousand miles.
New Ford Explorer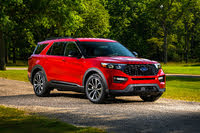 Used Ford Explorer