Toyota RAV4
Model Overview
About the Toyota RAV4
Available Now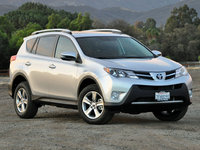 A game-changer since its inception, the Toyota RAV4 helped establish the crossover SUV automotive segment and was the first vehicle of its type to hit highways around the globe. An acronym for Recreational Active Vehicle with four-wheel drive, the RAV4 combines a car-like ride with the visibility, cargo space, and functionality offered by a typical SUV. In addition, the RAV4 has been warmly applauded by reviewers and owners for its sporty exterior, nimble handling, solid powerplants, good fuel economy, and versatile interior, with optional seating for up to seven passengers.
Despite the RAV4's generally stellar reviews, the 2011 version might seem dated to some, as it nears the end of its third generation. Despite a mid-generation refresh in 2009, the RAV4's current design dates back to 2006, an eternity in today's fast-moving automotive market. Add in the recent high-profile recall of the RAV4, as well as other Toyota models, due to problems with the accelerator pedal, and it would seem the RAV4 would have an uphill climb when it comes to attracting buyers, given its competitive automotive segment. But the RAV4 continues to prove popular, due in part to the generally positive reputation it has maintained since its introduction.
For 2011, the RAV4 continues to come in Base, Sport, and Limited trim levels, with either front- or four-wheel drive. A 179-hp, 2.5-liter four-cylinder provides standard power for all trims, although owners who require more power can upgrade to a 269-hp, 3.5-liter V6, which generates 246 lb-ft of torque and makes the RAV4 one of the quickest crossover SUVs available today. The four-cylinder posts fuel economy numbers of 22/28 mpg, while the V6 manages numbers of 19/27 for front-wheel-drive trims.
The RAV4 draws positive comments from owners and reviewers in just about every area, including its refined exterior styling, firm ride, quick steering, robust performance (even with the four-cylinder engine), and functional interior, highlighted by a two-level dash, easy-to-use controls, and comfortable seats. However, most agree the RAV4 could use an update, especially in its exterior styling. In addition, its optional third-row seat remains a tight fit for adults, and many owners find the rear door opens on the wrong side for U.S. drivers.
Toyota will roll out the fourth-generation RAV4 in time for the 2012 model year. In addition to making a few exterior styling updates, giving the RAV4 a sleeker, more aerodynamic shape, the automaker will unveil a RAV4 Hybrid. Mileage estimates for the Hybrid are rumored to exceed 30 mpg on the highway. In addition, some rumors point to a possible electric RAV4 in the next few years, which makes sense, since early in its production history, the RAV4 was available as an electric vehicle, though it was sold only as a fleet vehicle, and very few made their way to the U.S.
Model History
Loosely based on the Corolla platform, the Toyota RAV4 debuted in the U.S. with the 1996 model year, although it first appeared in Japanese showrooms in 1994 after an eight-year-long gestation period. During that development time, a concept version of the RAV4 was shown at the Tokyo Motor Show in 1989, and a close-to-production version was displayed at the same show in 1993. The final production version was shown at the Geneva (Switzerland) Auto Show in 1994. The long development period was perhaps necessary, since the RAV4 was fairly cutting edge for its time and helped define a new automotive segment, the crossover SUV, combining elements of a full-size, truck-based SUV with those of a smaller, easy-to-handle sedan/wagon.
In its initial incarnation, the RAV4 was powered by a 120-hp, 2.0-liter four-cylinder engine, which mated to either a five-speed manual transmission or an optional four-speed automatic. The RAV4 rode on a car-like fully independent suspension with unibody construction, resulting in good handling. Performance lagged, however, as it took a full 10 seconds for the RAV4 to accelerate from a standstill to 60 mpg.
With its short (compared to larger SUVs) yet wide body, the RAV4 exhibited good stability and maneuverability. It was available with either front-wheel drive or full-time four-wheel drive. Although not designed specifically for off-roading, owners could equip manual-shift four-wheel-drive trims with a center differential lock, which improved off-road performance. Two- and four-door versions were available, with a side-opening tailgate at the rear. Front airbags were standard, and owners could add antilock brakes as an option.
The RAV4 received a minor facelift in 1998, with a new grille, front end, headlights, and taillights. In addition, the four-cylinder engine received a boost in power, to 127 hp, although owners and reviewers alike still complained about sluggish acceleration. Minor revisions inside included a new three-spoke steering wheel and updated audio systems. Toyota also introduced a new two-door soft-top convertible trim, as well as a four-door RAV4L Special Edition, with leather upholstery and unique exterior colors. The two-door hardtop trim disappeared from the lineup in 1999, leaving only the four-door and two-door soft-top trims.
For its second generation, which debuted with the 2001 model year, the RAV4 grew in length by about 1.3 inches and in width by about 2.4 inches, resulting in more interior space. Exterior styling updates ensured a more muscular appearance, while a more rigid body and a retuned suspension resulted in an improved, more comfortable ride, with minimal flexing. The RAV4 also received a new all-aluminum, 2.0-liter four-cylinder engine with variable valve timing, which helped improve fuel efficiency. Horsepower jumped by 21 hp to 148 hp, and the RAV4 was designated as a low-emissions vehicle for sale in California.
Inside, front-seat legroom grew by about 3 inches, and headroom increased as well in the front, although both headroom and legroom decreased by about half an inch for rear-seat passengers. The rear seat reclined and split 50/50, and slid and folded forward to increase cargo space. Owners again could choose front- or four-wheel-drive configurations, as well as such options as antilock brakes and a power moonroof.
In 2004, the RAV4 received a new 2.4-liter four-cylinder engine, which produced 161 hp. Toyota also made a few minor exterior styling updates, which included new circular foglights integrated into the front bumper. Toyota added air conditioning, power exterior mirrors, and its electronic stability control system, called Vehicle Stability Control, to the RAV4's standard equipment list, while options included front-seat side and side-curtain airbags. An optional L package added such features as power door locks and an upgraded six-speaker AM/FM audio system with both CD and cassette players. Leather upholstery was also available as a separate option.
When the third-generation RAV4 debuted in 2006, the lineup expanded to include Base, Sport, and Limited trim levels. Again, all came with either front-wheel or four-wheel drive. The RAV4 grew in length by more than half a foot (6.7 inches), so owners could squeeze in an optional third-row bench seat as an option, boosting seating capacity to seven. A new 3.5-liter V6 powerplant, putting out 269 hp, joined the lineup, giving the RAV4 the performance many were seeking. In addition, the base 2.4-liter four-cylinder received a bump in power to 166 hp. Both engines linked to a manual transmission only, as Toyota dropped the manual shifter from availability.
Sport trims came with a sport-tuned suspension, while V6 trims included hill ascent and descent control as a standard feature. The second-row seat continued to slide and fold forward, while the optional third-row bench seat folded into the floor. Owners of the Limited trim could add such options as leather upholstery, heated front seats, and a DVD entertainment system. In 2007, front-seat side airbags and side-curtain airbags joined the standard equipment list for all trims, while in 2009, a mid-generation refresh included updated front and rear ends, a new front grille, and a larger spoiler for the Sport trim, as well as a number of new standard and optional features, including push-button start, a rear-view camera, and a navigation system.
Used Versions
Though the RAV4 has changed minimally over the years since its introduction, prospective buyers do have some points to consider when shopping for a used version. One of the primary changes involves the RAV4's size, which expanded in 2006 to include room for an optional third-row seat, pushing seating capacity to seven passengers. Owners with large families or those who regularly haul large amounts of cargo will want to look for these versions, which offer up to 73 cubic feet of cargo space with both rows of seats folded down. In addition, only the third-generation RAV4 offers an available V6 engine, which provides plenty of power for owners who require it.
A high resale value for the RAV4 will push budget-minded buyers to earlier generations, where they can still find good options. Although some consider the earlier trims equipped with the four-cylinder engine underpowered, older versions of the RAV4 have plenty of offer to prospective buyers, including good handling and functional interiors. The second-generation RAV4, with its 148-hp four-cylinder and muscular exterior, provides the best bet for owners who seek a RAV4 at an affordable price.
Prospective buyers seeking something a little different also have several options. RAV4 Sport trims, with their sport-tuned suspensions, exhibit dynamic handling characteristics, while leather-upholstered Limited trims should appeal to those who seek a more upscale ride. Owners planning to used the RAV4 for off-roading should consider four-wheel-drive V6 trims, as well as those equipped with hill ascent and descent control. Similarly, owners seeking a more open-air driving experience should look for the RAV4 soft-top trims from the first generation, produced in the late '90s.
Finally, given Toyota's recent recall woes due to problems with accelerator pedals, buyers who consider safety paramount will want to ensure any late-model trims they're planning to purchase have had the necessary updates made. In addition, all trims produced after 2007 come equipped with a wide range of standard safety features, such as electronic stability control, antilock brakes, and a full range of airbags, including front-seat side and side-curtain airbags.
New Toyota RAV4


Used Toyota RAV4