Chevrolet Equinox
Model Overview
New Chevrolet Equinox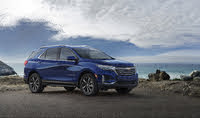 Used Chevrolet Equinox
Chevrolet Equinox Questions
Chevrolet Equinox
Overview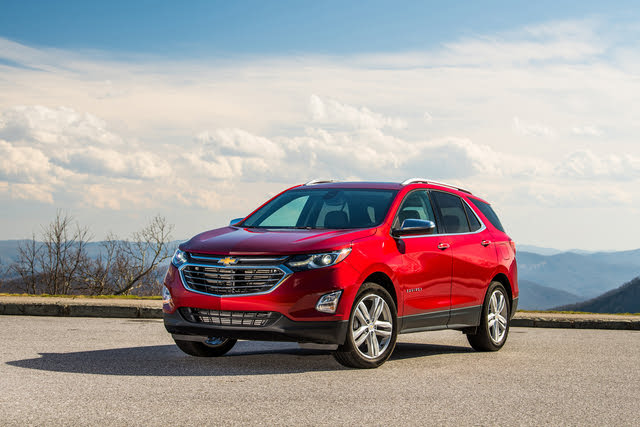 Built for small families or most anyone who needs a relatively budget-friendly vehicle with space for passengers and cargo, the Chevrolet Equinox has the ability to serve double-duty as handy weekend warrior and efficient daily driver.
Introduced for the 2005 model year, the Equinox is notable for being Chevrolet's first entry into the ever-expanding crossover segment. With its latest redesign, the Equinox's trimmed dimensions turn what was once considered a midsize crossover into a compact crossover. Based on that, as well as its starting price, the Equinox slots in between the smaller Chevrolet Trax and a new addition to Chevy's crossover lineup, the slightly larger Blazer.
Like others in its class, the Equinox provides two rows of seats with room for five passengers, and it can be had with front-wheel drive (FWD) or all-wheel drive (AWD). In its current iteration, the Equinox draws power from a selection of 4-cylinder engines, though past examples have featured V6s and, more recently, a turbocharged diesel engine.
In a 2015 CarGurus Test Drive Review, the Chevrolet Equinox earned an overall score of 7, which was about average for the class. The 2018 and 2019 models showed improvement with a score of 7.2 each, but class leaders ranked noticeably higher.
Pros: Impressive safety scores, often heavily discounted prices, competitive towing capability, attractive styling, and technology features (latest redesign)
Cons: Lacks a hybrid variant, redesigned version offers less interior space, some increasingly common features are bundled in expensive packages
Model Generations
2018-Present: Current Generation
Redesigned for the 2018 model year, the current Chevy Equinox is expected to undergo slight tweaks for 2021 and then be replaced by an all-new fourth-generation model in 2023 or 2024. For now, shoppers can select one of four trim levels ranging from the base L to the top-of-the-line Premier, with prices starting below $25,000 and climbing into the low 40s when loaded with options. Powertrain choices include a 170-horsepower 1.5-liter turbocharged 4-cylinder engine mated to a 6-speed automatic transmission, or a 252-horsepower 2.0-liter 4-cylinder coupled with a 9-speed automatic gearbox. A 1.6-liter turbodiesel engine, boasting only 137 horsepower but 240 pound-feet of torque and estimated highway fuel economy near 40 mpg, was unceremoniously discontinued after being largely overlooked by shoppers. FWD and AWD versions are available. CarGurus recommends opting for the Equinox Premier, primarily for its access to a host of desirable safety features.
2010-2017 Chevrolet Equinox: 2nd Generation
A slew of improvements marked the introduction of the second-generation Chevy Equinox for the 2010 model year. This time, parts were shared with the new GMC Terrain, as the Torrent and the rest of the Pontiac brand were discontinued. Perhaps most notable among the many changes, aside from updated styling and an available power liftgate, was the newly standard 2.4-liter 4-cylinder engine that worked with a 6-speed automatic transmission to deliver an EPA combined rating of up to 26 mpg (23 mpg with AWD). On top of that, base prices were lower than the 2009's. The Sport trim was dropped, but the LS, LT, and LTZ versions carried on, and a new 264-horsepower 3.0-liter V6 replaced the old 3.4-liter and 3.6-liter engines.
The 2011 Equinox arrived with few changes, but the 2012 model offered buyers upgraded infotainment and safety features, including optional forward-collision- and lane-departure-warning systems. For 2013, the Equinox was available with a new 301-horsepower 3.6-liter V6 in lieu of the old 3.0-liter. Again, updates were minimal in subsequent model years, until the 2016 Equinox was unveiled with a facelift marked by new headlights and reshaped upper and lower grilles. There were no notable revisions for 2017.
Unfortunately, this second-generation version of the Chevrolet Equinox has been marred by a significant reliability issue, as owners of 4-cylinder models reported excessive oil consumption and resulting engine damage. A class-action lawsuit followed, with General Motors (Chevrolet's parent company) refuting owners' claims but ultimately agreeing to cover certain repairs and provide extended warranties.
2005-2009 Chevrolet Equinox: 1st Generation
The sleek Equinox seen on dealer lots today is a far cry from the boxy and rather ho-hum example that debuted for the 2005 model year. That vehicle drew praise for its spacious interior and shared most of its components with the 2006 Pontiac Torrent. Equinox buyers had their choice of LS and LT trims with FWD or AWD capability, with the single powertrain selection being a 185-horsepower 3.4-liter V6 paired with a 5-speed automatic transmission. Minor enhancements, including added features and an updated interior, were made over the next couple of years.
For 2008, Chevrolet introduced a new LTZ trim level with extra chrome and creature comforts, as well as an Equinox Sport model fitted with a 264-horsepower 3.6-liter V6 and 6-speed automatic transmission. Interestingly, EPA-rated combined fuel economy was 19 mpg regardless of powertrain or drivetrain.
Shoppers Also Consider
Through all of its iterations, the Chevrolet Equinox has proven to be a strong seller, often surpassing annual sales of 200,000 units. It should be noted, however, that those figures have been bolstered to varying degrees by fleet sales to rental companies. The same can be said for several competitors within the compact crossover segment, the leaders of which are the Toyota RAV4, Honda CR-V, and Nissan Rogue. Those models are often cross-shopped with the Equinox, as are notable competitors like the Ford Escape, Hyundai Tucson, Jeep Cherokee, Subaru Forester, and Volkswagen Tiguan.