Honda CR-V
Model Overview
New Honda CR-V


Used Honda CR-V
Honda CR-V
Overview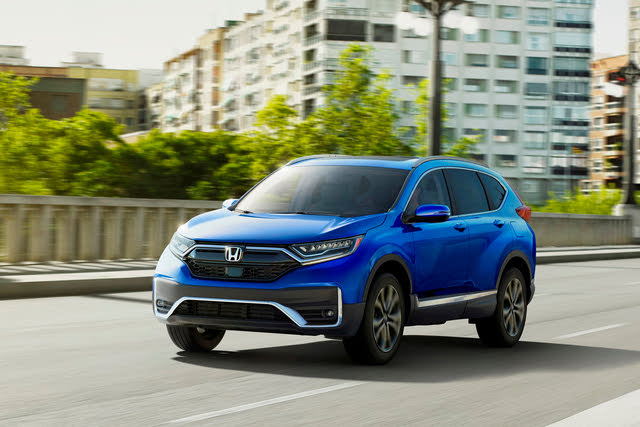 Since its creation more than 20 years ago, the Honda CR-V has been recognized for its often class-leading blend of comfort, versatility, reliability, and value. Compact crossovers like the CR-V have proven to be ideal for small families, daily commuters, and weekend adventurers who need a relatively efficient and affordable vehicle capable of taking them almost anywhere they'd like to go.
The term "crossover" hadn't even made its way into vehicular vernacular when that first CR-V arrived in 1997. Back then, the CR-V was simply referred to as a small SUV, albeit one that ditched body-on-frame construction and instead employed a unibody architecture. As a result, the CR-V wasn't as rugged as a traditional SUV but offered more efficient use of interior space and, perhaps most importantly, more car-like ride and handling characteristics.
Within Honda's lineup, the 5-passenger CR-V slots in above the smaller HR-V but below the larger 2-row Passport and 3-row Pilot. Output has varied over the years, but all CR-Vs have featured 4-cylinder engines and a choice of front-wheel-drive (FWD) or all-wheel-drive (AWD) capability. With its latest redesign, a hybrid powertrain was added to the mix for the first time.
CarGurus has tested the Honda CR-V multiple times, resulting in the following impressive overall scores: 8.0 (2019), 8.5 (2013, 2015), and 8.7 (2017).
Pros: Value, reliability, quality materials, competitively priced, spacious interior, safety
Cons: 1,500-lb. maximum tow capacity, infotainment controls (current generation), lacks some desirable options offered by competitors
Model Generations
2017-Present: 5th Generation
Honda's fifth iteration of the popular CR-V compact crossover debuted for the 2017 model year. Highlights included all-new sleek styling that made its predecessor look drab by comparison, increased dimensions resulting in extra rear legroom and cargo space, and chassis revisions designed to improve ride, handling, and braking performance. Buyers could select FWD or AWD capability and one of four trims: LX, EX, EX-L, or Touring. The LX continued to feature the naturally aspirated 2.4-liter 4-cylinder engine (now rated at 182 horsepower), while all other CR-V trims played host to a new turbocharged 1.5-liter 4-cylinder providing 190 horsepower and up to an estimated 34 mpg on the highway. Other enhancements arriving with the 2017 Honda CR-V were broader availability of the Honda Sensing suite of safety technologies, and a simple volume knob to improve usability of the touchscreen audio system.
There were no notable changes for 2018 or 2019, but a moderate refresh marked the introduction of the 2020 CR-V. Styling changes were slight, though behind the skin were changes aplenty. For the 2020 CR-V LX, the 1.5-liter turbocharged engine became standard, as did all of the Honda Sensing features that had been reserved for more expensive trim levels. Additionally, an all-new CR-V Hybrid, promising a 50-percent increase in highway fuel economy, was slated for a mid-year release.
When last reviewed for the 2019 model year, CarGurus recommended the CR-V EX model because of its standard infotainment and safety features. However, with Honda Sensing standard on all 2020 CR-Vs, that's less of an issue. Also noted in that review were a couple of uncharacteristic mechanical issues to be aware of. Some owners of 2017 and 2018 CR-Vs noted engine problems that Honda identified as oil dilution. Honda remedied the situation with a software update and extended powertrain warranties. Owners also complained of batteries draining, leaving them unable to start their CR-Vs. Honda has attempted to fix that problem with a separate software update.
2012-2016 Honda CR-V: 4th Generation
Honda's CR-V greeted the 2012 model year with yet another redesign. Though shorter than its predecessor, the 2012 CR-V provided more interior space for cargo and up to 5 passengers. Power came from the same 2.4-liter 4-cylinder engine mated to the 5-speed automatic transmission, but horsepower was up to 185 and EPA-rated highway fuel economy hit the 30 mpg mark. Buyers could select from LX, EX, and EX-L trim levels, with a navigation system or rear entertainment system (RES) available for the latter. Also among the 2012 Honda CR-V's many changes was a reconfigured flat-folding rear seat that replaced the fold-and-tumble design in previous CR-Vs.
In typical Honda fashion, the CR-V was left mostly unchanged for a couple of years and then revised in preparation for 2015. Along with styling enhancements were a new top-of-the-line Touring trim level, LED daytime running lights, a more powerful and efficient 2.4-liter 4-cylinder engine, several additional safety features, and available amenities including a power tailgate and touch-screen infotainment system. These upgrades were followed by the reintroduction of the CR-V SE model in 2016.
2007-2011 Honda CR-V: 3rd Generation
For 2007, the Honda CR-V went under the knife once again, this time rolling away with a more curvaceous exterior. While it may have appeared to be smaller, this version of the 5-passenger CR-V actually provided a bit more cargo space. What had been a tradition for all CR-Vs—a side-opening tailgate with an exterior-mounted spare tire—was replaced with a more traditional top-hinged lift gate and a spare mounted under the cargo floor. The removable picnic table didn't make the cut this time around, nor did the 5-speed manual gearbox. Instead, Honda selected the 5-speed automatic as the exclusive transmission for the 2007 CR-V. Under the hood was a 166-horsepower 2.4-liter 4-cylinder engine that delivered output to the front 2 or all 4 wheels, with fuel economy reaching an EPA-estimated 27 mpg on the highway. Trim choices for 2007 included the LX, EX, and top-of-the-line EX-L.
For the most part, Honda left the CR-V unchanged until 2010, when designers once again performed a bit of nipping and tucking. In addition to visual updates, the 2010 Honda CR-V featured a retuned 2.4-liter engine that generated 180 horsepower.
Honda closed out this third-generation model with the introduction of the 2011 CR-V SE. Like past special editions, this SE offered minor upgrades to distinguish it from other trims.
2002-2006 Honda CR-V: 2nd Generation
5 years after the initial introduction of the CR-V, a new second-generation Honda CR-V arrived for the 2002 model year. Larger and sporting what was arguably a more conventional style, the 5-passenger 2002 CR-V included bonus safety features like 4-wheel antilock disc brakes and front side airbags but carried on CR-V tradition with its vertical taillights and rear integrated picnic table. Honda scrapped the first generation's less powerful engine to make room for a 160-horsepower 2.4-liter 4-cylinder with Honda's i-VTEC (intelligent Variable Valve Timing and Lift Electronic Control) technology, which the EPA suggested would deliver up to 26 mpg on the highway. Shoppers considering the 2002 CR-V had their choice of FWD or AWD (what Honda referred to as Real Time 4WD) capability, a manual or automatic transmission, and LX or EX trim levels.
This version of the CR-V underwent few significant changes over the next couple of years, but 2005 ushered in a mild refresh and the launch of a new SE trim. More importantly, the list of standard safety features grew, and a 5-speed automatic transmission replaced the original 4-speed.
There were no notable changes for 2006, the last year of production for the second-generation CR-V.
Shoppers Also Consider
Stellar sales figures serve as proof that the Honda CR-V has been a success since the first 1997 model hit dealers' lots. At that time, roughly 100,000 CR-Vs made their way into new homes each year; that figure is now closer to 400,000.
Serving as the CR-V's primary competition is the Toyota RAV4, but shoppers also cross-shop the Chevrolet Equinox, Ford Escape, Nissan Rogue, Jeep Cherokee, and Volkswagen Tiguan.