Honda CR-V
Model Overview
About the Honda CR-V
Available Now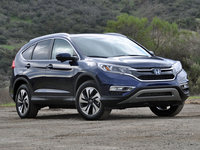 A hit with buyers since its introduction in the mid '90s, the Honda CR-V compact SUV offers something for just about everyone. Its versatility, functionality, and practicality, as well as its fuel efficiency and affordability, make it the ideal vehicle for running daily errands and heading out on weekend excursions. Add a comfortable cabin, capable handling, plenty of interior storage spaces, and good overall value, and it's easy to see why the CR-V has so many loyal fans.
The Honda CR-V comes in LX, SE, EX, and EX-L trims for 2011, with either front-wheel or all-wheel drive. It received a minor design refresh in 2010, which included a new grille, bumpers, taillights, and wheels, as well as upgraded interior upholstery, revised instrument gauges, and wider armrests. In addition, the CR-V's sole 2.4-liter four-cylinder engine received a 14-hp increase in power, bumping it up to 180. Despite the increase in power, fuel efficiency for the powerplant actually increased by 1 mpg, to 21/28 for front-wheel-drive trims and 21/27 for all-wheel-drive trims. The engine runs on regular gasoline.
Most reviewers agree the CR-V does many things well, but excels in no specific area. Certain competitive vehicles, such as the Toyota RAV4, Nissan Rogue, Honda Element, Hyundai Tucson, GMC Terrain, and Chevy Equinox, may beat the CR-V when it comes to cargo capacity, performance, handling, interior build quality, or fuel economy, but the CR-V's complete package continues to impress those who drive it. In addition, while the CR-V's exterior design receives mixed reviews, many find it attractive and even cute. Some options can push up the CR-V's cost, but overall it retains its good value, especially when it comes time to trade or sell the vehicle.
Many have speculated on the derivation of the CR-V's nomenclature. Some see it as a simple mash-up of compact SUV, while others point out that sales literature in the United Kingdom referred to the CR-V as a Compact Recreation Vehicle or a Comfortable Runabout Vehicle, while others say the name refers to chromium-vanadium, a type of steel used to make tools. Honda refers to the vehicle simply as an SUV.
Currently nearing the end of its third generation, the CR-V should see a major makeover in 2012, which means the 2011 version should see few updates. Most agree the next-generation CR-V will have to excel in a number of areas, including exterior styling, performance, and interior design, to continue to remain near the top of a highly competitive automotive segment.
Model History
Although the CR-V was introduced in Japan in 1995, it didn't appear in U.S. showrooms until early 1997. Although the automaker was initially hesitant to offer the CR-V stateside, out of concern it would be overshadowed by the similar-sized Honda Passport (which was built by Isuzu), the CR-V proved to be an instant success, causing the automaker to eventually drop the Passport from the lineup.
Targeted toward young families, the first-generation CR-V was loosely based on the Honda Civic and was designed to be the automaker's entry-level SUV. It seated five passengers and originally was available in only a single trim later designated the LX. It featured unibody construction with a four-wheel independent suspension and was powered by a 2.0-liter four-cylinder engine producing 126 hp. The engine linked to a four-speed automatic transmission, which was the only shifter available. Owners could add Honda's Real-Time 4WD system as an option. The following year, Honda added an EX trim level, which came standard with antilock brakes and 15-inch alloy wheels.
Some early owners and reviewers considered the CR-V underpowered, so in 1999 Honda upgraded the powerplant, which boosted horsepower to 146. In 2000, Honda introduced a limited-time SE (Special Edition) trim, which slotted above the EX and featured leather upholstery, an AM/FM audio system with CD and cassette players, chrome grille accents, body-colored bumpers, and unique side moldings.
Again based on the Civic platform, the second-generation CR-V debuted for the 2002 model year with an entirely new body and suspension. It came equipped with a new 160-hp, 2.4-liter four-cylinder engine, which provided an extra reserve of power the CR-V had never had before. The engine incorporated the i-VTEC variable valve timing system, which helped ensure good fuel economy despite the increased horsepower. Honda gave the CR-V's exterior a sharper, more refined appearance, with a shorter nose, more angular lines, and a more aggressive front end with a chrome accent grille, multi-reflector headlights, and a black composite bumper.
Inside, the second-generation CR-V had a more spacious cabin, thanks to a larger greenhouse, which resulted in more headroom and wider, more comfortable seats. On trims equipped with the automatic transmission, Honda moved the gear selector as well as the parking brake selector to the instrument panel, opening up more space on the center console for storage. The CR-V also came equipped with a new sport steering wheel with an easy-to-grip design. Cargo space increased from 67.2 cubic feet to 72 cubic feet with the rear seat folded down.
The CR-V again came in LX and EX trims. The LX came standard with power windows and a four-speaker AM/FM audio system with CD and cassette players. Owners could add Honda's Real Time 4WD system as an option. The EX added a power moonroof, side airbags, a 6-CD changer, antilock brakes, alloy wheels, and standard 4WD.
The CR-V received a mid-generation refresh in 2005, which included new headlights, taillights, grille, and bumpers, as well as standard 16-inch wheels on all trims. Inside, all trims received upgraded rear-seat headrests, while the EX added steering-wheel-mounted audio controls and an audio system prepped for XM satellite radio. In addition, all trims now included state-of-the-art safety systems, including antilock brakes, electronic brakeforce distribution, traction control, vehicle stability assist, front seat-mounted airbags, and side-curtain airbags with rollover sensors.
In 2005, Honda again added an SE trim, positioned above the EX in the trim lineup. It sported unique bumpers and side molding, as well as leather upholstery, a leather-wrapped steering wheel, heated front seats, and heated exterior mirrors, as well as a hard cover for the rear spare tire and a unique Pewter Pearl exterior color.
The third and current-generation CR-V appeared in showrooms with the 2007 model year. It featured a fully independent suspension, a quiet, comfortable cabin, and an entirely new, highly rigid body design. The CR-V's width increased by 1.4 inches to 71.6 inches, while overall length decreased 3.1 inches (due primarily to the repositioning of the spare tire). Power came from a 166-hp, 2.4-liter four-cylinder engine, which delivered fuel economy numbers of 20/30 mpg for front-wheel-drive trims.
Outside, the CR-V displayed a more rugged design with a new double grille, a sculpted lower body, and a stylized rear window treatment. In addition, Honda moved the spare tire from the exterior of the tailgate to a compartment under the rear floor.
The third-generation CR-V came in LX, EX, and upscale EX-L trims. A three-spoke steering wheel, wider front bucket seats, keyless entry, and upgraded audio systems were among the standard features, while the EX-L came equipped with such standard features as a power driver's seat, automatic climate control, and a premium audio system with a 6-CD changer.
Throughout its history, the CR-V continued to sell well, so that by 2007 it was outselling many of its competitors, including the RAV4 and the Tahoe, as well as the larger Ford Explorer. The third-generation CR-V received primarily top safety scores, thanks to its many safety features. In addition, the CR-V has received numerous awards, including the Best Resale Value Award from Kelley Blue Book in 2010 and a Top Safety Pick award from the IIHS in 2007.
Used Versions
Prospective CR-V buyers have a lot to choose from, including trims from all three generations. Third-generation used CR-Vs offer the best opportunities for buyers who seek a wide range of standard and optional features, as well as plenty of cargo space. In addition, performance and handling are among the third-generation CR-V's many desirable features.
CR-Vs built after 2005 offer a wide array of standard safety features, including antilock brakes, traction control, and stability control, as well as side-mounted airbags with rollover sensors. Owners who require additional stability during inclement driving conditions should seek out CR-V trims with 4WD.
First-generation CR-Vs offer the best bets for buyers on a budget, but it's important to remember those trims came equipped with a less-powerful engine, and many considered the first-generation versions underpowered. By the second generation, however, the four-cylinder put out additional horsepower while maintaining very respectable fuel economy numbers.
Buyers who seek something a little special should keep an eye out for the SE trims, produced periodically throughout the CR-V's production history. These trims, which usually appeared with mid-generation refreshes, typically were slotted in above the EX trim level and came equipped with a number of unique exterior and interior features, including leather upholstery and side body molding. Buyers can expect prices for these trims to be at a premium, however. Still, the good news is that the CR-V has proved popular with buyers throughout its history, causing Honda to expand production to plants in the U.S. and Mexico, as well as Japan. As a result, buyers who seek a CR-V can more than likely find the ideal trim and year that matches their expectations and budget.
New Honda CR-V

The 2020 Honda CR-V has been announced, but it is not yet available for purchase.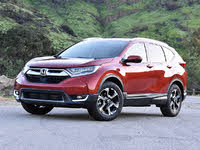 Used Honda CR-V
Honda CR-V Questions
Honda Crv Troubles
Hi all, Had my automatic 05 honda crv in for a service today, oil change and back brake pads were changed, as I drove home it felt good but suddenly it started vibrating almost like I was driving ...
Honda CRV Rattle
Is there a recall on the VTC Actuator rattle. Almost 2 years for me.
2014 CRV Timing Chain And VTC "rattle" Issue"
I have 2014 CRV. I had the "rattle" upon cold start when I got the car. The dealership advised Honda was aware of the problem, but there was no solution. I have been religiously been taking my car ...
2014 Honda CRV Transmission Seems To Shudder Or Jump When Shifting Between ...
I Have A 2014 CRV-LX With 6 Buttons For CDs. After Loading The Initial CD,...
Older Honda CR-V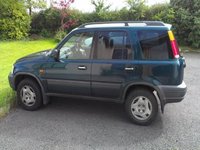 Find great deals from top-rated dealersTM
Search