Ford Escape
Model Overview
New Ford Escape
Used Ford Escape
Ford Escape Questions
My Car Will Not Move In Drive But When I Shift It To Low Gear It Will Move ...
Ignition Switch/ Security
Why won't my key come out when I turn the vehicle off and put it in park key won't turn all the way back to come out unless I take the battery terminals off
Vehicle Goes Without Pressing Gas Pedal
Why does my 2001 ford escape v6 4wd. Vehicle go without pressing the gas pedal
How Do I Reset The Oil Change Required Notification On My 2013 Ford Escape?...
Just changed oil now how do i reset?
Starting My Ford Escape?
Do you hold the key until it start or let go of the key?
Ford Escape
Overview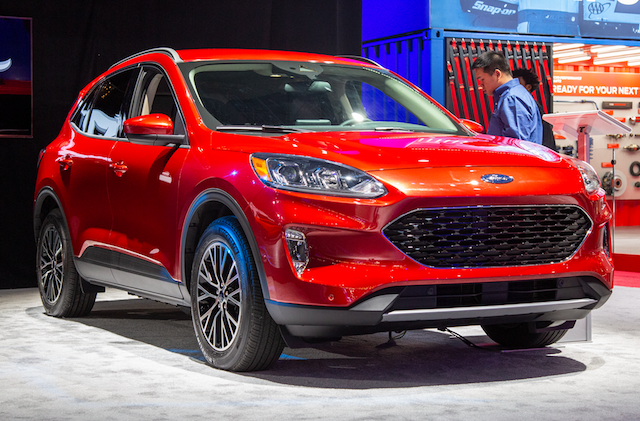 The first Escape went on sale for the 2001 model year, offering roomy seating for five and a usefully sized cargo area in a boxy and rugged design. People on a budget like the SUV's blend of value and utility.
Over the years, Ford has completely reengineered and redesigned the Escape multiple times. Today, the Escape adopts what Ford calls Mustang-inspired styling, and it emphasizes paved-road performance.
A 4-cylinder engine, with or without turbocharging, has always been a part of the Escape powertrain lineup, as has its standard front-wheel-drive (FWD) system. All-wheel drive (AWD) has always been available, and over the years, Ford has also offered an optional V6 engine in addition to an efficient hybrid version of the Escape.
Since it first went on sale two decades ago, the Ford Escape has appealed to a range of buyers. The hybrid appeals to those seeking to maximize fuel economy and limit their environmental impact, and the third-generation Escape provides a little bit of luxury combined with enjoyable driving dynamics.
Pros: Hybrid and plug-in hybrid versions available, modern safety and convenience technology, useful passenger and cargo space.
Cons: Underwhelming base engine, prices climb fast when adding desirable features.
Model Generations
2020 to Present: Current Generation
The 2020 Ford Escape remains a compact crossover with seating for five. It comes with a choice between two turbocharged 4-cylinder engines paired with an 8-speed automatic transmission. There is also a hybrid trim and a new plug-in hybrid trim, both of which use a continuously variable automatic transmission (CVT). AWD is an option for all but the plug-in Escape.
Prices range from just under $25,000 for a base S trim to over $40,000 for a loaded Escape Titanium. The hybrid powertrain is standard with SE Sport and Titanium trims, with a turbocharged 2.0-liter 4-cylinder available as an option for the Escape Titanium.
Overall, the fourth-generation Escape features a sporty driving character, and its technologically advanced driver-assistance systems are impressive for the compact SUV segment. Hybrids combine good power with effortless efficiency, but, unfortunately, this appealing drivetrain is limited to SE Sport and Titanium trim levels.
The Lincoln Corsair is related to the Escape, but it offers significant differences.
2013 to 2019: 3rd Generation
When Ford redesigned the Escape for the 2013 model year, it based the SUV on a European vehicle called the Kuga. As such, the third-generation Escape had tidy dimensions combined with enjoyable driving dynamics.
Ford discontinued the hybrid Escape in 2013. During its third generation, Ford offered the Escape with three 4-cylinder engines, two of which were turbocharged, and an automatic transmission. FWD came standard, and AWD was optional.
The turbo 1.6-liter 4-cylinder in the most popular versions of the SUV proved to be trouble-prone during the first couple of years of production. Additionally, based on recall history, the Escape's 6-speed automatic transmission, airbags, seat belts, and electrical system were problematic.
By 2016, Ford had the third-generation Escape's kinks largely ironed out, and then the automaker made styling, technology, and powertrain changes to the 2017 Escape. However, the updates did not improve fuel economy or the SUV's mediocre crash-test ratings.
CarGurus evaluated the third-generation Escape four times, with the highest rating of 7.7 assigned to the 2017 version, which featured a Sync 3 infotainment system, considered a major improvement over the previous MyFord Touch technology. But right up through the 2019 model year, Ford failed to invest in the Escape's underlying vehicle architecture in order to address poor crash-test performance.
From 2016 to 2019, Lincoln offered a luxurious version of the third-generation Escape called the MKC.
2008 to 2012: 2nd Generation
The second-generation Ford Escape amounted to a major update to the first-generation vehicle. It arrived for the 2008 model year, followed by drivetrain improvements for 2009 that added power and, for the 4-cylinder engine, improved fuel economy.
As was true of the original Escape, the second-generation version offered a 4-cylinder, a V6, and a hybrid powertrain. FWD was standard, with AWD optional. This version of the SUV was reliable, suffering comparatively few recalls compared to the first-generation Escape.
The 2008-2012 version provided all the same benefits of the original: a roomy interior with comfortable seats, boxy styling that still looks appealing today, good cargo capacity, and the hybrid's impressive fuel economy. It was, however, still riddled with hard plastic on the inside.
Mercury sold a lightly restyled version of the Escape called the Mariner, and while the Mazda Tribute was more distinctively modified, it was still essentially the same vehicle.
2001 to 2007: 1st Generation
Ford introduced the Escape for the 2001 model year after an engineering partnership with Mazda, which sold a version of the Escape called the Tribute. The Escape was larger than a Toyota RAV4 and more attractive than a Honda CR-V, making it an instant hit.
Unfortunately, the Escape's quality wasn't up to par with its primary competitors. Ford recalled the Escape numerous times during the first few years of production. The automatic transmission proved to be particularly troublesome. Based on the Escape's recall history, avoid the 2001 to 2004 models, sticking instead with a 2005-2007 version.
Those early Escapes came with a weak 2.0-liter 4-cylinder paired with a manual gearbox, or a thirsty 3.0-liter V6 engine with an automatic. In 2005, a new 2.3-liter 4-cylinder arrived, as well as a hybrid powertrain delivering up to 29 mpg in combined driving. Each version of the Escape had FWD, with AWD available as an option.
Aside from transmission woes and the sheer number of recalls pertaining to 2001-2004 Escapes, the worst thing about them was the plastic-heavy interior. Offering room for five people, good cargo space, an available hybrid powertrain, and a rugged design that aged well over time, the first-generation Escape was fundamentally appealing.
Shoppers Also Consider
Thanks to its stylish design, impressive cargo capacity, and variety of powertrains, the Escape has typically sold very well. Some of its primary competitors have been the Toyota RAV4, Honda CR-V, and Nissan Rogue, although the Mazda CX-5 and Chevrolet Equinox are also competitors worth considering.
Find great deals from top-rated dealersTM
Search