Volkswagen Tiguan
Model Overview
New Volkswagen Tiguan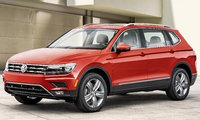 Used Volkswagen Tiguan
Volkswagen Tiguan Questions
Intake Valve Cleaning On 2011 Tiguan
I have 2011 Tiguan with 78,000 miles on it now. About 6 months ago (at about 70,000 miles) I have multiple misfires so I replaced all 4 coils and spark plugs. The car went smoothly up until a few ...
Battery Draining In Volkswagon Tiguan
When I take my son to his music lesson, I like to sit in my vehicle and read (takes about 35 minutes). I always make sure that the ignition is off (no radio, no air, no lights). Up until 2 weeks a...
How Expensive Are Repairs
Thinking of buying this vehicle 94,000 miles
I Have A 2010 Vw Tiguan That Yesterday Started To Produce Heat Only On The ...
What Does "salvage Reported" Mean?