Volkswagen Tiguan
Model Overview
New Volkswagen Tiguan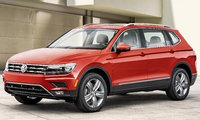 Used Volkswagen Tiguan
Volkswagen Tiguan Questions
Volkswagen 2013 Tiguan Won't Start
When jump starting it accidentally crossed cables now won't start all kind all kind of warning lights on
2013 Vw Tiguan Cranks But Wont Start
i removed all of the fuses from the underhood fuse box then the battery died and it had to be jumped. i put the fuses back and charged the battery. now it cranks but wont start and is displaying a ...
Battery Change
Hi i have just 1 question,, does changing/replacing the car battery on vw tiguan 2010 sport model does it require a :reset:
What Does The Vw Epc Warning Light Mean?
What Octane Do I Have Use 2014 Tiguan