GMC Terrain
Model Overview
New GMC Terrain


Used GMC Terrain
GMC Terrain
Overview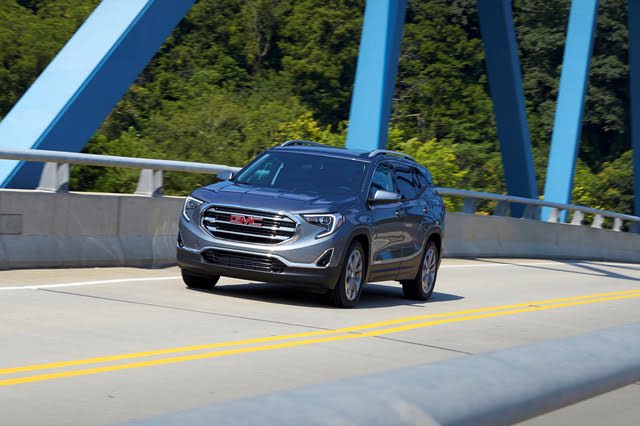 Like its corporate counterpart, the Chevrolet Equinox, the GMC Terrain is a compact crossover serving the needs of buyers who want the versatility of a small, commuter-friendly SUV without the added capability and expense of a larger vehicle.
First introduced in 2009 as a 2010 model, the 5-passenger GMC Terrain currently serves as the brand's entry-level model, followed by more spacious 3-row models such as the GMC Acadia crossover and full-size Yukon and Yukon XL SUVs. As one would expect, buyers have their choice of standard front-wheel-drive (FWD) or optional all-wheel-drive (AWD) systems, as well as base and upgraded engines.
CarGurus has reviewed the top-of-the-line Terrain Denali in recent years and walked away disappointed each time. With scores of 6.0 in 2015 and 6.2 in 2018, the GMC Terrain fell short of not only class leaders, but also models like the Jeep Compass and the Chevy Equinox. That last bit is particularly interesting since GMC describes itself as a premium brand.
Pros: Relatively low starting price, several available configurations, competitive towing capability
Cons: Subpar interior materials, underpowered base engine, lacks hybrid or electric variants, very expensive when fully equipped, latest generation's interior space trails competitors
Model Generations
Current generation: 2018-Present
For the 2018 model year, GMC completely redesigned the Terrain, replacing what had been a fairly spacious crossover with a boxy, rugged appearance to a compact crossover sporting a more sophisticated look. Shoppers can expect to see a lightly refreshed GMC Terrain for the 2021 model year, with a completely redesigned version set to debut by 2023 or 2024.
In the meantime, this second-generation Terrain is available in trims ranging from the SL FWD to the Denali AWD. Base prices (including destination charge) range from about $26,000 for the SL FWD to more than $41,000 for the Denali AWD. A fully-loaded Terrain can run into the mid $40s, though generous discounts are often available.
Under the hood of the Terrain SL FWD, you'll find a 170-horsepower, 1.5-liter turbocharged 4-cylinder engine that delivers 203 pound-feet of torque and is paired with a 9-speed automatic transmission. According to the EPA, drivers can expect to average 27 mpg in a mix of city and highway travel. The Terrain Denali packs a bit more punch courtesy of a 2.0-liter turbocharged 4-cylinder engine boasting 252 horsepower and 260 lb-ft of torque. The 9-speed automatic transmission is standard here, too, but the added grunt and AWD system knock average fuel economy down to 23 mpg. A diesel engine option promising up to 40 mpg was discontinued after the 2019 model year.
2010-2017 GMC Terrain: 1st Generation
GMC entered the booming crossover market in 2009 with the launch of its 5-passenger 2010 Terrain, also known as a rebadged and slightly dolled-up version of the second-generation Chevrolet Equinox and replacement for the discontinued Pontiac Torrent. Buyers could select one of four trim levels—SLE, SLE2, SLT, SLT2—with FWD or AWD capability and a 182-horsepower 2.4-liter 4-cylinder engine or a 264-horsepower 3.0-liter V6. All Terrains were fitted with a 6-speed automatic transmission and EPA combined fuel economy ratings varied from 20 mpg to 26 mpg, depending on the configuration.
Flex-fuel capability arrived for the V6 in 2011, followed by a standard 7-inch touchscreen infotainment system and backup camera for the 2012 model year. Bigger changes were right around the corner, as the 2013 GMC Terrain became available with a 301-horsepower 3.6-liter V6 (replacing the 3.0-liter V6) and a new Denali trim designed to broaden the reach of GMC's luxurious sub-brand. Aside from a few content changes and a minor refresh for 2016, the Terrain carried on unchanged through 2017.
It should be noted that this first-generation GMC Terrain gained a reputation for questionable reliability. Specifically, owners of Terrains equipped with the 4-cylinder engine complained of engine problems related to excessive oil consumption. GMC refuted the claims but, after a class-action lawsuit, agreed to cover certain repairs and provided extended warranties.
Shoppers Also Consider:
GMC has seen annual Terrain sales approaching and surpassing 100,000 units in recent years, though 2019 is expected to be a bit soft. By comparison, Chevy moves more than three times as many Equinox models off the lots. Figures for both models are buoyed by sales to fleet customers (rental companies).
In addition to the Equinox, strong sellers in the compact crossover segment include the class-leading Honda CR-V and Toyota RAV4, followed in no particular order by the Ford Escape, Jeep Cherokee, Subaru Forester, Volkswagen Tiguan, and others. And, since the Terrain can be had in upscale Denali guise, vehicles such as the Acura RDX, Lexus NX, and Infiniti QX50 can also be considered relevant competitors.