Subaru Forester
Model Overview
About the Subaru Forester
Available Now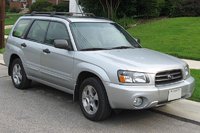 When the Subaru Forester debuted in 1998, it represented the automaker's first new vehicle in six years, as well as its first compact SUV, although at the time it resembled a tall station wagon. Today, such vehicles are labeled crossover SUVs, but at the time of the Forester's debut, the term was not in common use. The compact Forester offered the ride height and storage flexibility of a small SUV, with the car-like handling and performance of a sedan, which helped it compete with some of the smaller SUVs available at the time, including the Toyota RAV4 and the Honda CR-V. In addition, the Forester came standard with Subaru's well-reviewed full-time all-wheel-drive (AWD) system, which continued throughout the vehicle's production run and remains one of its distinguishing characteristics.
Currently in the middle of its third generation, the Subaru Forester seats five passengers and comes in six trims for 2011, at 2.5 X and 2.5 XT trim levels. The 2.5 X comes in base, Premium, Limited, and new Touring trims, while the 2.5 XT comes in Premium and Touring trims. Standard features for the new Touring trims include dual-zone climate control, HID headlights, unique side mirrors with integrated turn signals, and a backup camera, while Premium trims receive a new audio system that includes Sirius satellite radio capability.
A 170-hp, 2.5-liter four-cylinder engine powers the 2.5 X trims, while the 2.5 XT trims feature a turbocharged version of the 2.5-liter engine, boosting horsepower to 224. The base powerplant runs on regular unleaded gasoline, while the turbocharged four requires premium fuel. The EPA estimates fuel economy numbers for the base powerplant at 21/27 mpg, while the turbocharged engine manages numbers of 19/24.
The third-generation Forester left behind the station-wagon styling of previous generations and more closely resembles its compact-SUV competitors, with more pronounced wheel flares, rounded lines at the front and rear ends, a larger grille, and a sculpted hood. Reviewers and owners like its roomy cabin, versatile cargo space, standard AWD performance, and affordable pricing. Complaints focus on a somewhat noisy ride and a fairly bland interior that lags when compared to more upscale cabins from some competitors. However, the Forester's overall value, as well as its maneuverability and practicality, make it a hit with a wide range of buyers, including younger drivers.
Since the Forester's current generation dates back to the 2009 model year, buyers can expect a mid-generation refresh for 2012. A fourth-generation Forester should appear in showrooms around 2014.
Model History
Big SUVs were all the rage in the mid-1990s, but Japanese automakers were working on something a little different. The Toyota RAV4 helped establish the crossover SUV market segment when it debuted in 1996, and Honda followed suit by introducing the CR-V in the U.S. in early 1997, though it had been available in Japan since 1995. Subaru's lineup at the time included the popular Legacy AWD wagon and the sport-oriented Impreza sedan. Seeing an opportunity, Subaru borrowed a powerplant and some design features from the wagon and used the Impreza's platform to create the Forester, the automaker's first compact SUV.
The Forester sat higher than the Subaru wagons, and offered good visibility out all sides, much like a typical SUV. However, it sat lower than the larger SUVs, and didn't offer the ground clearance of a true off-roader. On the positive side, the lower ground clearance meant a lower center of gravity, which enabled the Forester to meet federal safety regulations for passenger vehicles. AWD, which came standard, was designed primarily for use in inclement weather conditions, and not for extensive off-pavement travels. A unibody structure helped ensure a tight feel and good handling.
In its initial incarnation, the Forester sat on a wheelbase of 99.4 inches and had an overall length of 175.2 inches. It came in Base, L, and S trim levels, all powered by a 165-hp, 2.5-liter DOHC boxer four-cylinder engine borrowed from the Legacy Outback wagon. Such features as antilock brakes, air conditioning, cruise control, and power windows and door locks came standard on the mid-level Forester L trim, while the top-of-the-line S trim also included upgraded upholstery, heated front seats, keyless entry, heated exterior mirrors, a viscous limited-slip differential, and 16-inch alloy wheels, as opposed to the 15-inch wheels on the L trim.
For 2001, Subaru dropped the Base trim, reducing the lineup to just the L and the S trims. Updates included restyled front and rear ends, new headlights and taillights, and a new chrome grille for the S trim, as well as new seatbelts and rear-seat headrests for both trims. In addition, a 60/40 split-fold rear seat came standard, adding flexibility to the interior. With both seats down, cargo space topped out at 64 cubic feet. In 2002, leather seats were added as an option for the S trim.
The second-generation Forester debuted for the 2003 model year with a more streamlined exterior design, a stiffened body, and a tighter suspension designed to improve handling and ride, as well as a lighter overall weight (by almost 250 pounds) thanks to such components as a new aluminum hood. The Forester sat on an updated Impreza platform, although wheelbase and overall length remained about the same as the previous generation. In addition, Subaru renamed the Forester's trims, replacing the L and S trims with the 2.5 X and 2.5 XS.
New features for the second-generation Forester included side-impact airbags, keyless entry, and 16-inch wheels for all trims. In addition, the 2.5 XS added electronic brakeforce distribution to its front and rear disc brakes. The powerplants rolled over from the previous generation unchanged.
For 2004, Subaru added a new turbocharged 2.5 XT trim, powered by a tweaked version of the Forester's 2.5-liter four-cylinder engine, which generated 210 hp. Standard features for both the XS and XT included heated seats, a 6-CD player, a leather-wrapped steering wheel, and automatic climate control, while a Premium Package added leather seats and a nearly roof-length power sunroof.
Subaru added a new 2.5 XS L.L. Bean trim for 2005. It featured Bean-embossed leather seats, a large sunroof, a water-resistant cargo area, and auto-dimming lights, as well as a self-leveling rear suspension. A minor refresh in 2006 resulted in a slight increase in overall length, to 176.6 inches, due to design change for the front end and grille. In addition, a new 2.5 X Premium trim entered the lineup.
The third-generation Forester debuted at the 2008 North American International Auto Show for the 2009 model year. Again it sat on an Impreza platform, except this time the designers melded the basic platform from the Japanese version with the Impreza wagon with the rear platform of the U.S. Impreza sedan. Wheelbase stretched to 103 inches, an increase of 3.6 inches, while overall length measured 179.5 inches, an increase of 2.9 inches. The extra inches resulted in improved legroom in the rear seat, which had been tight for taller passengers, and boosted maximum cargo space to 69 cubic feet, an increase of 5 cubic feet over the previous generations.
Interior updates for 2009 included a new center console and dashboard borrowed from the Impreza, as well as a new optional touchscreen navigation system. In addition, Subaru added electronic stability control as a standard feature.
Used Versions
Used Foresters essentially offer two choices for prospective buyers. Prior to 2009, most reviewers considered the Forester a tall wagon with SUV capabilities, while by its third generation the Forester had developed into a true crossover SUV. Given its good overall value, the Forester in either configuration presents some good options for buyers seeking a practical used vehicle.
One of the Forester's best asset remains its full-time AWD system, which comes standard on all trims in all production years. Throughout its history, the Forester also scored high in safety tests, making it a good option for buyers with families. Antilock brakes came standard on upper-level trims starting with the Forester's first year, and side-impact airbags for front-row passengers became standard in 2003. Electronic stability control joined the standard feature list in 2009.
The second-generation Forester, available from 2003 to 2007, offered a number of improvements over the first generation, including a stiffer body and suspension, which helped improve ride and handling. It also came with a more extensive standard feature list, including 16-inch wheels and keyless entry.
Buyers seeking an upscale Forester should look for S trims from the first generation, XS and XT trims from the second generation, and the L.L. Bean trim, available from 2005 to 2007.
New Subaru Forester


Used Subaru Forester
Subaru Forester Questions