GMC Yukon XL
Model Overview
New GMC Yukon XL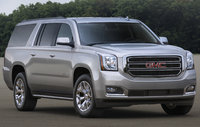 Used GMC Yukon XL
GMC Yukon XL Questions
2008 Gmc Yukon Xl Electrical Issues.
For some reason the car sometimes goes dead after you turn it off as if the battery were dead. I can always tell when it is going to happen because the radio will turn off as soon as you turn the engi...
Middle Bench Swap For Two Buckets
I have a 2016 yukon xl with a middle row bench seat (Black leather) looking to trade for two factory bucket seats. Anyone interested?
Why Is My Add That I Added Yesterday On The Last Page. I Have Lower Miles A...
Radio Display
The car runs fine but when you crank Car up the radio touch screen is blank . All fuses are good. It's a 2007 Yukon xl
2000 Gmc Yukon Xl
When I turn on the heat there is a slight smell of coolant what could it possibly be before I go ahead to replace the heater cord itself?
GMC Yukon XL
Overview
After an earlier incarnation as the Suburban, the GMC Yukon XL took its place in the pantheon of GMC vehicles in 2000. This full-size SUV started with 4 trims, expanded to 6 in 2006, and then to 18 in 2007. Despite the change, the Yukon XL has always had 4 doors with room for 8-9 passengers.
The V8 powertrain has gradually evolved from from a maximum of 6.0 L and 300 hp to 352 hp over the years. The most significant changes to the Yukon XL took place in 2007 when GMC re-designed the interior and exterior, added more cabin room, and upgraded the powertrains. Towing capacity ranges from 7,100 to 9,700 lbs., depending on the trim.
If drivers could change one thing about the Yukon XL, they'd make the 3rd row seats foldable. GMC would do well to address that issue as it moves forward.