GMC Yukon XL
Model Overview
New GMC Yukon XL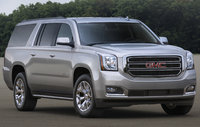 Used GMC Yukon XL
GMC Yukon XL Questions
2001 Yukon Xl
On my way to work, my truck started to lose power as I was accelerating, I heard a puting noise from under the hood. The oil pressure meter was at 60,but when I got to work I cut it off then restar...
Ac Not Working
I'm using Yukon XL 2008 model .when I starting ac not working only blinking the switch not start compressor but Car any hump jumping that time it's working I was checking to many workshop but can't...
Cd Continue To Plays Can't Stop Or Pause It
Cd continue to play and can't pause or stop it. The pause or stop buttons won show on the screen. Only button on screen is random.
2008 Gmc Yukon Xl Electrical Issues.
For some reason the car sometimes goes dead after you turn it off as if the battery were dead. I can always tell when it is going to happen because the radio will turn off as soon as you turn the engi...
I Have A 2005 Yukon Xl . I Owned It For 5 Months But It Makes A Thuding Noi...
when you are going 45 to 50 miles per hour..it make the worse noise like something is falling apart underneath. Like something whacking against something else. I first thought it was the shield around...
GMC Yukon XL
Overview
After an earlier incarnation as the Suburban, the GMC Yukon XL took its place in the pantheon of GMC vehicles in 2000. This full-size SUV started with 4 trims, expanded to 6 in 2006, and then to 18 in 2007. Despite the change, the Yukon XL has always had 4 doors with room for 8-9 passengers.
The V8 powertrain has gradually evolved from from a maximum of 6.0 L and 300 hp to 352 hp over the years. The most significant changes to the Yukon XL took place in 2007 when GMC re-designed the interior and exterior, added more cabin room, and upgraded the powertrains. Towing capacity ranges from 7,100 to 9,700 lbs., depending on the trim.
If drivers could change one thing about the Yukon XL, they'd make the 3rd row seats foldable. GMC would do well to address that issue as it moves forward.