GMC Yukon XL
Model Overview
New GMC Yukon XL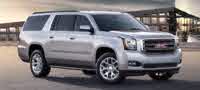 Used GMC Yukon XL
GMC Yukon XL Questions
Tires Sizes...
Hello - I need to replace my tires in the near future... What is the largest size you can go to without having it rub? And what mods can be made without going radical to go even bigger? I'd love to g...
2007 YukonXL Denali Manual Liftgate Release On Handle Doesnt Work
The liftgate works with the keyfob and the interior panel control, but I can't get any response with the handle for the hatch or the rear window.
Vehicle Cuts Out At Turns And Stops
Our Yukon stalls when turning a corner or coming to a stop. As long as its moving its fine. Could this be a fuel pump issue or water in the tank?
Running Boards
My running board on the passenger side is making terrible noise and will not close.
P0200 And P0300
2003 yukon xl 1500   Replaced: plugs, wires, injectors, fuel filter, fuel pump. Re-tested: coils, wires Cleaned fronts side of throttle body (didn't remove) as best I could.   Scanner was tell...
GMC Yukon XL
Overview
After an earlier incarnation as the Suburban, the GMC Yukon XL took its place in the pantheon of GMC vehicles in 2000. This full-size SUV started with 4 trims, expanded to 6 in 2006, and then to 18 in 2007. Despite the change, the Yukon XL has always had 4 doors with room for 8-9 passengers.
The V8 powertrain has gradually evolved from from a maximum of 6.0 L and 300 hp to 352 hp over the years. The most significant changes to the Yukon XL took place in 2007 when GMC re-designed the interior and exterior, added more cabin room, and upgraded the powertrains. Towing capacity ranges from 7,100 to 9,700 lbs., depending on the trim.
If drivers could change one thing about the Yukon XL, they'd make the 3rd row seats foldable. GMC would do well to address that issue as it moves forward.
Find great deals from top-rated dealersTM
Search