GMC Yukon XL
Model Overview
New GMC Yukon XL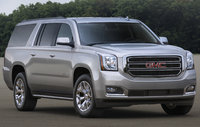 Used GMC Yukon XL
GMC Yukon XL Questions
How Do I Remove Rear Tail Light Cover To Replace Brake Bulb?
i removed the 2 screws but could not remove the cover. stopped trying for fear of breaking it. still w/o new bulb. thanks
2001 Yukon Xl I Have Power Brand New Battery
When I turn the key I get nothing the car won't start but all the lights come on radio comes on so I can get a good power but no ignition the car won't start what could be wrong?
2005 Yukon Won't Completely Disengage
After using 4 wheel drive I stopped put truck in neutral pushed 2wheel drive option. Could hear only 1 side disengaged. Any Ideas?
Brake And Tail Lights
My brake and tail lights are not working but my flashers and turn signals are
GMC Yukon XL
Overview
After an earlier incarnation as the Suburban, the GMC Yukon XL took its place in the pantheon of GMC vehicles in 2000. This full-size SUV started with 4 trims, expanded to 6 in 2006, and then to 18 in 2007. Despite the change, the Yukon XL has always had 4 doors with room for 8-9 passengers.
The V8 powertrain has gradually evolved from from a maximum of 6.0 L and 300 hp to 352 hp over the years. The most significant changes to the Yukon XL took place in 2007 when GMC re-designed the interior and exterior, added more cabin room, and upgraded the powertrains. Towing capacity ranges from 7,100 to 9,700 lbs., depending on the trim.
If drivers could change one thing about the Yukon XL, they'd make the 3rd row seats foldable. GMC would do well to address that issue as it moves forward.