GMC Yukon XL
Model Overview
New GMC Yukon XL

The 2018 GMC Yukon XL has been announced, but it is not yet available for purchase.
CarGuru's preview of the 2018 GMC Yukon XL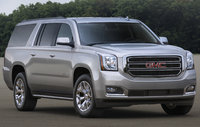 Used GMC Yukon XL
GMC Yukon XL Questions
2008 Gmc Yukon Xl Electrical Issues.
For some reason the car sometimes goes dead after you turn it off as if the battery were dead. I can always tell when it is going to happen because the radio will turn off as soon as you turn the engi...
What About Mine?
Same exact situation. Did not flood it. Husband or ex took off the throttle body bc if what a mechanic told us but I cleaned it and put it on with the two or three appropriate tubes that fit on to ...
Lifters / Push Rods
Why would 1 of the push rods go in deeer than the other 7
Where Is The Reset Relay For The Fuel Pump
Losing Engine Power With No Warning
I recently took my Yukon (140,000miles) up to a local mountain(4000ft elevation) , it drove up the curvy steep road fine. Engine ran a little warm, a smidgen above center, but no problem till we app...
GMC Yukon XL
Overview
After an earlier incarnation as the Suburban, the GMC Yukon XL took its place in the pantheon of GMC vehicles in 2000. This full-size SUV started with 4 trims, expanded to 6 in 2006, and then to 18 in 2007. Despite the change, the Yukon XL has always had 4 doors with room for 8-9 passengers.
The V8 powertrain has gradually evolved from from a maximum of 6.0 L and 300 hp to 352 hp over the years. The most significant changes to the Yukon XL took place in 2007 when GMC re-designed the interior and exterior, added more cabin room, and upgraded the powertrains. Towing capacity ranges from 7,100 to 9,700 lbs., depending on the trim.
If drivers could change one thing about the Yukon XL, they'd make the 3rd row seats foldable. GMC would do well to address that issue as it moves forward.