Jeep Compass
Model Overview
New Jeep Compass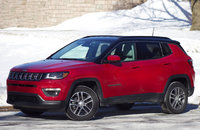 Used Jeep Compass
Jeep Compass Questions
My 2014 Jeep Compass (no Sunroof) Leaks Water On The Floor Mats. With The ...
My 2013 jeep compass (no sunroof) leaks water on the floor mats. With the ac on and when I only turn right it sounds like the air is slushing thru water. Any ideas
2007 Jeep Compass Blinking Lights Not Working
I've changed all four bulbs still the same results am I missing something else?
JEEP COMPASS 2015 Lightening Bolt On Dash HELP!
A month ago I was driving on the highway and a lightening bolt came on the dashboard. The Jeep seem to still have power, but I was pushing the gas and nothing. The bolt flashed for 2 seconds went of...
Intermittent A/C
My compressor crapped out a year ago and was replaced with a refurbished compressor. A/C worked great for about 5 months until it started blowing warm air again. This occurred during colder months so ...
Over The Shoulder Strap From The Rear Back I Can't Get It Unlocked From The...
Jeep Compass
Overview
Jeep introduced two new, entry-level models for 2007. The Compass preceded the Patriot by a few months, and it features a softer look with its rounded edges.
The Compass beats out its competition (the Toyota RAV-4 and Honda CR-V, for example) in cargo space, and it is expected to have similar fuel economy. A lack of luxury - manual windows are standard - keeps down the price, yet an impressive amount of safety equipment is included.
The Compass is available as a 4x4, and its ground clearance, breakover angles, and other stats are impressive within its class. It may not be tackling the Rubicon Trail, but it is certainly capable off pavement and it can deal quite well with winter weather.