Jeep Compass
Model Overview
New Jeep Compass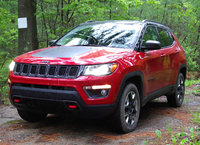 Used Jeep Compass
Jeep Compass Questions
Hi I Have An 09 Jeep Compass Starts Runs For Maybe Minute And Shuts Off Can...
09 jeep compass will not ideal
I Have A 2010 Jeep Compass. It Wont Start, Theres Power To Everything And T...
It s a 2.4litre engine
My Jeep Compass Dont Have Much Get Up And Go And Seems Like It Wants To Com...
My Jeep Compass has no pick up and go and seems to want to conk out sometimes and my rear end I hit bumps it's just all over the place
2011 Jeep Compass - Feels Like It's Shifting Hard Or Surging
Driving over 30 minutes, if less than 30 minutes i do not feel this. i experience the jeep surge or stutter, i am not accelerating or slowing down during the time this happens
Can U Please Delete My Account/ This Website Is Way To Much To Sell A Car. ...
this has been the single,most irritating experience
Jeep Compass
Overview
Jeep introduced two new, entry-level models for 2007. The Compass preceded the Patriot by a few months, and it features a softer look with its rounded edges.
The Compass beats out its competition (the Toyota RAV-4 and Honda CR-V, for example) in cargo space, and it is expected to have similar fuel economy. A lack of luxury - manual windows are standard - keeps down the price, yet an impressive amount of safety equipment is included.
The Compass is available as a 4x4, and its ground clearance, breakover angles, and other stats are impressive within its class. It may not be tackling the Rubicon Trail, but it is certainly capable off pavement and it can deal quite well with winter weather.