GMC Acadia
Model Overview
About the GMC Acadia
Available Now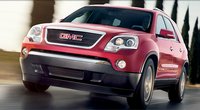 Plenty of full-size crossover SUVs have seating for 8, but only four can actually fit adults in those seats. The Acadia is one of those four, and its differently styled Buick and Chevrolet brothers (the Enclave and the Traverse) would be two of the others. The 288-hp V6 engine, ultra-smooth ride and elbow room are all the same across all three GM choices, but if you like moderately priced luxury wrapped in a rugged package, read on.
While there are trucks that do better than the Acadia's 17/24 mpg with the default front-wheel-drive (FWD) configuration, or 1 mpg less with all-wheel drive (AWD), its 5,200-pound optional tow capacity and nearly 117 cubic feet for cargo (24 with the seats up) make it mighty tough to argue with the Acadia's utility on a 6-speed automatic transmission. The base SL is the only trim carrying 8 passengers by default, but the 7-passenger SLE, SLT-1, SLT-2 and Denali can have their second-row captain's chairs swapped out for the bench seat.
Also standard on the SL are 18-inch wheels, foglights, privacy glass, keyless entry, rear air conditioning, tilt-and-telescoping steering wheel, OnStar for a year, child seat anchors, airbags for everyone, cupholders for everyone, 12-volt power outlets for everyone and a 6-speaker sound system with CD player, satellite radio and auxiliary audio jack. It also includes all the modern conveniences you would expect, such as power accessories, antilock brakes, traction and stability control, automatic headlights and cruise control.
While you can't opt-up for the panoramic sunroof or Bose passenger entertainment system in the SL, you can get the Preferred package, which includes the remote ignition, leather touches and Bluetooth functionality standard in the SLE and remaining trims. The SLE also adds a power liftgate, rear parking sensors, powered front seats, auto-dimming rear-view mirror and backup camera by default, but the SLT trims and Denali are the true luxury offerings.
Highlights for the SLT-1 include upgraded 19-inch wheels, upgraded steering, a tri-zone automatic climate control, more leather upholstery and passenger controls for the 10-speaker Bose sound system with iPod/USB connectivity. For a seriously intelligent car, the SLT-2 comes with power-folding mirrors, memory for driver's settings and access to the bigger, better option packs including ventilated front seats, cargo-area controls for that Bose sound system and a heads-up display.
As if that wasn't enough, the Denali comes with all of those standard and optional features plus 20-inch chrome wheels and a quieter cabin wrapped up in a drop-dead gorgeous wood-and-chrome style. The Denali, along with the SLT trims, can be equipped with a touchscreen navigation system featuring real-time traffic data.
Sure, the Acadia might not be the most nimble thing on the road, but drivers agree the ride couldn't be smoother, and opting for the bigger tires makes maneuvering and stopping a bit more snappy. Otherwise drivers are hard-pressed to find something missing from this highly capable family hauler.
Model History
Usually quadruplets are born minutes apart, but GM's GMC Acadia, Buick Enclave and Chevrolet Traverse differ in age by an entire year, with the Saturn Outlook born alongside the Acadia only to be discontinued 2 years later. The Acadia came first in 2007, with the upscale Enclave as its closest sibling and the affordable Traverse taking up the rear. This affords GM the ability to offer more features in the upscale editions and come back the next year to cost-effectively integrate those features into the more affordable versions.
To that end, only a few things have really changed about the Acadia since its debut, most notably the 13 extra hp gained from switching to a direct-injected engine for 2009 and a couple transmission tweaks in the 2010 for crisper downshifting. Aside from those, GMC has only progressively expanded the available trims, standardizing some features and shuffling around options along the way.
The original 2007 lineup consisted of just 3 trims - SLE-1, SLT-1 and SLT-2 - with essentially the same feature set found in the most recent models minus 20-inch chrome wheels and some of the other premium options found in today's Acadia Denali. The following year saw the birth of the Enclave and a standard second-row bench for the baseline trim. A rear-view camera became available for the other 2008 trims, with more options added for 2009 alongside the engine upgrade and birth of the Traverse.
The big year for updates was 2010. GMC added an SL trim at the bottom of the Acadia lineup and 20-inch wheels at the top, with "Cashmere" leather upholstery for the SLT trims and other features spread across the trims as they are today. The Bose system gained iPod/USB connectivity, and the transmission was tweaked to tighten downshifts.
The Denali took the top spot in 2011 - and the 20-inch wheels with it, plus every single option offered in the lower trims all packed into a quieter, more luxurious cabin of wood and chrome. Aside from a couple small feature tweaks, the Acadia lineup remains the same for 2012.
Used Versions
If you don't mind a slightly less powerful engine with somewhat sluggish downshifting, '07 and '08 Acadias make for awesome bargains - literally, awe-inspiring. For half the price of a new Acadia, you could get basically the same car with a few extra miles - but why so cheap?
Although no reports of any serious drivetrain issues have been seen (yet), buyers frankly prefer the stronger engine and improved tranny. On the other hand, these first two model years are riddled with a small army of annoyances - idiot lights activated by a stretched timing belt, the need to ground your music player, remote entry glitching out and needing to be reprogrammed, loose cables needing a clamp to keep the DVD monitors plugged in, boots rubbing and causing a ruckus in the suspension, water leaking through the sunroof because the hose came loose and worst of all the accessory drive belt could slip, causing a loss of power steering in wet weather without new front fender liners.
On the up side, the previous owner likely already took care of those. Bear in mind, though, this is a totally new type of car with a relatively untested engine and body. Given that it and its brothers are made by GM, you can expect a relatively sturdy contender out of the Acadia, with plenty of potential to go the distance, but its prototype status has this reviewer waiting for the other shoe to drop.
New GMC Acadia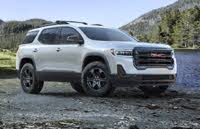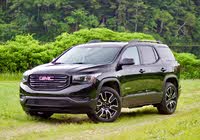 Used GMC Acadia
GMC Acadia Questions
Ac Blinks But Won't Come On
Ac button light blinks and ac won't come on but when it does that the temp gauge just bottoms out and radiator fan comes on. I stop and cut car off and sit a min, and crank it back up then everyth...
Power Steering
My power steering pump was replaced. Now it still has no power steering and its grinding on take offs until I push the stability traction button. GMC Acadia
Radio Problem Question
I have a 2010 GMC Acadia and the radio works but says on and off that it is "connecting" for about a second then goes back to the radio working ok. It is intermittent and I have erased all the phon...
Pairing Blue Tooth Devices.
I have tried numerous times. Is there a utube or "for dummies" SINCE i HAVE TRIED EVERYTHING. It did work on other cars.
Air Conditioning Blowing Hot Air When The A/C Is On Back Blow Cold Air
I have a 2010 GMC Acadia the car was blowing hot air out all vents then I changed the actuator and the back vents started blowing cold air but the front vents still blowing how air
Find great deals from top-rated dealersTM
Search