Hyundai Tucson
Model Overview
New Hyundai Tucson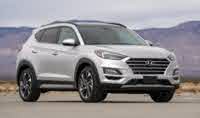 The 2019 Hyundai Tucson has been announced, but it is not yet available for purchase.
CarGuru's preview of the 2019 Hyundai Tucson
Used Hyundai Tucson
Hyundai Tucson Questions
My High Beams Aren't Really "high Beams". Does This Vehicle Have High Beam...
I have had this 2015 Hyundai Tucson for 3 weeks, and have yet to see a high beam that I am accustomed to. When I turn them on, I hear the relays under the hood clicking (and feel them clicking), an...
Air Conditioning Controls
I just bought a 2017 Hyundai Tucson, and I can't seem to figure out how to set the air conditioning on a particular setting. I can change the intensity and keep it there, but setting the mode from ...
How Do I Respond To People Who Have Commented On My Topic And How Do I Find...
where do i find my original comment and how do i answer the ones who have made a comment to it
Where Do You Find The Back Windsield Wiper Hose At On The Car
HyundaiTucson
My Tucson has only just done 30,000 km. I just tried to book a service only to be told that I need the 45,000 km service because it has been a bit more than 12 months since last service. I was told...
Hyundai Tucson
Overview
Once thought of as a cheap Korean car with negligible quality control, Hyundai has come a long way in building its reputation as a safe, solid, and reliable competitor to more expensive foreign automakers. Its new emphasis on improved quality and performance was evident in the introduction of the Hyundai Tucson in 2005. This compact SUV took the place of the Santa Fe as Hyundai's entry-level SUV, as the Santa Fe rightly moved into the mid-sized segment.
The Tucson packs a lot of standard equipment into even its base model, the most notable of which are the safety features. When introduced in 2005, all levels came with six airbags, ABS brakes, and traction and stability control, eclipsing most other compact SUVs in the segment, like the Ford Escape. Though the CR-V came with all of these features, it was sold at a higher price point. Offered as GL, GLS, and LX (later Limited), the Tucson was well equipped with power features, cruise control, and CD player, with leather seats and upgraded audio added as you moved up the line. Both an I4 and V6 were offered in either front-wheel or full-time all-wheel drive. The Tucson sat four in a surprisingly roomy interior, with more backseat head and legroom than the Santa Fe. Rear seats folded flat into the floor to expand the somewhat small cargo area. The front passenger seat also folded flat.
There have been few changes to the Hyundai Tucson since its debut in 2005. These have mostly been alterations in trim designations in order to align with the other names in the Hyundai brand. The current lineup consists of the base GLS, SE, and top-end Limited. It remains a popular choice for single owners or young families who are looking for the functionality of an SUV without the high price tag or unwieldy handling of larger models.