Hyundai Elantra
Model Overview
New Hyundai Elantra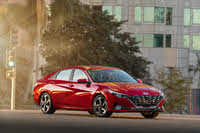 Used Hyundai Elantra
Hyundai Elantra Questions
Hyundai Elantra
Overview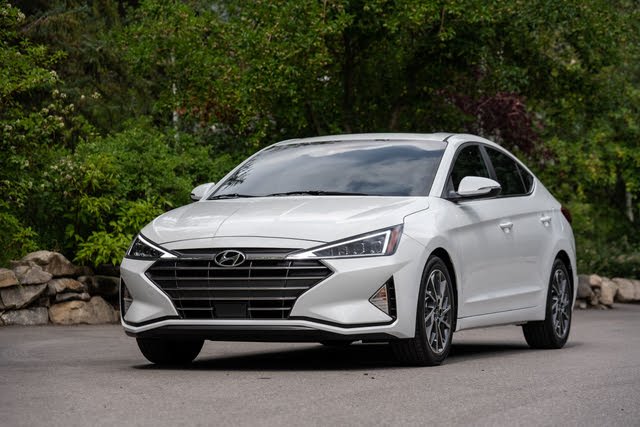 During the early 2000s, Hyundai got serious about quality and making cars that people wanted to drive, rather than had to drive because they had no other choice. The third-generation Hyundai Elantra was the first beneficiary of the company's master plan, the nameplate evolving from an also-ran to a solid contender in the compact car category.
Since then, Hyundai has offered the Elantra mainly as a 5-passenger sedan, but also as a 5-door hatchback, a 5-door wagon, and a 2-door coupe. As diverse as that sounds, however, the Elantra has always had a 4-cylinder engine driving the front wheels. No hybrids, no all-wheel drive.
Today, anyone shopping for a practical, durable, and stylish small car should put the Hyundai Elantra sedan and Hyundai Elantra GT hatchback on their shopping list. While it rarely ranks among the cars that are the most fun to drive, despite its available turbocharged engine, the Elantra's reliability and value let you enjoy it in other ways.
And the industry-leading warranty? Unlike 20 years ago, now it's more of a bonus rather than the primary reason to consider the Elantra.
Model Generations:
2017 to Present: Current Generation
With the sixth-generation Elantra, Hyundai toned down the sedan's head-turning looks with a more conservative and upscale appearance. That didn't last long; A 2019 freshening added quizzical geometric shapes that, depending on the trim level and viewing angle, can be downright jarring.
The 5-door Elantra GT, based on the European i30, arrived for 2018, showing clean, tailored lines to this day. Fold the back seat down and cargo space expands from 24.9 cu ft to 55.1 cu ft.
Both versions of the sixth-generation Elantra have nicer interiors than ever, modern infotainment and safety technologies, and available turbocharged engines that add significant driving spirit.
Three engine choices are available, but most Elantras have the standard 2.0-liter 4-cylinder with a manual or automatic transmission. For 2020, a continuously variable transmission (CVT) replaces the automatic in the sedan body style. Additional choices include turbocharged 1.4-liter and 1.6-liter 4-cylinder engines with manual or dual-clutch automatic transmissions (DCT), depending on the application. Fuel economy ranges from 25 to 36 mpg in combined driving, depending on powertrain choice.
For daily commuting, CarGurus recommends the Elantra sedan in Value Edition trim. For driving enjoyment, look at the Elantra GT N-Line, which is like a Korean Volkswagen GTI. No matter which trim level you choose, the Elantra offers an outstanding warranty, a long free-trial period to Blue Link services, and a Top Safety Pick crash-test rating.
In 2017, CarGurus gave the Elantra sedan an overall rating of 8.8. A test of the refreshed 2019 Elantra sedan garnered a score of 8.2.
2011 to 2016: 5th Generation
The dramatically styled fifth-generation Hyundai Elantra first turned heads for the 2011 model year. With its almost sensual body swells, flowing design, and attractive fastback silhouette, the Elantra made the automotive world stand at attention. Comparatively, its mechanical twin, the Kia Forte, was a wallflower in the compact car segment.
The Elantra sedan came out first, joined by a 2-door coupe and a 5-door hatchback for 2013. The Elantra Coupe was a dud; it was gone by 2015. The Elantra GT hatch remained available through 2017.
A 147-horsepower, 1.8-liter 4-cylinder engine was standard, paired with a manual or automatic transmission. In 2014, Hyundai added a more powerful 2.0-liter 4-cylinder that made 173 hp. Combined fuel economy ranged between 27 and 31 mpg.
The fifth-generation Elantra proved reliable with few recalls. The 2011-12 versions had a stability control issue, while the 2011 Elantra could suffer suspension corrosion in high salt-use areas. The brake lights were problematic for the 2013-14 models. This Elantra also boasted top safety ratings.
In 2015, CarGurus gave the Elantra an 8.5 rating, downgrading it in 2016 to a 7.5, in part due to testing of the simple Value Edition trim level.
2007 to 2010: 4th Generation
Building on the success of the third generation, the fourth-generation model arrived for the 2007 model year.
At first, the Elantra was only available as a 5-passenger sedan, but starting in 2009, a wagon called the Elantra Touring arrived. Based on the European Hyundai i30, it boasted more enjoyable driving dynamics and remained in production through the 2012 model year. The redesigned 2009 Kia Forte was based on the Elantra sedan's platform, but the Kia had a much more stylish look than the Hyundai.
All fourth-generation Elantras had a 138-horsepower, 2.0-liter 4-cylinder engine with a manual or automatic transmission. Fuel economy ranged from 26 to 32 mpg in combined driving. For 2010, Hyundai introduced a Blue trim level marketed as a more ecologically friendly version of the sedan, but all it did was bump the highway number from 34 mpg to 35 mpg, and then only with a manual transmission.
The fourth-generation Elantra proved to be fairly reliable. In 2008 there was a fuel pump recall, while the 2008-10 models saw recalls for its power steering.
CarGurus did not evaluate this version of the Elantra.
2001 to 2006: 3rd Generation
It wasn't until Hyundai introduced the third-generation Elantra that people started taking the company's vehicles seriously. In part, that's because Hyundai started offering its famous 10-year/100,000-mile warranty that year.
Admittedly, the third-generation Elantra wasn't the best-looking compact car you could buy, but its workhorse nature was enough to turn around Hyundai's reputation. First introduced as a sedan for 2001, the Elantra lineup gained a 5-door hatchback for 2002. Both had a 2.0-liter 4-cylinder engine with a manual or automatic transmission.
In spite of its impressive warranty, earlier versions of the third-generation Elantra were recalled several times for braking, suspension, and fuel tank issues pertaining to 2001-2003 models. A few airbag problems popped up too, but they were unrelated to the massive Takata airbag recall.
Shoppers Also Consider:
People who want value, quality, and efficiency have a terrific stable of compact vehicles from which to choose, and the Hyundai Elantra is one of them. Other notable vehicles in the segment include the Honda Civic, Mazda3, Toyota Corolla, Subaru Impreza, and Volkswagen Golf and Jetta.