Toyota Corolla
Model Overview
New Toyota Corolla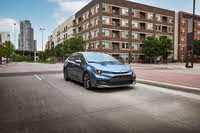 Used Toyota Corolla
Toyota Corolla
Overview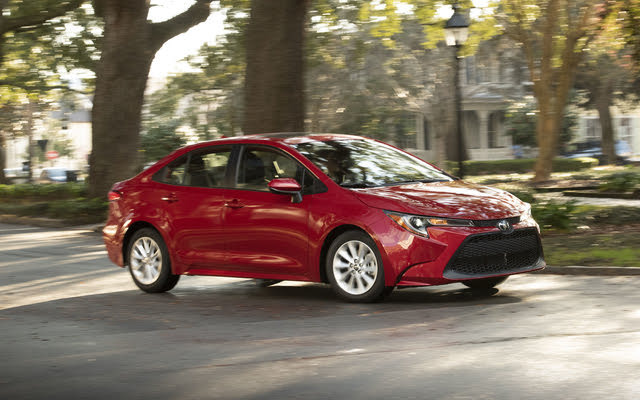 The Toyota Corolla is a compact car that's often thought of as the perfect choice for consumers who treat their cars like appliances. Though the Corolla name has a rich and storied heritage in its home country of Japan, the model's North American history is much more straightforward, providing reliable and affordable transportation since its arrival in 1966. Corolla models typically seat five passengers and it's currently available with the choice of inline 4-cylinder engines. A continuously variable transmission (CVT) comes standard and a 6-speed manual is optional. Every current Corolla features front-wheel drive (FWD). The redesigned 2020 model earned a CarGurus score of 7, while the 2017 model got a 6.2 rating.
Pros: The Corolla has fantastic reliability, efficient engine choices, and a competitive level of standard equipment, including safety features. All of these attributes are present in the current generation Corolla.
Cons: The entry-level engine offers unimpressive performance, and the recently introduced hatchback model has a smaller rear row than some buyers might expect.
Model Generations
2014-2019 Toyota Corolla: 11th Generation
The trusty 132-hp 4-cylinder carried over once again, though output was bumped to 140 hp in the Eco trim. Transmission choices included a 4-speed automatic, a new 6-speed manual, and a new CVT. Three trim levels, plus the Eco, kicked off this generation, and a styling refresh in 2017 also brought the new XSE trim. Buyers can expect up to 32 mpg combined. In 2019, the Corolla's hatchback model made a return. The National Highway Traffic Safety Administration (NHTSA) shows problems with incorrect load capacity labeling, spare tire inflation, and windshield wiper reliability. Several years in this generation show no recalls at all.
2009-2013: 10th Generation
In this generation, the Corolla got a promotion of sorts; The new Yaris slotted into Toyota's lineup to take over the entry-level spot. The 1.8-liter 4-cylinder got another slight horsepower bump, and a 2.4-liter 4-cylinder was introduced to power the top-end XRS trim, though that was dropped by 2011. The 4-speed automatic and 5-speed manual transmissions carried over. For most of the generation, three trim levels closely mimicked the previous generation's offerings. In 2013, the Corolla was rated for 29 mpg combined, regardless of transmission. For this generation, NHTSA recall information shows problems such as airbags, errors on load capacity labels, damaged seat heater wiring, and sticking accelerator pedals.
2003-2008: 9th Generation
The 2003 Corolla's redesign improved quality and added plenty of interior volume. The 1.8-liter 4-cylinder engine carried over with a bump to 130 hp, and three trim levels, as before. A new trim, XRS, was added for 2005, with a 170-hp 4-cylinder engine, but was dropped in 2007. Transmission choices were a 4-speed auto and 5-speed manual, with the manual returning 31 mpg combined. NHTSA data shows more problems with the ninth generation, including numerous airbag issues, exterior lighting quality, axle and hub assembly, and engine stalling.
1998-2002: 8th Generation
The eighth generation of the Toyota Corolla wrapped with just one engine, a 1.8-liter 4-cylinder, which could be paired with a 3-or 4-speed automatic transmission or a 5-speed manual. The manual was the most efficient, coming in at 31 mpg combined. There were just a few trim levels. According to NHTSA, common problems in this generation included headlight quality issues, suspension parts quality, and a sticking accelerator.
Shoppers Also Consider
The Toyota Corolla is generally one of the best-selling models in its segment, typically trailing the Honda Civic. Other cars in this class that are worth a look include the Mazda Mazda3, Hyundai Elantra and Veloster, Volkswagen Golf, Subaru Impreza, and Volkswagen Jetta.