Honda Civic
Model Overview
New Honda Civic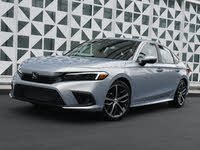 Used Honda Civic
Honda Civic
Overview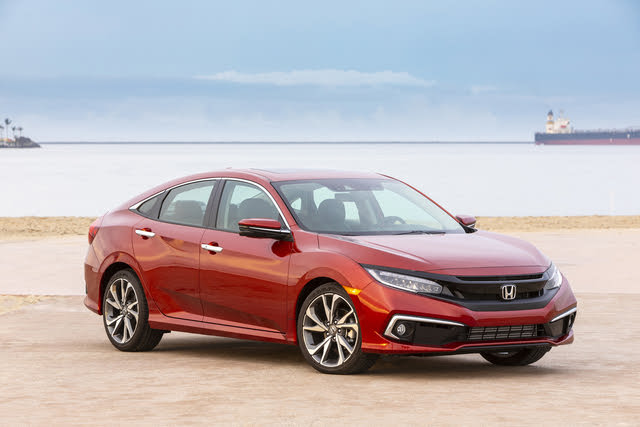 Everyone has a Civic connection. You've either owned one or had a friend or family member who had one. Most likely, bragging is involved in telling about how many miles it was driven before it finally went kaput. That's how ubiquitous the Civic is, and the primary subject of the discussion revolves around how reliable it is.
The first Civic, a 50-horsepower hatchback, went on sale in 1973 and offered cheap, efficient, and durable transportation. Almost 50 years later, it's in its tenth generation, with coupe, hatchback, and sedan body styles, along with performance-oriented Si and Type R variants on offer.
While the Civic certainly isn't cheap anymore, and Honda has made the occasional misstep with this model over the years, the car still sets the bar for compact, efficient, safe, practical, and affordable vehicles. Plus, the Civic is genuinely fun to drive.
Pros: It offers three body styles, a refined optional turbocharged engine, zippy Si models, and an outright fast Type R, along with impressive crash-test ratings and tons of interior storage.
Cons: It has origami styling and LaneWatch is not as good as blind-spot monitoring.
Model Generations:
2016 to Present: Current Generation
As with the previous Civic, the tenth-generation version came in 2-door coupe and 4-door sedan body styles when it debuted for the 2016 model year. A year later, a hatchback, sourced from a factory in the United Kingdom, joined the lineup.
A 2.0-liter 4-cylinder serves as the base engine, while a turbocharged 1.5-liter 4-cylinder is offered in higher trims and in all hatchbacks. Both engines can pair to a manual or continuously variable transmission (CVT). Driving enthusiasts will want the racy Civic Si or the no-holds-barred Type R. Know that these performance-tuned variants come only with a manual transmission.
Fuel economy ranges from 29 to 36 mpg in combined driving, with the Type R returning 25 mpg. You'll notice there isn't a Civic Hybrid; the Civic-based Honda Insight replaced it.
CarGurus recommends the Civic Hatchback Sport, thanks to its racy look, maximum utility, and refined turbocharged engine. While the coupe offers 11.9 cu ft of trunk space, and the sedan gives you 15.1 cu ft, the hatch provides 25.7 cubes behind the rear seats and 46.2 cubes with the rear seats folded.
No matter which Civic you choose, you'll find a quality interior, comfortable front seats, enjoyable driving dynamics, good gas mileage, strong crash-test scores, and a wide range of choice in terms of trim levels. But you might take issue with the out-of-date infotainment interface and the lack of traditional blind-spot monitoring.
Honda refreshed the coupe and sedan in 2019, while the hatch and Si versions benefitted from one in 2020. CarGurus gave the 2016 Civic an 8.0 rating, the 2019 Civic a 7.8, and the 2020 Civic Hatchback a 7.7.
2012 to 2015: 9th Generation
Honda released the ninth-generation Civic in 2012 in coupe and sedan form. Acura adopted the platform and architecture for the more upscale ILX sedan.
For some reason, Honda thought it would be good to make the 2012 Civic look and feel low-rent, inside and out. The immediate outcry made the company quickly backtrack, and an early 2013 freshening addressed some of the major complaints.
A 1.8-liter 4-cylinder engine powered the Civic, paired with a manual or automatic transmission. Alternative choices included the unusual compressed natural gas (CNG) engine in the GX trim and the Civic Hybrid that returned 44 mpg in combined driving. Both the CNG and Hybrid used a CVT. Driving enthusiasts could buy a Civic Si in coupe or sedan form, each powered by a 2.4-liter 4-cylinder engine with a manual transmission.
Avoid the 2012 Civic. Not only did Honda phone that one in, but three separate recalls were also issued for mechanical problems. Any other ninth-generation Civic is more appealing and less troublesome.
In 2015, CarGurus tested the Civic and gave it a score of 8.7.
2006 to 2011: 8th Generation
The 2006 model year heralded the debut of the eighth-generation Civic, available in both coupe and sedan body styles.
Most Civics included a 1.8-liter 4-cylinder with either a manual or automatic transmission. The Civic Hybrid was based on a 1.3-liter 4-cylinder and mated to a CVT, while the Civic GX featured a CNG-fueled 1.8-liter 4-cylinder and a CVT. A high-horsepower 2.0-liter 4-cylinder with row-'em-yourself gears came standard in the Civic Si. Fuel economy ranged from 23 to 42 mpg, depending on the model and powertrain.
The Civic shared a platform with the Acura CSX, which was sold in Canada. Few problems plagued this version of the Civic, but this car was subject to recall for defective Takata airbags, so make sure the replacements have been made. Other problems included braking system corrosion in 2006-07 models, a recall for the Civic GX's fuel tank, and a recall for the 2011 Civic's fuel pump.
Following the conservative seventh-generation Civic, the eighth generation's unusual design wasn't appealing to everyone. But its array of choice, from body styles to powertrains, made this dependable, safe, comfortable, and efficient vehicle popular anyway.
2001 to 2005: 7th Generation
Honda released the seventh-generation Civic for the 2001 model year. Offered in coupe and sedan body styles, it used a 1.7-liter 4-cylinder engine developing between 115 and 127 horsepower, depending on the trim level. Manual, automatic, and CVT transmissions were available.
The Civic GX had a 1.7-liter 4-cylinder that burned compressed natural gas, and a Civic Hybrid debuted for the 2003 model year that could get 41 mpg in combined driving. Both of these versions of the Civic used a CVT.
For 2002, Honda imported the 160-hp Civic Si Hatchback from Europe. Looking like a doorstop on wheels, it was built in the UK and offered more performance and better handling, not to mention greater utility.
Depending on engine, transmission, and body style, fuel economy ranged from 25 to 34 mpg in combined driving. The Civic Hybrid averaged 41 mpg.
Every seventh-generation Civic was part of the big Takata airbag recall, so make sure that work is completed. This version of the Civic also saw more recalls than later generations, though most of the problems were relatively minor.
Shoppers Also Consider:
One of the most popular vehicles ever sold, the Honda Civic sets standards in its class and is now the best-selling car in America. It's not the only compact car to consider. Alternatives include the Hyundai Elantra, Kia Forte, Mazda 3, Toyota Corolla, and Volkswagen Golf and Jetta. But your shopping list isn't complete without a Civic.