New Kia Forte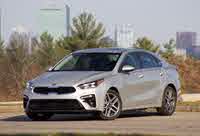 Used Kia Forte
Kia Forte Questions
I Have A 2011 Kia Forte. I Have Changed The Compressor, Belt, Starter, Fuel...
I have a 2011 Kia Forte. I have changed the compressor, belt, starter, fuel pump, plugs, ecu unit, alternator, battery and the crank fuse, and the car will not start. It will turn over but will not ...
2012 Kia Forte Will Start But Won't Stay Running Unless I Keep Foot On The ...
My 2012 Kia Forte will start but won't stay running unless I keep my foot on the gas why and how do I fix it?
2014 Kia Forte Not Starting
My Kia at several times does not start and the 4way are flashing. Today I stopped for gas and when I returned the car would not start, as I turn the key I get no clicking or anything. Dash lights ...
Radio Malfunctioning
2017 kia forte The radio cuts in and out at times. Does anyone have answers to this problem?
Why Does My Car Suddenly Turn Off?
I was driving home from work at night and hit this cement bump on road(Houston roads) I pulled over to make sure no fluids were leaking(nothing was leaking) and my car just turned off while parked....
Find great deals from top-rated dealersTM
Search