New Kia Forte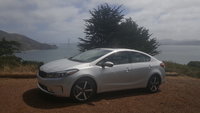 Used Kia Forte
Kia Forte Questions
Has Anyone Had A Problem With Sudden Or Involuntary Acceleration On The Kia...
We are currently in contact with a representative from the Kia corporate offices and they say they have had no recalls or prior reports of sudden acceleration on any of their vehicles. From the post...
At First, The Belt Went And So I Replaced That, Then My Son Drove It And Th...
At first, the belt went and so I replaced that, then my son drove it and the compressor froze and has never started since. He drove it to my drive and there it died. So I had to replace the compress...
Water Getting In The Trunk Available Back Seat
Tail Light
How do i change the tail light on my 5 door 2013 kia forte??
Credit
Who's a great dealer here that can sell me a good car with bad credit