New Kia Forte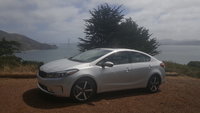 Used Kia Forte
Kia Forte Questions
Has Anyone Had A Problem With Sudden Or Involuntary Acceleration On The Kia...
We are currently in contact with a representative from the Kia corporate offices and they say they have had no recalls or prior reports of sudden acceleration on any of their vehicles. From the post...
No Starting Question
When attempting a start, I head a noise sounding like something spinning coming from the alternator area and after a few minutes had smoke and a burning smell. When turning the ignition now, there...
No Start Question
Battery is new. Heard a noise as if something was turning for a few minutes and smelled burning from alternator area. After that it would not start. Just a single click when I turn the ignition. S...
Kia Forte Engine Swap
Is it possible to put a Volvo or vw 2.5 5 cylinder motor in a Kia Forte? I have a 2011 2.0 with the 6 speed automatic. I'd prefer the Volvo but it doesn't matter a whole lot
What Is Going On?
I have replaced the blinker as is started blinking rapidly. I replaced it 4 times within a month before looking for further answers. After replacing the bulb, it will work for about a week. If I t...