New Kia Forte

The 2020 Kia Forte has been announced, but it is not yet available for purchase.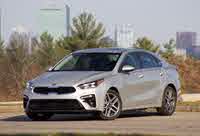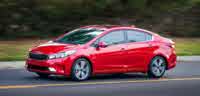 Used Kia Forte
Kia Forte Questions
Headlight & Daylight Out At The Same Time.
I have replaced both headlights over 1 year ago, as well as both taillights about 6 months ago. My wife told me that both drivers side headlight and tailight were out. Is this a fues or something ...
Fog Lights
where is the turn on and off button for the fog lights?
Headlights Aren't Working!
Both headlights all of sudden aren't working! High beams and parking lights work fine. Im confused on the fuse abbreviations. Which fuse am I supposed to check?
Need New Spark Plugs?
Once every few weeks, When I'm driving my car will slow down, give one big jerk and then go back to driving normally. This happens once or twice a month for past 6 months. Seems to be the symptoms...
Has Anyone Had A Problem With Sudden Or Involuntary Acceleration On The Kia...
We are currently in contact with a representative from the Kia corporate offices and they say they have had no recalls or prior reports of sudden acceleration on any of their vehicles. From the post...