Volkswagen Jetta
Model Overview
New Volkswagen Jetta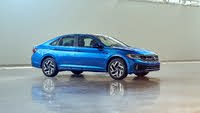 Used Volkswagen Jetta
Volkswagen Jetta Questions
Volkswagen Jetta
Overview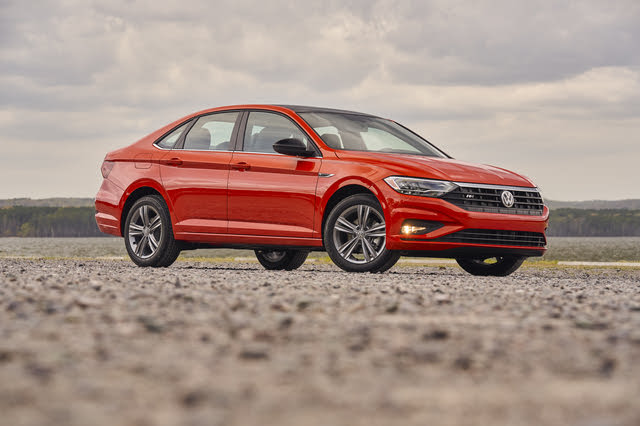 The Volkswagen Jetta, a compact sedan that's long been positioned as the entry point to sought-after German engineering, currently serves as the brand's most accessible model. It's slotted below the Golf hatchback, despite their similar capabilities and features. The current lineup consists of two turbo 4-cylinders matched with front-wheel drive (FWD). The Jetta was introduced in the United States for 1980 and was last redesigned for 2019. There are new standard and available features for 2020. CarGurus recently evaluated and scored the Jetta at 8.2 (2019).
Pros: The Jetta features above-average fuel economy in the class for both engines. It's spacious in both rows, with plenty of room for adults in the back, which isn't always the case with a compact sedan. Technology features are gracefully integrated into the cabin design within easy reach of the driver and are easy to use.
Cons: Many competitors offer more standard safety features than Volkswagen, which goes a long way toward making them a better value. And though the cabin is attractive and comfortable, there are some hard plastics throughout, which detract from the overall look and feel.
Model Generations
Current generation: 2019-Present
The Volkswagen Jetta, now in its seventh generation, was fully redesigned for the 2019 model year, yet the 2020 model is already updated with a standard WiFi hotspot, a standard Cold Weather Package for the SEL and SEL Premium trims, and standard wireless device charging for SEL and SEL Premium trims. It's also worth noting that between 2019 and 2020, Volkswagen cut back warranty coverage from six to four years. The base powertrain is a 1.4-liter turbocharged 4-cylinder engine, good for 147 horsepower. This comes standard in S, SE, R-Line, SEL, and SEL Premium trims. GLI versions get a 2.0-liter turbocharged 4-cylinder rated at 228 hp as well as sportier handling. A 6-speed manual transmission comes standard in S, R-Line, and GLI trims, while an 8-speed automatic comes standard in the remaining trims and is available as an option on manual-equipped models. Front-wheel drive (FWD) is standard across the line. Prices for the Jetta range from about $19,000 for the base S to about $30,000 for the Jetta GLI Autobahn Edition.
2011-2018: 6th Generation
The sixth generation saw the reintroduction of the base 2.0-liter 4-cylinder engine; otherwise, the powertrain and trim lineup carried over, with the reintroduction of the GLI in 2012 and a hybrid version a couple of years later. The 1.4-liter turbocharged 4-cylinder was introduced for 2016, and the TDI was phased out in the wake of the "Dieselgate" scandal. According to the National Highway Traffic Safety Administration (NHTSA) recall records, common quality issues include airbag problems, potential to remove the key from the ignition while the vehicle is not in park, suspension component fractures, leaky fuel supply and injection lines, leaky transmission oil cooler, wiring problems, water pump and timing belt failure, poor headlight quality, and loss of power brakes.
2005.5-2010: 5th Generation
For the fifth generation, actually introduced as a 2005.5 model, a 2.5-liter 5-cylinder engine became the base, joining the 1.9-liter turbo-diesel, and the turbo 2.0-liter 4-cylinder. Transmissions included a 5-speed manual and 6-speed automatic matched with FWD. Trims included the S, SE, and SEL, as well as the intermittently offered Value Edition, Wolfsburg Edition, and sporty GLI. The turbo-diesel offered the best fuel economy. NHTSA data for this generation shows common problems such as water pump and timing belt failure, leaky fuel supply and injection lines, faulty driveshaft screws, poorly aimed headlights, leaky washer fluid reservoir and lines, transmission failure, ABS failure, and airbag inflator issues.
1999-2005: 4th Generation
The fourth generation of the Jetta was offered in sedan and wagon body styles. Engine offerings over these years included a 2.0-liter 4-cylinder, a turbocharged 1.8-liter 4-cylinder, a 1.9-liter turbo-diesel (known as the TDI), and a 2.8-liter V6 (known as the VR6). Trim levels generally corresponded to engine choice, though there was a lot of overlap. The generation featured FWD standard and the choice of a 5-speed manual or a 4-speed automatic transmission. In mid-2005, the next generation was rolled out, sold alongside this generation. Fuel economy was best with the turbo-diesel, getting as much as 38 mpg combined. The 2.0-liter 4-cylinder and 1.8-liter turbo-4 with auto transmissions were rated at 24 and 22 mpg combined, respectively. According to NHTSA, this generation was prone to recalls including water pump and timing belt failure, brake light switch malfunction, faulty marking of child seat anchors, antilock brake computer failure, brake master cylinder leakage, faulty air bag inflators, and fuel leakage in turbo-diesel models.
Shoppers Also Consider
Many buyers would be well-served by cross-shopping the Jetta against its stablemate, the more practical Golf hatchback. Both cars compete in the compact segment, against class-leading rivals such as the Toyota Corolla, Honda Civic, and Mazda Mazda3. Other cars worth considering in this segment include the Hyundai Elantra and Veloster, Chevrolet Cruze, and Kia Soul.