New Kia Soul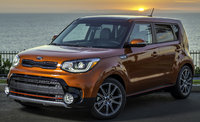 Used Kia Soul
Kia Soul Questions
2011 Kia Soul Starting Issues
What and where is the antenna sensor coil on the 2011 kia soul 2.0 l?
Indicator Lights Are Staying On
Trying to figure out why all the indicator lights on the dash you're staying on when car is crazy was car will not move out of park
Luggage Light
I want to leave my tailgate open, but the luggage light won't turn off by its self. My light is not removable and I have turned off all interior lights. Kia Soul
Car Won't Start, Why.?
i have a 2010 Kia Soul. I've been to the dealership 3 times and and they still can't find the problem. This morning we are taking it in again. Problem? Every now and then I get in the car put key ...
Are Spare Tire And Jack Provided In A Kia Soul When You Purchase One?
I bought a 2013 Kia Soul at Gossett Kia in Memphis Tenn.and asked why the car does not have a spare or jack.They told me that Kia Motors stop providing spare tires and jacks to their cars in 2008 an...