New Kia Soul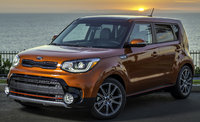 Used Kia Soul
Kia Soul Questions
Kia Soul Interior Leak
I have a 2010 KIA soul, and lately I have been having a problem with every time it rains the passenger floor is very very wet. The dealership the last time I took it told me that there was no leak....
Has Anyone Else Had A Problem With Sudden Acceleration In A Kia Soul? Mine ...
My 2010 KIA SOUL which we bought from the dealer fully reconditioned used (one year ago), took off from a dead stop at a stop light with my foot on the brake when I began to release the brake to move ...
Car Won't Start, Why.?
i have a 2010 Kia Soul. I've been to the dealership 3 times and and they still can't find the problem. This morning we are taking it in again. Problem? Every now and then I get in the car put key ...
Are Spare Tire And Jack Provided In A Kia Soul When You Purchase One?
I bought a 2013 Kia Soul at Gossett Kia in Memphis Tenn.and asked why the car does not have a spare or jack.They told me that Kia Motors stop providing spare tires and jacks to their cars in 2008 an...
2014 Kia Soul Won't Start
My 2014 Kia Soul won't start every now and then. All the lights on dash come on but no crank sound. Took it to Dealer today. So far they haven't found the problem. After reading several posts on her...