Chevrolet Cruze
Model Overview
Used Chevrolet Cruze
Chevrolet Cruze Questions
2015 Cruze:Heater Problem
Only blows heated air ONLY when car is ACCELERATES 45+RPMs (not when coasting) Thermostat? or Heat Core?
What Is Engine Code P03443 Means
Oil Leak 2014 Chevy Cruze
My 2014 chevy cruze is using alot of oil, and has started to knock. I was told it was because of the timing belt going bad. Can this be possible? I thought the timing belt was on the outside of th...
2012 Chevy Cruze Not Accelerating/ Horsepower Like It Should?
I have a 2012 Chevy Cruze with a 1.4 L Turbo and 6-speed manual transmission I have replace the turbo and catalytic converter but driving the car down the road it has absolutely no power the lights...
2017 Chevy Cruze Stabilitrak And Engune Light Comes On And Whole Car Shakes...
On my way home yesterday all of a sudden my 2017 Chevy Cruze started to lose power and the Stabilitrak and engine light came on...lost power and the car shakes when driving...what is wrong? Is it an...
Chevrolet Cruze
Overview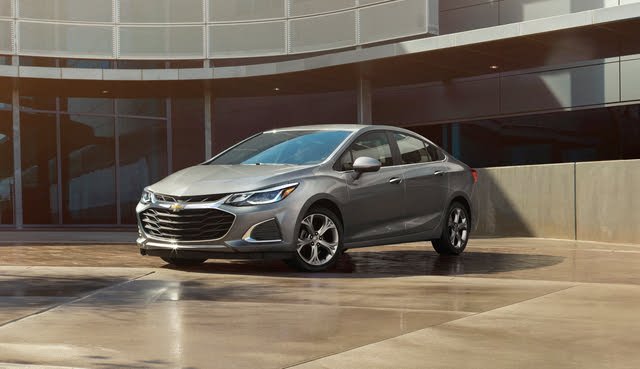 To replace its middling Cobalt compact car, Chevrolet introduced the Cruze for the 2011 model year. Yes, it was still made for those who needed a 5-passenger sedan at a budget-friendly price, but the Cruze was a dramatic improvement over the Cobalt. It was as though Chevrolet learned overnight how to build a competitive small car.
First introduced in sedan form, the Cruze got a hatchback body style in the car's second generation, tripling cargo space when its rear seats were folded down. A variety of 4-cylinder engines powered the Cruze, including a B20 biodiesel-compatible turbodiesel.
Following a minor refresh for the 2019 model year, the Cruze fell victim to the consumer shift to SUVs. Chevrolet canceled the car, so the nameplate is no more, but it will live on in the used car market for years.
Pros: It's roomy for the segment and available in a hatchback body style. It offers an optional diesel engine, useful technology, and refined driving dynamics.
Cons: It has a bland design, uncompetitive warranty and connected service offerings, and underwhelming power.
Model Generations:
2016 to 2019: 2nd Generation
Chevrolet redesigned the Cruze for 2016, improving fuel economy and adding modern safety and infotainment technologies. A 5-door hatchback joined the lineup for 2017. It added plenty of versatility, offering 22.7 cubic feet of cargo space behind the rear seats and 47.2 cu ft with the seats folded down.
The second-generation Cruze benefitted from a mild cosmetic freshening for 2019, and then Chevy pulled the plug. Recognizing that Americans wanted SUVs, and needing to invest in an electrified future, the company could no longer afford to continue building a car nobody wanted.
Initially, the second-generation Cruze came only with a turbocharged 1.4-liter 4-cylinder engine. Starting in 2017, a turbodiesel 1.6-liter 4-cylinder engine was available and could operate on B20 biodiesel fuel. Manual and automatic transmissions sent power to the Cruze's front wheels.
The gas-powered Cruze impressed with its high fuel economy of 34 mpg in combined driving, with the turbodiesel returning slightly more, at 37 mpg. The second-generation Cruze has been recalled infrequently, but that could change over time.
CarGurus tested the Cruze in 2016 and gave it a score of 7.5. Successive tests in 2017 and 2018 each resulted in a lower score of 6.7.
2011 to 2016: 1st Generation
The Chevrolet Cruze debuted for the 2011 model year, and ran through the 2016 model year, overlapping with the redesigned second-generation version of the car. That car was called the Cruze Limited, and it gave consumers and businesses a lower-cost alternative to the redesigned version of the car.
Four trim levels were available for the Cruze when it debuted: LS, LT, Eco, and LTZ. A low-cost L trim arrived for 2015. The first-generation Cruze shares a platform with the Buick Verano, but you wouldn't know it from how different they are in terms of powertrains, exterior design, interior materials, and layout.
A 136-horsepower 1.8-liter 4-cylinder engine was standard for the Cruze, with a 138-hp, turbocharged 1.4-liter 4-cylinder engine installed in higher trim levels. The turbocharged engine made more torque, resulting in more satisfying performance. Both engines were offered with a manual or automatic transmission delivering power to the front wheels.
Depending on the powertrain combination, fuel economy ranged from 26 to 32 mpg in combined driving. In 2014 and 2015, a turbodiesel 2.0-liter 4-cylinder engine popped into the lineup, matching the thrifty gas-engine Cruze Eco at 32 mpg in combined driving.
The first-generation Cruze wasn't a particularly reliable vehicle, with recalls pertaining to its powertrain and mechanicals during every year of its existence. Still, good safety ratings, a generously sized trunk, a modern (for its time) infotainment system, and the efficient Eco and Diesel models make the Cruze appealing.
Shoppers Also Consider:
Despite its positive features, the Chevrolet Cruze struggled to hit its stride with consumers, who after decades of mediocre small cars from Chevy had migrated to the Honda Civic, Hyundai Elantra, Mazda Mazda3, Toyota Corolla, and Volkswagen Jetta. Loyalists crossing over to crossovers may have chosen a Chevy Trax or Equinox instead of a Cruze.
Find great deals from top-rated dealersTM
Search