Chevrolet Cruze
Model Overview
New Chevrolet Cruze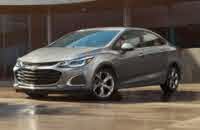 Used Chevrolet Cruze
Chevrolet Cruze Questions
Car Turns Over But Won't Start
Bought a new battery put oil in the car and gas still won't start
"Engine Power Is Reduced"
Hi, I have a 2017 Chevy Cruze with 65k miles and today I got a message on the dashboard "engine power is reduced" and the check engine light is on. Car runs fine and doesn't idle, but once you ste...
2013 Chevy Cruze-Engine Power Reduced
SO... About three weeks ago my valve cover was replaced due to a leak... a week later I am sitting in a drive-thru when the engine power reduced/service stabilitrak/service traction control flashed ...
Injector 1 And 3 Fuse Keeps Burning Out
The fuse for injector 1 and 3 keeps burning out on my Friends Chevrolet cruise. What could be the problem there?
What Could Be Causing A Car To Stall Randomly When Stopped?
My 2016 Chevy Cruze will stall out when I am stopped at a red light or in traffic. This doesn't happen every time and happens so infrequently that I am having a very hard time getting the service d...