Mazda MAZDA3
Model Overview
About the Mazda MAZDA3
Available Now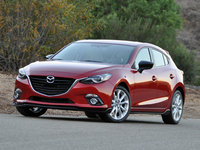 The Mazda3 entered its second generation in mid-2008, with 2010 model year cars getting an extensive facelift as well as a new 2.5-liter, 165-hp, 167 lb-ft inline four-cylinder engine for all s trims. The new smiling grille has gotten a mixed reception, but improved braking feel courtesy of a new vacuum booster should make everyone happy. A longer options list now includes memory for driver's seat and mirror settings, dual-zone climate control, and steering-linked headlamps, all of which are somewhat hard to find at the Mazda3's price point.
The Mazda3 lineup for 2010 begins with the SV ("special value") sedan and moves up through Sport, Touring, and Grand Touring trims, with the Touring available only as a sedan with the smaller engine, the Sport available in either body style with either engine, and the Grand Touring offered in both body styles, but only with the larger engine. The 2.0-liter engine in all i trims continues from the past generation, producing 144 hp and 132 lb-ft of torque. All Mazda3s run on regular gasoline, and the smaller engine gets estimated mileage of 25/33 mpg with the manual and 24/33 with the automatic. The new larger engine gets rated at 21/29 with the manual and 22/29 with the automatic.
Owners seem very pleased with 2010 Mazda3s, particularly its handling and ride. Some small gripes have been heard regarding the manual transmission's long throws, the power output of the smaller engine, and the car's ergonomics for tall drivers, but overall, the Mazda3 continues to sell well and make owners happy.
We haven't heard any forecasts regarding future versions of the Mazda3, but no doubt the reception of 2010's changes will have a large impact on future versions.
Model History
The "wicked-fun, wallet-smart" Mazda3 has carried the torch for Mazda's "zoom zoom" mantra for the past few years, not to mention being one of the company's best sellers ever. It debuted for the 2004 model year as a replacement for the Protegé, and has throughout its production been available as a sedan or hatchback. Targeted at shoppers looking for an inexpensive but fun-to-drive compact, the Mazda3 competes with the Honda Civic and Toyota Corolla, but costs less than both. It gets kudos for its sharp handling, performance, and amenities, with some considering it a value-priced competitor to European sport sedans and hatches for its driving dynamics and interior. The car has earned good, not great, fuel efficiency and safety scores, but that hasn't hurt it, as the Mazda3 has won a bunch of awards worldwide since its introduction, including a number of best of the year or best in class awards in its debut year as well as a Car & Driver 10Best Award for 2010.
Originally offered in only two trims, the Mazda3 lineup has expanded over the years, with the high-performance MazdaSpeed3 hatchback arriving as a separate model in mid-2006 for the 2007 model year. As it has from the beginning, a 2.0-liter inline four-cylinder powers i trims, while s cars feature a 2.3-liter four (all hatchbacks get the larger engine). Updates over the years have generally focused on exterior styling tweaks and minor efficiency improvements, although 2007 saw more change than usual, with the chassis getting reinforced for added stiffness, the suspension tweaked to improve steering, and the addition of an Auxiliary jack to the factory stereo. The addition of standard ABS and side curtain airbags, which had been optional in higher-end trims, improved safety scores in 2008.
Used Versions
While the Mazda3 has now entered its second generation, all years and versions share quite a bit under the skin, including tight, sporty handling and a more luxurious interior than the car's original price and segment would suggest. As noted above, the Mazda3 arrived in 2004, and it won a number of awards around the world that year, with many praising its handling, interior, and value as exceptional. In the eyes of most critics and the general public, each year since has seen improvements.
The 2.0-liter four that powers 2010 i trims has lasted the life of this model, though it got variable valve timing to improve its output in 2006. That year the larger engine received the PZEV certification the smaller engine already had for sale in California. The 2007 model year saw some cosmetic changes to the exterior as well as chassis and suspension improvements for better steering and a new vacuum booster for better brake feel. Traction and stability control were offered as optional upgrades in 2007 as well. ABS and side-curtain airbags became standard across the lineup in 2008 and improved the car's safety ratings.
The Mazda3 has consistently struck automotive journalists and car buyers as a good value and has appeared on many lists over the years as one of the best options in the compact family sedan and hatchback classes. Anyone eager to take full advantage of the car's exceptional handling will be more pleased with the larger engine, while anyone eager to minimize gas expenses will prefer the smaller. A full suite of airbags and traction/stability control are worthwhile additions on earlier cars, and very tall drivers should definitely test-drive first to make sure they're comfortable, but most owners are very happy with their Mazda3, regardless of year.
New Mazda MAZDA3

Used Mazda MAZDA3
Mazda MAZDA3 Questions
Buyer Information On The Sale Preview Screen
Why is the Sale Preview screen blank for some interested parties? I feel like only legitimate buyers, those that provide some information, will show up. That makes me very wary to deal with a person...
Changing Rims On 2013 Mazda 3
I have a question about putting different rims on my 2013 Mazda 3. The tire size is identical, my issue is offset. The Mazda has a 50 positive offset, and a 67mm bore. The rims I am getting have a...
High Idling On A New Car
I have a brand new 2018 Mazda, never owned, never driven... So, why does it idle high when I turn it on? It goes straight to 3 and it sounds pretty loud... Like a rattling sound. It goes down withi...
AT Light On Mazda 3
(copied from my post yesterday) My AT warning light has come on twice in the past month. A 2005 Mazda 3 Hatchback 97,000 miles. The first time, it felt like the gear had slipped out when I drove out ...
Battery Charging
I have not driven my 2008 mazda 3 for 3 months. I started it but it did not start up as quick as it used to. Can I recharge the battery at idle and any idea how long it will take?
Find great deals from top-rated dealersTM
Search