Subaru Impreza
Model Overview
About the Subaru Impreza
Available Now
Most modern-day small American cars are small on price, size, performance and legroom, but big on features and fuel economy. Typical of Subaru, the Impreza stands to contradict everything about the typical compact on the market today, with this sporty little number having ample legroom and plenty of thrill in the driver's seat - but at a higher cost both at the dealer and at the pump, while cutting back on features offered in the competition.
Available as an all-wheel-drive (AWD) sedan or hatchback, the Impreza comes in plenty of flavors - 2.5i, 2.5i Premium, WRX, WRX Premium, WRX Limited and WRX STi. The Outback Sport stands apart as the only hatchback without a sedan sister, while the WRX STi Limited comes only in sedan form. Last year's undercooked WRX - the 2.5GT - has been dropped, while the STi gains a sedan style for this year alongside a bit of an audio upgrade.
The next-generation Impreza set to debut for 2012 is rumored to have even more room and - at long last - competitive fuel economy with an updated continuously variable automatic transmission (CVT). For now the only automatic option has just 4 speeds and tends to hold down performance, but fortunately a 5-speed manual is standard for all trims and the only transmission available for WRX versions.
The 2.5i and Outback Sport trims use a 170-hp 2.5-liter horizontally opposed "boxer" engine that gets 20 mpg city/27 highway. WRX trims zip from zero to 60 in 5.3 seconds thanks to their turbocharged 265-hp 2.5-liter boxer, which gets 18/25. The WRX STi cranks up the turbo with an extra gear in its manual transmission, helping it reach 60 mph in just 4.5 seconds with 305 hp and 17/23 mpg.
As has always been the case with Subarus, the Impreza is just a bit under-stuffed for the price - but if you favor fun over features in a compact package, it's downright tough to argue against its affordable options. Going up the ladder all the way to the STi, however, might be better to do with another automaker. Swift and nimble as it may be, the STi is not much better than the WRX and certainly can't compete on features offered in the competition.
While even the baseline Impreza 2.5i will net features like full power accessories, keyless entry and cruise control, the 4-speaker stereo with CD player is not exactly what you might expect in a modern car. Going Premium adds 2 more speakers, an auxiliary audio jack, Bluetooth connectivity, a USB port and a couple leather touches.
Highlights of available options include a subwoofer, satellite radio, auto-dimming rear-view mirror, sunroof and heated mirrors and front seats - nothing particularly special, and these move the price from its appealingly inexpensive base to the over-$20k, merely "affordable" range.
The Outback Sport gains slightly bigger wheels, more ground clearance, and features like heated front seats, heated mirrors and a windshield wiper de-icer standard. The WRX is every bit the performance machine you would expect, with the WRX Premium equipped much like the 2.5i Premium plus sunroof and the WRX Limited gaining leather upholstery and xenon headlights.
The WRX STi gains the biggest 18-inch wheels with several high-performance upgrades including a 6-speed manual transmission, front and rear limited-slip differentials and a bigger hood scoop, and includes many of the same features in the WRX but with faux-suede and leather upholstery. Moving up to the WRX STi Limited will earn a few different performance upgrades with a sunroof and leather upholstery.
On paper the Impreza is quite impressive, but in reality the cabin materials feel cheap, doing little to deaden road noise at highway speeds, with a lackluster stereo, disappointing automatic transmission and unimpressive fuel economy. That aside, it is a surprisingly fun-to-drive and spacious little car with plenty to offer the right driver.
Model History
The Impreza has always stood out as the oddball compact car. Unlike most compacts on the U.S. market, the Impreza is markedly fun to drive and available with all-wheel-drive (AWD), and it uses a horizontally opposed "boxer" engine that has a distinctive character all its own - but this leaves the Impreza at a competitive disadvantage with higher pricing and sub-par fuel economy.
For its 1993 American debut, Subaru unleashed the Impreza in base, L, and LS (later LX) trims as wagons and sedans. AWD was available with the same 110-hp 1.8-liter flat-4 the two-wheel-drive versions received, and most versions had a 5-speed manual gearbox, while the LS was a 4-speed automatic by default but also came with antilock brakes standard.
A two-door coupe became available for 1995 alongside the Outback wagon and a 135-hp 2.2-liter flat-4 which was available only with the automatic transmission for its first year. For '96 the 2.2-liter became standard in every Impreza except for the Brighton coupe - and by dropping the anemic 1.8-liter engine Subaru finally made a worthy buy of the Impreza, but consumers still didn't seem to notice, and sales continued to hang out in the basement.
The following year saw AWD become standard along with improvements to the 2.2-liter engine and Outback model, while the LX trim took a hike and was never seen again. The coupe-only 2.5 RS debuted for '98 as a kind of sympathy prize for our love affair with the overseas WRX, equipped with a relatively pitiful 165-hp 2.5-liter flat-4, nonfunctioning hood scoop, sport-tuned suspension and 16-inch wheels. The 2.5 RS was not available as a sedan until 2000, with only a few minor feature changes to the Impreza lineup leading up to the second generation.
Subaru got seriously sporty for the second-generation Impreza, which spanned 2002-'07, putting four primarily performance-geared trims on the starting line - 2.5 RS sedan, WRX sedan and wagon, 2.5 TS Sport Wagon and the Outback Sport Wagon. The WRX received a turbocharged 227-hp 2-liter and the most standard features, while the rest were reasonably well-equipped and ran on a 165-hp 2.5-liter with the usual 5-speed manual or 4-speed automatic transmission.
This was probably the smartest move ever by Subaru. Although the American WRX was still not as awesome as the one available overseas, the whole compact sports car thing really clicked with the American consumer, and sales ticked up a few notches. The sport theming was so successful, Subaru introduced the ultra-high-performance STi for 2004, good for 300 hp out of its 2.5 turbo and equipped it with special exclusive features like a 6-speed manual transmission, adjustable center differential and water sprayer for the intercooler.
The 2004 update for the rest of the line perked up the features and style, and revamped the suspension for a more conveniently comfortable ride. For '06, again the front was restyled - this time to fit a pair of updated engines. The WRX was now powered by a turbocharged 230-hp 2.5-liter engine, and the rest - now masquerading as various 2.5i trims - received a 173-hp 2.5-liter flat-4.
As sporty as the second-generation Impreza was, drivers felt a bit cramped and cheapened by the tight and outdated interior. This was addressed for the 2008 debut of the third generation, and while the previous lineup carried over, Subaru made a couple of poor choices in trying to make something comfortable out of something sporty and had to revise the WRX for 2009.
The undercooked 2008 WRX with soft suspension and 224-hp lived on as the '09 and '10 2.5GT, while the 2009-and-later WRX was retuned to 265-hp glory with a stiffer suspension. The Limited trim level debuted for WRX and Special Edition models in 2010, and for 2011 the WRX gained some STi styling while the STi became available as a sedan in addition to the hatchback.
2012 promises a new generation of Impreza, with a continuously variable automatic transmission updating both performance and fuel economy with even more legroom. It has yet to be seen, however, whether Subaru will improve on the model's features and pricing, which have been historically off-kilter from the competition.
Used Versions
Don't expect to find a decently reliable Impreza before 2005 - which isn't to say no used Impreza is worth the discount, but do expect major repairs at some point. From 1997 to 2005 the Impreza suffered from serious engine and clutch issues, ranging from belts and whistles to complete head gasket breakdown.
Although sometimes these issues were not so serious, since Subaru left so many options open, it was often easier to just replace the engine than repair it. If you must dig into these years, at least spring for something newer than the '03, which was the last of the models with most of the clutch hang-ups - most notably the '04 offers improved suspension and comfort over all previous models, and the '06 offers considerably more power.
However, don't expect to find a bargain either. With demand on the rise for this once little-known good sport, used Imprezas have held their value remarkably well despite their mechanical shortcomings. So do your research and stick to your guns - with so many trims and options, there is sure to be an Impreza that suits you within your budget.
New Subaru Impreza

The 2024 Subaru Impreza has been announced, but it is not yet available for purchase.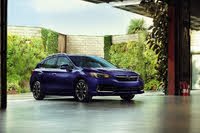 Used Subaru Impreza