Chevrolet Camaro
Model Overview
New Chevrolet Camaro


Used Chevrolet Camaro
Chevrolet Camaro Questions
Chevrolet Camaro
Overview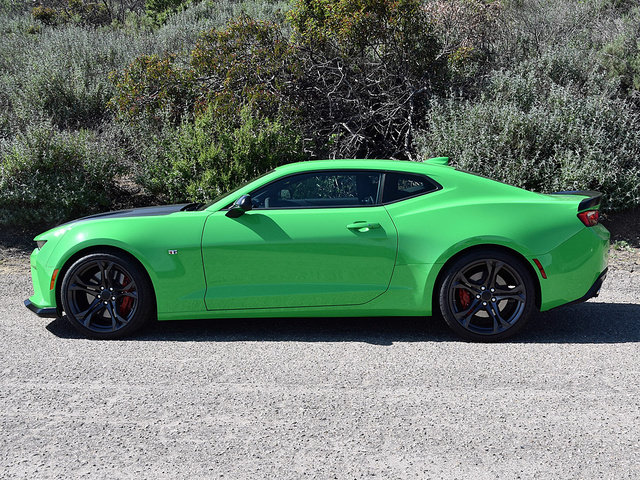 The Chevrolet Camaro is a well-rounded entry-level sports car for those who want the look and feel of Detroit muscle with a relatively small commitment to price and performance. The Camaro is offered as a coupe and a convertible with seating for four passengers. The Camaro was first introduced for the 1967 model year, though it had a hiatus in production after 2002 and a reintroduction for 2010. The current generation, which was redesigned in 2016 and refreshed in 2019, is currently available with 4-, 6-, and 8-cylinder engines. CarGurus gave the Camaro an 8.2 in a 2017 Test Drive Review.
Pros: The Camaro starts out affordable and can be equipped with a choice of impressive powertrains, which makes it a good choice for buyers with a range of budgets. It's also comfortable and handles well.
Cons: The Camaro's interior quality falls short of its main rival, the Ford Mustang, and it's not as powerful as its other domestic competitor, the Dodge Challenger It's also cramped in the rear row, but that's par for the course in this segment.
Model Generations
2016-Present: Current Generation
The sixth generation of the Camaro was introduced in 2016. For 2019, it received updated styling and technology. The current powertrain lineup consists of a 275-horsepower turbocharged 4-cylinder, a 335-horsepower V6, a 455-horsepower V8, and a 650-horsepower supercharged V8. Rear-wheel drive (RWD) is compulsory. A 6-speed manual transmission comes standard, and 8- and 10-speed automatics are available, depending on engine choice. Trims include 1LS, 1LT, 2LT, 3LT, LT1, 1SS, 2SS, and ZL1, which roughly correspond to powertrain availability. Prices range from about $25,000 to about $68,000.
2010-2015: 5th Generation
After a hiatus through most of the 2000s, the Camaro was reintroduced on an all-new platform for the 2010 model year. Trim levels over this generation included LS, 2LS, LT, ZL1, Z/28, and SS. A 3.6-liter V6 and 6.2-liter V8 were available at launch, with a supercharged V8 joining the lineup in 2012 and a 7.0-liter V8 added in 2014. Fuel-economy ratings for the volume V6 and V8 models were on par with the previous generation. According to the National Highway Traffic Safety Administration (NHTSA) database, quality issues include faulty ignition switches and airbag components.
1993-2002: 4th Generation
Although the Camaro's fourth generation dates back to the early '90s, for the purposes of this overview, we focus on the last couple years of that generation, which provides the best perspective on the model's past 20 years. From 2000 on, the Camaro was offered with a 3.8-liter V6 and a 5.7-liter V8, as well as a tuned version of the latter engine with more horsepower. A 35th Anniversary Edition was available in 2002, and trim levels included the LT1, Z28, and SS. With the automatic transmission, the V6 Camaro came in at 21 mpg combined, and the V8 delivered 19 combined. According to the NHTSA, this generation was prone to quality issues with exterior lighting and faulty body welds.
Shoppers Also Consider
The Chevrolet Camaro is a good choice for an affordable sports car, but there are others. The Ford Mustang is a good example along with the Dodge Challenger, particularly among buyers who favor American brands or vehicles with a strong Detroit heritage.