Dodge Challenger
Model Overview
New Dodge Challenger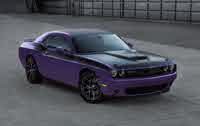 Used Dodge Challenger
Dodge Challenger Questions
Stop A Sale
I have initiated a sale with a unlikely buyer and need to stop such sale.
Esp Bas Light Car Speed
My 2010 dodge challenger esp bas light wont go off and car wont go past 30mph
Need Advice
I have a 2007 2.7L charger that needs a new engine. Can it be replaced with a 3.5L
Do Anyone Know Where The Uconnect Fuse Is Located
Does anyone know where the Uconnect fuse is located
My 2012 Dodge Challenger Is Rough Idling Won't Excellerate .
My 2012 Dodge Challenger is rough idling won't excellerate have replace all the parts that codes are and including new battery. But codes are still coming up the same and hasn't fixed the problem.
Dodge Challenger
Overview
Dodge's entry into the pony car market just as that market was beginning to wane, the 2-door Challenger came in either convertible or hard-top form. Built on a Plymouth Barracuda platform, it was two inches longer than the 'Cuda and had a wider and longer hood than the Mustang. If you notice similarities to the Charger, that's because the same guy, Carl Cameron, designed both cars.
Though the base model of the Dodge Challenger came with a Slant-6 engine, the R/T performance model came in a variety of V8s, culminating in the 426 Hemi, at 425 bhp. After several changes in engine offerings and trim names, this generation of Challenger lasted only until 1974, due to low popularity, but was reintroduced as a four-cylinder coupe along the lines of Honda Prelude or Toyota Celica in the late 1970s.
Because so few were made or sold, the Dodge Challenger, particularly from 1970-71 is highly sought after by collectors. The big news for 2008 is Dodge's Challenger Concept Car. Inspired by the success of Ford's return to a somewhat classic look for its Mustang, Dodge is releasing a retro style Challenger in 2008 that is much anticipated by muscle car fans everywhere.