Ford Focus
Model Overview
About the Ford Focus
Available Now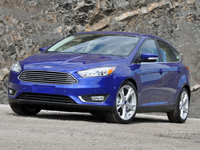 The Ford Focus compact car joined the automaker's lineup in the 2000 model year as a replacement for the Ford Escort. A world car, the Focus debuted at the Paris Auto Show in 1998 and was sold in essentially the same configurations in Europe, Asia, Africa, and South America, as well as in North America. At the time of its introduction, the Focus occupied the entry-level slot in Ford's lineup (a spot now occupied by the Fiesta).
The Focus arrived at a time when many automotive buyers were enamored with big SUVs, and although it took some time to gain its feet, the Focus has proved popular with buyers through the first decade of the 21st century, thanks to its fuel economy, handling, exterior design, and affordability. In addition, Ford offered the Focus in a wide range of trims and configurations through the years, including sedans, coupes, hatchbacks, wagons, and limited editions, broadening the vehicle's versatility and appeal.
Despite a design refresh in 2008, the Focus rides on the same platform it has utilized since its introduction. The current version comes in S, SE, SES, and SEL sedan trim levels, as well as SE and SES coupes. It's equipped with such standard features as the MyKey system, which provides parents with the ability to limit the speed of the vehicle and the volume of the audio system when teenagers are driving the car. In addition, Ford's popular SYNC communications system comes standard in SES and SEL trims. The SES also gets a sport-tuned suspension, while the SEL features an enhanced European-inspired suspension designed to sharpen steering and handling and provide a more luxury-oriented ride.
A 140-hp, 2.0-liter Duratec DOHC four-cylinder engine powers all trims. Linked to either a five-speed manual transmission or a four-speed automatic, the powerplant manages respectable fuel economy numbers of 24/35 mpg with the manual shifter, which drops only slightly to 24/34 with the automatic.
Although Ford made some design changes to the Focus in 2008 (generally identified as the second generation), the compact car has been in need of a major makeover, and the automaker will comply in 2012, when it introduces the third-generation Focus. Featuring an all-new chassis and suspension, as well as a new cornering assist system designed to enhance handling, the new Focus will put the emphasis on performance. The restyled exterior, with its swept-back shape and deep-mouthed grille, represents a definite departure from the current vehicle, and signals Ford's intention to ensure the Focus remains highly competitive in its automotive market segment.
Model History
Initially sold only in Europe following its Paris debut, the Focus appeared in U.S. showrooms with the 2000 model year. It arrived with a big media splash, which highlighted its status as the European Car of the Year for 1999. Some early reviewers were critical of the Focus's exterior design, calling it "risky" and "funky," and it took automotive buyers a while to warm to the vehicle. However, they were soon won over by the Focus's rounded, sporty shape, good fuel economy, and affordability.
The front-wheel-drive Focus was slightly larger than the Escort it replaced, measuring 4.5 inches longer (174.9 inches overall for the SE trim) and 3 inches taller. Initially available in SE, LX, and ZTS four-door sedan trims, as well as a ZX3 two-door hatchback and a four-door SE wagon, the Focus handled well, although some found the car's performance lacking. A 2.0-liter base four-cylinder engine produced just 110 hp, while a tweaked version of the same engine with dual overhead camshafts raised output to 130 hp for the ZTS sedan and ZX3 hatchback. Most buyers found the fuel economy numbers, ranging from 23/26 mpg to 28/33 mpg, depending on the trim, particularly attractive.
The 2000 Focus came standard with a solid list of standard features, including front bucket seats, power steering, dual front airbags, an AM/FM/cassette audio system, and rear child-seat anchors. Options included antilock brakes and an AM/FM/CD audio system, which came standard in the top-of-the-line ZTS sedan. Other options included front-seat side airbags and leather upholstery for the ZTS. A five-speed manual came standard in all trims, though owners could upgrade to a four-speed automatic.
Later in 2000, Ford added a limited-edition Sony Limited trim, which included keyless entry, a leather-trimmed steering wheel, power exterior mirrors, and an upgraded four-speaker audio system with a trunk-mounted 10-inch subwoofer. A Kona Bike Edition with a bolt-on bike rack and nylon washable seat covers, as well as a Street Edition with a 6-CD changer, European-tuned suspension, and 16-inch aluminum wheels, were also available in 2000.
Through the next few years, Ford continued to add features to the Focus, as well as special editions of the vehicle. In 2001, Ford's AdvancTrac electronic stability control system became an option, and the automaker introduced a Focus S2 Special Edition of the ZX3 hatchback, which included sport bucket seats, a 6-CD changer, a European-tuned suspension, rear spoiler, and unique 16-inch aluminum wheels.
In 2002, a power moonroof became available for all trims, and Ford expanded the Focus hatchback line with a new five-door ZX5 hatchback and a sport-oriented SVT (Special Vehicle Team) version, featuring unique front and rear designs, side skirts, and 17-inch alloy wheels, as well as a tweaked version of the 2.0-liter four-cylinder engine. Both new hatchbacks were geared toward younger buyers. Finally for 2002, the Focus wagon was available with a new ZTW trim level, which included leather upholstery and a 6-CD changer.
Ford updated the ZX5 hatchback in 2003, offering it in three trim levels with new cloth upholstery and optional heated front seats. In addition, the automaker added the Centennial Edition to the lineup for a limited time. Commemorating the automaker's 100th anniversary, it came equipped with premium leather upholstery, a leather-wrapped steering wheel, an upgraded audio system, a rear spoiler, and black exterior paint, as well as a limited-edition coffee table book detailing the automaker's history.
In 2005, the Focus received a mid-generation refresh, with a new front-end design, new bumpers and taillights, and a revised hood. In addition, a new 2.0-liter, DOHC four-cylinder was introduced, increasing base horsepower to 136. Ford also introduced a high-end Focus ST sedan, powered by a 2.3-liter Duratec 23 four-cylinder, which delivered 151 hp.
A CD player joined the standard equipment list for ZX hatchbacks in 2006, while an optional Sport Appearance Package, with a choice of two unique front- and rear-end designs, was available in 2006 and '07.
For the second generation in 2008, Ford dropped the Focus wagons and hatchbacks from the lineup, concentrating on sedans and new two-door coupes. While updated outside and inside, it remained essentially the same vehicle under its skin. Ford sharpened the Focus's nose, smoothed out the exterior lines, and gave the car flared wheel arches and a slightly more muscular stance, but many reviewers found the new design uninspiring. Inside, the '08 Focus received a new top-of-the-dash message center, a revised center console, updated upholstery, and new seats with improved contours and better support. Ford also updated the car's interior lighting and added new instrument gauges and control knobs with Ice Blue lighting.
The revamped Focus received an all-new braking system and sat on a revised suspension with thicker stabilizer bars to help improve stability and handling. The roof featured new insulation, which helped ensure a quieter cabin. On the performance front, Ford dropped the upper-end 2.3-liter powerplant, equipping the Focus only with a 2.0-liter, DOHC Duratec four-cylinder engine producing 140 hp and 136 lb-ft of torque. The EPA estimated fuel economy numbers for the new four-cylinder at 24/35 mpg with the manual transmission and 24/33 with the automatic. The second-generation Focus received good safety ratings from the IIHS and NHTSA and proved popular with buyers, due to its increasing list of features and its good fuel economy.
The 2009 Focus was unveiled on American Idol, but changed little from the '08 version, other than a few minor exterior styling tweaks. In 2010, the standard equipment list expanded to include remote keyless entry, antilock brakes, and electronic stability control, making the Ford Focus a good value for buyers seeking an affordable, safe, and economical ride.
Used Versions
Because Ford brought the Focus out in so many different configurations as well as in a number of limited editions, prospective buyers have a wide range of options from which to choose. In addition, since the Focus generally has a lower resale value than many of its competitors, especially the imports, buyers can more than likely find plenty of good deals.
Some owners have warned buyers away from early-model Focuses, especially those sold during the first year or two of production, due to mechanical problems and numerous recalls. The quality of the Focus has improved in more recent years, but prospective buyers would be wise to check the reliability records of the specific Focus model year they're thinking of purchasing.
The most difficult part for prospective buyers will be sorting out the various versions of the Focus available to them, particularly when looking at the compact car's earlier years, when you needed a scorecard to identify all the players. Of particular interest to some buyers will be the hatchbacks and special editions, which came on fast and furious in the early years of the new century. Many of the hatchbacks, such as the ZX5 and SVT trims, were geared toward younger buyers and remain good options for single buyers and young couples, as well as those seeking an affordable commuter car.
Buyers should also keep a close eye on the standard and optional features on any Focus they're planning on buying. In its early years in particular, antilock brakes came standard on top-of-the-line trims but were optional on lower-end trims. Similarly, front-seat side airbags were available as an option on all trims, and electronic stability control became an option in 2001, so it's possible to find trims from early in the production run well-equipped with safety features.
Buyers who need plenty of cargo space should check out the Focus wagons, available until the 2008 model year. With the back seats folded down, the wagon offered 55.8 cubic feet of space. However, it was 100 pounds heavier than the sedans, so performance lagged somewhat when equipped with the same base engine. In addition to the wagons, hatchbacks, and sedans, buyers can opt for the sporty Focus coupe, which debuted with the second generation in 2008.
Used Ford Focus
Ford Focus Questions
Heater
I have a 2012 Ford Focus. My heater seems to be failing. It blows cool air when turned on. When I accelerate or maintain speed above 40, the heat works fine. Slow down or idle and it blows cool air...
No Crank No Start
Car has been towed to Ford 5 times for starting issues since May and loss of all power while driving. Replaced instrument cluster. Next day will not start. Brought it back, now it's a clutch iss...
Any Way To Override The MyKey Feature Without The Admin Key?
I just bought a rebuilt 2014 ford focus, and it has the MyKey features on it (won't let me go above 80 or listen to loud music). I was only given one key, and the guy who sold me the car doesn't hav...
Center Console Screen
Hi there. The center console screen has gone blank. It went opaque for a while then went off completely. How do I figure out which fuse is the one for it. How do I change it please?
Connectivity
I am thinking to buy a 2009 ford focus, the face lift model. Its Zetec 1.6 tdsi 109. I need to know that does it have a usb port, aux in and Air conditioner?
Older Ford Focus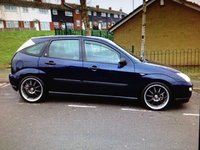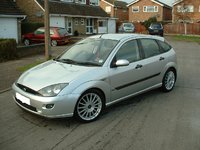 Find great deals from top-rated dealersTM
Search