Ford Focus
Model Overview
Used Ford Focus
Ford Focus
Overview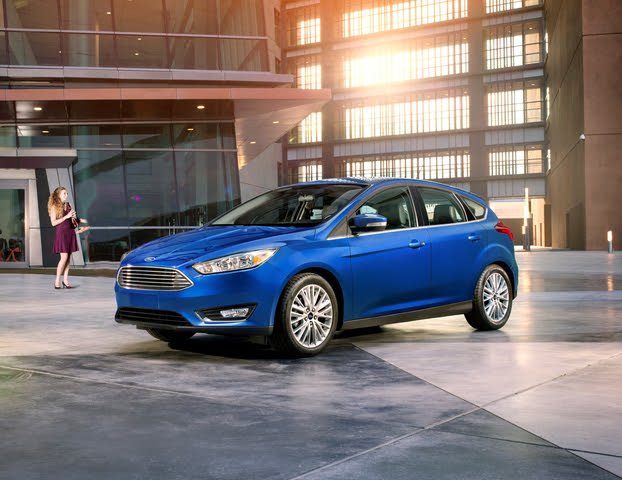 As versatile as all-wheel-drive (AWD) crossovers may be, some car buyers simply want a small, efficient car that will serve as a reliable daily commuter without breaking the bank. For model years 2000 through 2018, the Ford Focus was one option those folks could consider.
Introduced as a successor to the Ford Escort, the front-wheel-drive (FWD), 5-passenger Focus debuted in three body styles—sedan, hatchback, wagon—with power coming from a fuel-efficient 4-cylinder engine. Over the years, the car was improved with more features, updated styling, and increasingly impressive performance models.
Unfortunately, the Focus became a casualty of Ford's 2018 plan to shift its resources from cars to crossovers. Along with the Taurus, Fusion, and Fiesta, the Focus has been scrubbed from Ford's U.S. lineup, though it lives on in other markets.
The last Focus to be road-tested by CarGurus was a 2017 Focus RS. Our reviewer recognized the car as a performance bargain with some ergonomic limitations, and he gave it an overall score of 7.7/10. CarGurus also tested more mainstream Focus versions for the 2014-2016 model years, awarding those cars overall scores of 7.7, 6.3, and 7.3, respectively.
Pros: Handling (latest generation), varied body-style options and trim levels, fuel economy, performance models
Cons: Tight interior, layout of controls and instrumentation, complicated infotainment system, transmission issues
Model Generations
2012-2018 Ford Focus: 2nd Generation
Last redesigned for the 2012 model year, the second-generation Ford Focus was available as a FWD 4-door sedan or 5-door hatchback in S, SE, SEL, and Titanium trim levels. All examples featured an all-new chassis with torque vectoring engineered to improve handling, and a new 2.0-liter 4-cylinder engine boasting 160 horsepower. Depending on the configuration, transmission choices included a 5-speed manual or PowerShift dual-clutch 6-speed automated manual. With 2012's revisions also came an available park-assist feature, improved interior materials, a Super Fuel Economy (SFE) option that promised up to 39 mpg, and an updated Sync infotainment system with MyFord Touch that relied heavily on touchscreen and voice commands. A Focus Electric model debuted, as well, offered in limited markets and with a driving range of about 75 miles.
The Focus greeted the 2013 model year with a broader availability of the 5-speed manual transmission. More importantly, Ford launched the Focus ST hatchback with a sport-tuned suspension, 6-speed manual gearbox, and turbocharged version of the 2.0-liter engine that put out 252 horsepower. Minor changes followed in 2014, but 2015 brought a mild refresh with revised exterior styling, highlighted by a front end more closely resembling the Fusion sedan. Available under the hood was a new 123-horsepower turbocharged 1.3-liter 3-cylinder engine paired with the 6-speed manual.
For 2016, the Ford Focus was treated to an updated infotainment system, and buyers could couple the 3-cylinder engine with the automatic transmission. On the opposite end of the spectrum was the all-new, rally-inspired 2016 Ford Focus RS with its standard AWD system and 350-horsepower 2.3-liter EcoBoost 4-cylinder engine. The sole transmission choice was the 6-speed manual. CarGurus tested the 2016 Focus and recommended the SE hatchback as the best configuration, yet noted that the competing Hyundai Elantra provided buyers with a better overall value.
In its last 2 years of availability in the U.S., the Focus saw only minor updates. Ford discontinued the Focus after 2018.
Though this generation of the Focus had plenty of strengths, two significant mechanical issues should be noted. Some Focus RS models, for example, suffered from failed head gaskets. Ford covered any related repairs under warranty. More widespread were complaints about the automated-manual transmission, particularly for model years 2012-2016. Drivers had problems ranging from irregular shifts to complete transmission failure, which lead to a class-action lawsuit being filed. Ford provided an extended warranty and made improvements in later years, but many Focus owners were left with nothing more than a faulty transmission.
2000-2011 Ford Focus: 1st Generation
The 5-passenger Ford Focus was first introduced in Europe, but it made its U.S. debut for the 2000 model year in sedan, wagon, and 3-door hatchback body styles. Trim levels included the LX, SE, ZTS, and ZX3 (hatchback), with engine choices being a 110- or 130-horsepower 2.0-liter 4-cylinder mated to a 5-speed manual or 4-speed automatic transmission. The EPA suggested drivers would see up to 32 mpg on the highway. Traction control was added in 2001.
A 5-door hatchback ZX5 model joined the Focus lineup in 2002, along with a new ZTW wagon version. And, to enthusiasts' delight, Ford's Special Vehicle Team (SVT) applied its performance magic to the 3-door hatchback, tweaking the 2.0-liter engine to deliver 170-horsepower to the front wheels, courtesy of a 6-speed manual gearbox.
A 5-door SVT hatchback arrived in 2003, followed by an available 145-horsepower 2.3-liter 4-cylinder engine in 2004.
Marking the model's 5-year anniversary, the 2005 Ford Focus arrived with revised front-end styling and a new base 2.0-liter engine offering 136 horsepower. Trim levels included S, SE, STS, and a sporty new Focus ST sedan featuring a 151-horsepower 2.3-liter engine and 5-speed manual transmission. The Focus changed little for the 2006 and 2007 model years.
By 2008, the Focus was a little long in the tooth and ready for a bit of cosmetic surgery, so Ford responded with more noticeable styling changes and the introduction of a 2-door coupe. A 4-door sedan continued to be offered, but the wagon and hatchbacks were gone, as were the SVT and ST models. What remained was a rather bland Ford Focus with either 132 or 140 horsepower (depending on transmission selection), and an EPA highway rating of 35 mpg. The coupe saw a few more nips and tucks for 2009 and was dropped after 2010. The Focus sedan was carried over through 2011, which marked the end of the first-generation model.
Shoppers Also Consider
Ford consistently moved more than 150,000 Focus models off dealers' lots each year, with annual sales nearing 300,000 more than once. Even in 2018, when the Focus was being discontinued in the U.S., more than 100,000 Focus models were sold. For perspective, Honda sold more than 300,000 Civics that year.
Competitors for the Focus changed a bit over its 18-year run, with the Chevrolet Cruze and Dodge Dart being two that suffered the same fate as the Focus. That said, several automakers continue to serve the needs of small-car shoppers with recently updated or redesigned examples of the Toyota Corolla, Volkswagen Golf and Volkswagen Jetta, Nissan Sentra, Mazda3, Hyundai Elantra, Kia Forte, and Subaru Impreza.