Chevrolet Silverado 1500
Model Overview
New Chevrolet Silverado 1500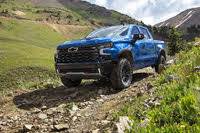 Used Chevrolet Silverado 1500
Chevrolet Silverado 1500 Questions
Chevrolet Silverado 1500
Overview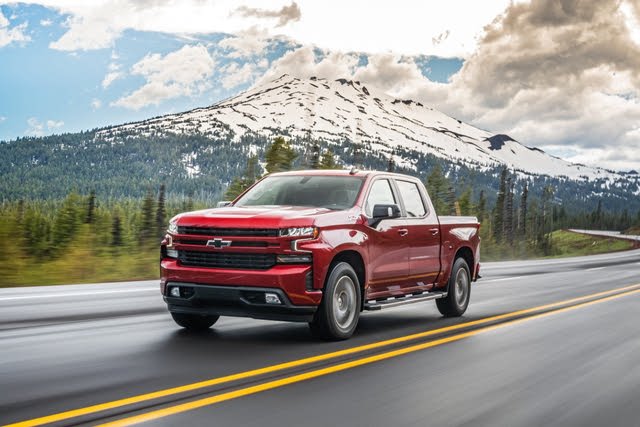 The Chevrolet Silverado, a full-size pickup truck introduced for the 1999 model year, was last fully redesigned for 2019. The pickup truck segment is small and tight-knit, and the Silverado has been competing against many of the same models for most of its life. It appeals to new pickup truck shoppers as well as Chevy brand loyalists. Because of the wide variety of cab and bed configurations, Silverado passenger and cargo capacity can be very flexible even within the same model year, with some cabs seating up to six passengers. Over the Silverado's lifetime, 4-, 6-, and 8-cylinder gas engines, as well as diesel engines, have been available, along with rear-wheel drive (RWD) and 4-wheel drive (4WD). CarGurus recently scored the Silverado, giving it a 7.3 (2019).
Pros: The current Silverado includes a best-in-class towing rating and the choice of five powertrains. Many Chevy buyers also like the Silverado's user-friendly infotainment system.
Cons: Its interior quality isn't quite as nice as that of its top competitors. Even its corporate relative, the GMC Sierra, has a noticeably nicer fit and finish.
Model Generations
2019-Present: Current Generation
The current generation of the Silverado was introduced in 2019. Trim levels include the stripped-down WT (Work Trim), Custom, LT, Trail Boss, LTZ, and classy High Country. However, there's a lot more to ordering a Silverado than picking a trim level. Buyers also have to choose between 3-passenger Regular Cab and 6-passenger Double and Crew Cabs, as well as three bed lengths. Not all potential trim, cab, and bed combinations are available. Then, there's the powertrain choice. The 2020 model adds new options to those rolled out with the 2019 redesign, for a total of five: a V6, a turbocharged 4-cylinder, a turbo-diesel, and two V8s. Transmissions include 6-, 8-, and 10-speed automatics. Pricing ranges from about $28,000 to about $57,000, plus extras like appearance, bed protection, trailering, and off-road packages.
2014-2019: 3rd Generation
The third generation kicked off with WT, LS, LT, LTZ, and High Country trim levels. Three engines were available at launch: the 4.3-liter V6, the 5.3-liter V8, and 6.2-liter V8, matched with 6- or 8-speed automatic transmissions. Fuel-economy ratings remained comparable to these powertrains' ratings in earlier generations. In 2018, a reversing camera came standard. For 2019, the outgoing Silverado was sold badged as the "Classic" alongside the new, redesigned model. According to NHTSA recall data, common problems include various airbag problems, various brake problems, loose seat installation, fluid leaks, fire risks associated with various electrical components, suspension component failure, and overheating exhaust components.
2007-2014: 2nd Generation
The second generation launched with a choice of five engines that closely resembled the previous generation. The hybrid was reintroduced in 2009 and the 6.0-liter V8 was dropped in 2010, replaced by a 6.2-liter the following year. 4-speed and 6-speed automatic transmissions were available. Some engines were available with a FlexFuel option and the larger V8s featured active cylinder management. Fuel-economy ratings were comparable to the previous generation. NHTSA recall data shows common quality issues such as various exterior lighting quality problems, fire risks associated with various electrical components, suspension component failure, and fuel transfer issues.
1999-2006: 1st Generation
The Chevrolet Silverado was introduced alongside the GMC Sierra, a mechanically identical full-size truck. These two trucks would go on to share development resources throughout the generations. A mild-hybrid powertrain, based on the 5.3-liter V8 engine was introduced for 2005, joining the lineup of 4.3-liter V6 and 4.8-liter, 5.4-liter, and 6.0-liter V8 engines. Transmission options included a 5-speed manual and a 4-speed automatic. RWD and 4WD were available. The trim level list was long, complex, and prone to change. The V8 hybrid topped out at 17 mpg combined, matching the rating of the smallest non-hybrid V8 engine. Fuel-economy ratings went down from there, particularly with optional 4WD. According to recall data from NHTSA, this generation's common quality issues included exterior lighting quality, faulty wheel hub assemblies, oil leaks, fuel leaks, various brake problems, trailer assemblies, and power steering components.
Shoppers Also Consider
There aren't many full-size pickups on the market, so the list of alternatives is a small one. Competitors to the Silverado 1500 include the similar GMC Sierra 1500 (from within the General Motors family), Ram 1500, Ford F-150, Nissan Titan, and Toyota Tundra. The pickup truck segment enjoys some of the best consumer loyalty across the auto industry, meaning that most buyers tend to stick with the same brands. But so much has changed in the past few years that shoppers would do well to consider their options. Some truck shoppers should also consider traditional large SUVs such as the Ford Expedition and Toyota Land Cruiser.
Chevrolet Silverado 1500 Experts
View All