New RAM 1500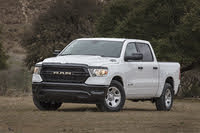 Used RAM 1500
RAM 1500
Overview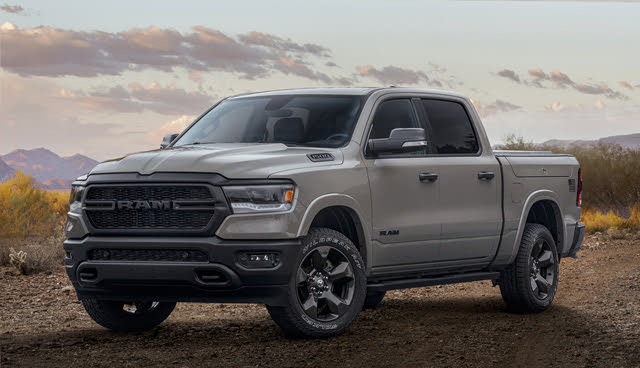 The Ram 1500 is a full-size truck that caters to the segment of loyal pickup enthusiasts. Like its contemporaries, the Ram 1500 starts out with a basic and affordable configuration suitable for work. But most buyers spend well above the segment's entry-level pricing. The current Ram 1500 can seat up to six passengers and is offered with a choice of V6, V8, or diesel engines. Rear-wheel drive (RWD) comes standard and 4-wheel drive (4WD) is optional. The Ram 1500 has been manufactured since the early 1980s; until 2011, Ram was a sub-lineup of the Dodge brand. It was last redesigned for the 2019 model year. CarGurus recently scored the Ram 1500 at 7.7 (2020).
Pros: It offers fantastic maximum-towing ratings, efficient powertrain choices, and excellent ride quality. The rear row offers more passenger space than many people expect to find in a truck.
Cons: If you're interested in off-roading, the Ram 1500 might not be your best choice. Many competitors offer more robust hardware and more options suited to all-terrain driving.
Model Generations
2019-Present: Current Generation
The Ram 1500 is currently in its 5th generation, rolled out for the 2019 model year. For 2020, a new 3.0-liter V6 diesel powertrain joins the lineup, good for 260 horsepower and 480 pound-feet of torque. The base engine is a 3.6-liter V6 with a mild hybrid system, rated for 305 hp and 269 lb-ft. There are also two 5.7-liter V8 setups available. Both are rated for 395 hp and 410 lb-ft, but the slightly more expensive version is also a mild hybrid. All come with an 8-speed automatic transmission. In rear-wheel drive (RWD) configuration, the diesel gets the best fuel economy of the bunch, coming in at 22 mpg city, 32 highway, and 26 combined. The V6 gets 22 combined, and the mild-hybrid V8 gets 19 combined. The trim levels are numerous and made even more complex with appearance and equipment packages and bed and cab configurations. Prices range from about $32,000 to about $57,000.
2009-2018 Dodge Ram 1500/Ram 1500: 4th Generation
The Dodge Ram 1500 entered the next generation with similar features and options, including diesel inline-6, V6, and V8 engines. Most available transmissions were automatics, though Ram was the last major truck brand to offer a manual after the 2011 model year. Ram Trucks spun off into its own brand by 2011, which meant the 1500 no longer carried Dodge badging or branding. Trim levels, power specs, and fuel-economy ratings remained fairly consistent over these years. According to the National Highway Traffic Safety Administration (NHTSA) recall data, quality issues included powertrain quality consistency, airbag problems, electronic stability control failure, coolant flow problems, and cruise control failure.
2002-2008 Dodge Ram 1500: 3rd Generation
The next generation of the Dodge Ram 1500 offered a variety of Magnum, Hemi, and Cummins engines, ranging from diesel inline-6s to V6s, V8s, and a V10 borrowed from the Dodge Viper. The latter was available exclusively in the SRT trim, discontinued after 2006. Both automatic and manual transmission options were offered. In general, fuel-economy ratings stayed in line with the previous generation. A wide variety of trim levels was available every year, and notable special editions included the Rumble Bee, HemiSport, Daytona, and NightRunner. NHTSA recall data shows common problems with this generation including airbag safety and exterior lighting.
2001: 2nd Generation
The 2001 model year wrapped up the Dodge Ram 1500's sophomore generation, available with a variety of V6, V8, turbo-diesel 6-cylinder, and V10 engine options, which could be paired with a choice of several automatic and manual transmissions. Numerous special editions were available throughout this generation, including an Indy Pace Truck edition. According to NHTSA recall data, this generation had problems with exterior lighting, child seat anchors, and the electrical and wiring system.
Shoppers Also Consider
While the Ram 1500 has been recently redesigned, so have its key competitors. Those include the Ford F-150, Chevrolet Silverado, and GMC Sierra 1500. In a segment where brand loyalty plays an especially large role in consumers' choices, these four vehicles all fare pretty well among newcomers as well as seasoned pickup truck shoppers. The remaining competitors are the Nissan Titan and Toyota Tundra, both of which are in need of a redesign, but also offer desirable attributes and unique features.