GMC Sierra 1500
Model Overview
New GMC Sierra 1500
Used GMC Sierra 1500
GMC Sierra 1500 Questions
Rear End Gear Ratio
Tryin to figure out the gear ratio on the rear end of my 2001 VIN# 1GTEC14W31Z119076
I Left Ignition Turned Forward Overnight Now I Can't Hear My Fuel Pump , It...
Cranks but want stay running
Need Help Diagnosing A Problem
on my 2016 denali 1500 my fog lights stay on and flicker. Assuming its a ground issue, any idea where that ground would be? Ps. I've already checked the fuse and replaced the switch
Can I Put Any Year 4l60E Transmission In A 97 GMC Sierra?
I need a new transmission for a 97 GMC Sierra 1500 4x4. It's a 4l60E. Can I put any year 4l60E trans in it or does it have to be a 97? Can I just buy a rebuilt trans not knowing what year it came...
93 GMC Sierra 1500 Loses Power/stuggles To Accelerate After Idling
Truck sat for 3 years, so i drained the fuel(it was orange in color) changed the fuel filter, air filter, and spark plugs. Filled the tank with premium grade fuel and a fuel injector cleaner. Start...
GMC Sierra 1500
Overview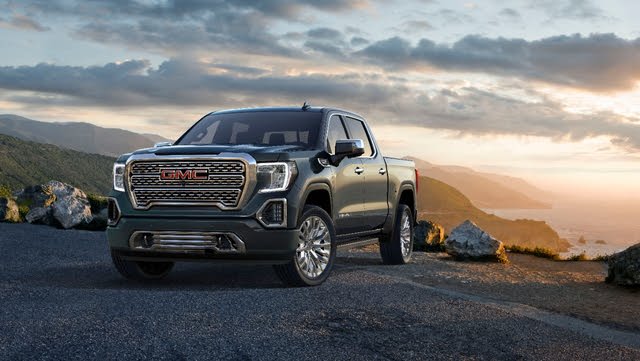 The Sierra 1500 is a full-size pickup truck from General Motors' work-focused GMC brand. Introduced for the 1999 model year alongside the Chevrolet Silverado, it shares design and engineering resources. It was last fully redesigned for the 2019 model year. Though trucks are more advanced and more luxurious than ever, the cast of players stays pretty consistent. The current Sierra 1500 can seat between three and six occupants and is currently available with a choice of diesel or 4-, 6-, and 8-cylinder gasoline engines. Rear-wheel drive (RWD) comes standard and 4-wheel drive (4WD) is available. CarGurus recently reviewed and awarded the Sierra a score of 8 (2019).
Pros: The GMC Sierra 1500 includes its range of powerful engines, which provide excellent tow capacity or the option to maximize fuel economy. The Sierra is also known for spacious and comfortable cab configurations.
Cons: Many comparison shoppers will note that the GMC Sierra's interior quality falls a little short of the class leaders' design and build. The Sierra is a bit nicer than the Chevrolet Silverado, but can't match its Ford or Ram rivals.
Model Generations
2019-Present: Current Generation
The GMC Sierra is currently in its fourth generation, which became available for the 2019 model year. Buyers get the choice of several cab styles and bed lengths, as well as base Sierra, SLE, Elevation, SLT, AT4, and Denali trim levels. The 2020 model year offers five engines, a V6, a turbocharged 4-cylinder, a turbo-diesel, and two V8s, and a range of 6-, 8-, and 10-speed automatic transmissions. Prices range from about $29,000 to about $59,000, slightly higher than pricing for the similar Chevrolet Silverado.
2014-2019: 3rd Generation
The Sierra's redesign again focused on base Sierra, SLE, SLT, and Denali trim levels and the choice of a base V6 or two V8 engines, with similar specs and fuel-economy ratings. Things got a little confusing in 2019 when the Sierra was fully redesigned for the fourth generation but the "Sierra Classic" model name represented the third generation, both sold as 2019 model year vehicles. There were a lot of safety and quality issues over this generation, according to the National Highway Traffic Safety Administration (NHTSA), including failures with electrical components, suspension components, airbag systems, seat installations, and leaky fluid systems.
2007-2014: 2nd Generation
A full redesign of the Sierra was rolled out for 2007, though the powertrain lineup looked much the same in terms of options, specs, and efficiency. Minor changes occurred over the generation, such as the reintroduction of the mild hybrid, and the 6.2-liter V8 replacing the 6.0-liter V8. Available trim levels at the end of this generation included the Sierra, SLE, SLT, and Denali, a list that was fairly consistent going back to the generation's launch. According to NHTSA recall data, the Sierra still suffered from exterior lighting quality issues as well as problems with the suspension and electrical components.
1999-2006: 1st Generation
The GMC Sierra made its debut along with its General Motors cousin, the Chevrolet Silverado. Over the years, these two trucks continue to share design and engineering, including powertrains and specifications. In general, the Sierra is priced slightly higher than the Silverado, owing to a more upscale design. Through most of the first generation, the Sierra was offered with a base 4.3-liter V6 engine, and optional 4.8-liter, 5.4-liter, and 6.0-liter V8 engines. A mild hybrid 5.3-liter V8 engine was introduced in 2005, near the end of the generation. Available transmissions were a 5-speed manual and 4-speed automatic, and RWD was standard with 4WD available. GMC frequently tweaked the long and complicated menu of trim levels and options packages. The most efficient engines were the V8 mild hybrid and the base V6, both maxing out at 17 mpg combined. Recall data from NHTSA shows the Sierra's common problems included exterior lighting, oil and fuel leaks, and assorted brake system issues.
Shoppers Also Consider
The GMC Sierra competes against its corporate cousin, the Chevrolet Silverado, though General Motors does make an effort to differentiate between the two brands' target markets. Other competitors include the Chevrolet Silverado, Ram 1500, Toyota Tundra, and Nissan Titan. Potential pickup truck buyers should also consider whether their needs would be better served by a full-size SUV, such as the https://www.cargurus.com/Cars/GMC-Yukon-Overview-d130 or Ford Expedition.
Find great deals from top-rated dealersTM
Search