Ford Expedition
Model Overview
New Ford Expedition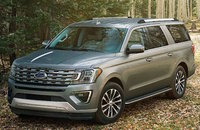 Used Ford Expedition
Ford Expedition Questions
Heater Only Blowing Cold Air.
One heater hose is hot & one is really cold. The heater will only blow cold air. What do i need to do to fix it?
Heater Not Blowing Hot
2000 Ford Expedition, only blows out cold air when I turn the heater on. Just replaced Heater Core. The top hose gets hot but bottom hose stays cold. Any suggestions?
What Is The Fuel Pressure For A 5.4 L Ford Expedition Engine
I have a 2008 Ford Expedition and I am having problems with the engine after changing the spark plugs and fuel filter, I think the fuel pressure is too high, 60 before start and above 70 engine runnin...
There Is No Water Under Vehicle When I Run Airconditioner But My Transmissi...
No water under vehicle after running air conditioner but there is water in tranny fluid and tranny fluid in radiator
Why Is Oil Getting Into Water System
oil in water system but no water in oil system
Ford Expedition
Overview
Ford's full-size SUV was originally presented as a replacement to the more rugged, off-road Bronco intended to compete with the likes of the Chevrolet Suburban and GMC Yukon. Despite very poor gas mileage, the Expedition remains a popular vehicle with seating for nine.