Ford Expedition
Model Overview
New Ford Expedition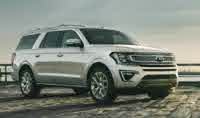 Used Ford Expedition
Ford Expedition Questions
1999 FORD Expedition Wont Start
need help my 1999 ford expedition wont start it cranks but wont start. The odometer has dashes all the way across and the theft light isnt blinking. we had though it might of been a theft issue but ...
2001 Ford Expedition Eddie Bauer Major Starter Issued
Had some issues with my truck so.. I changed the alternator fuel pump fuel filter and a gas hose. It was up an running again not the greatest tho well went to the station come out and my truck wo...
2001 Ford Expedition Eddie Bauer 5.4 V8 4X4
Tryong to replace the + battery cable wire the whole cable not just peices of it I bought the standered + battery cable but I'm sure it's not right was hoping to just be able to hook it up to the ...
Car Plug For Ford Expedition 2018
where can i find the car plug in the ford expedition 2018
If I'm Buying A Used 2018 Ford Expedition, How Would I Know If It Includes ...
Ford Expedition
Overview
Ford's full-size SUV was originally presented as a replacement to the more rugged, off-road Bronco intended to compete with the likes of the Chevrolet Suburban and GMC Yukon. Despite very poor gas mileage, the Expedition remains a popular vehicle with seating for nine.