Ford Expedition
Model Overview
New Ford Expedition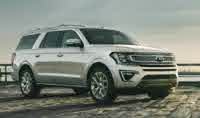 Used Ford Expedition
Ford Expedition Questions
2002 Ford Expedition Won't Start
Parked my vehicle about a year ago. To drive another vehicle. I want to drive my expedition now I replaced the battery and it turns over but won't crank fully! HELP!!!
1999 Ford Expedition Cabin Filter
According to my owners/service manual, the 1999 ford expedition for that year model did not install cabin air filters
How Do You Replace A 1999 Ford Expedition Air Cabin Filter?
I have looked everywhere to find out where it goes. Can anyone help? Thanks, Tony
2004 Ford Expedition - Struggling To Get Into First Gear?
Car will start fine, will go into reverse fine, will revv up, but when you shift it into first gear it refuses to accelerate unless you revv it up really hard, at which point it lurches.The other ge...
2004 Ford Expedition - Wont Accelerate After Idling
So you turn the key, and it starts up fine, you put it in reverse to back out, and it works fine, but then once you shift it into drive, it starts acting wrong. You press on the accellerator and it...
Ford Expedition
Overview
Ford's full-size SUV was originally presented as a replacement to the more rugged, off-road Bronco intended to compete with the likes of the Chevrolet Suburban and GMC Yukon. Despite very poor gas mileage, the Expedition remains a popular vehicle with seating for nine.