Nissan Titan
Model Overview
New Nissan Titan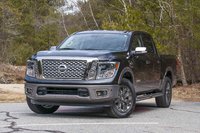 Used Nissan Titan
Nissan Titan Questions
Heater
While driving sometimes the heat turns off, but then comes right back on. What would cause this?
2006 Nissan Titan Heater Blower
My 2006 Nissan Titan' s heater/AC blower is stuck blowing on the window and will not switch to the cab vents. Also the knobs no longer light up. Is this an easy fix or a major issue?
Dash Lights On, No Speedo
Dash lights On, no speedometer. Yesterday engine started to hesitate. Replaced instrument cluster tonight. Did not fix the problem. Any suggestions would be greatly appreciated
I Need Help Finding The Name Of Two Parts
Ok I cannot find out what the wire that wraps around the key ignition that reads the transponder key I need the new part help!!
My Truck Will Not Go In 3 2 1 On Shifter
Nissan Titan
Overview
The Nissan Titan is the auto maker's contribution to the full-sized truck market. As the name suggests, the Titan is big. It compares to trucks like the Ford F150 and the Toyota Tundra, but it sells so few that it doesn't really compete.
The Nissan Titan has been praised for its roomy, comfortable interior, wide rear doors, and other unusual features. However, it has been criticized for not offering as many body styles as similar trucks.
The Titan has been plagued with quality issues, particularly with the brakes, which tend to wear out very quickly.
A heavy-duty Titan, to compete with the likes of the Ford F250/F350 or the Dodge Ram 2500/3500, is rumored for 2009.