Nissan Titan
Model Overview
New Nissan Titan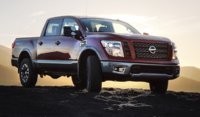 Used Nissan Titan
Nissan Titan Questions
2008 Nissan Titan Back Tire Skip
When I gun it from a stop the back passenger side tire does this sort of skip. What could this be?
Señal Puerta Abierta
La señal de la puerta permanece prendida y cuando pongo la alarma esta no suena y la luz de los retrovisores tardan mucho en apagarse
Heat Stop Working
only my heat is not working everything else is working good. What wrong?
I Have A 2010 Titian An My Heater Will Only Blow Cold Air Out, Do You Think...
Heater only blows out cold air, yet my AC works fine. What do u think problem is?
2005 Nissan Titan Chugs On Acceleration
I have a 2005 Nissan Titan SE with 5.6 V8 and Off Road Package. When I accelerate it will chug and almost die on me, but if I ease into the acceleration it will sometimes accelerate just fine. It has ...
Nissan Titan
Overview
The Nissan Titan is the auto maker's contribution to the full-sized truck market. As the name suggests, the Titan is big. It compares to trucks like the Ford F150 and the Toyota Tundra, but it sells so few that it doesn't really compete.
The Nissan Titan has been praised for its roomy, comfortable interior, wide rear doors, and other unusual features. However, it has been criticized for not offering as many body styles as similar trucks.
The Titan has been plagued with quality issues, particularly with the brakes, which tend to wear out very quickly.
A heavy-duty Titan, to compete with the likes of the Ford F250/F350 or the Dodge Ram 2500/3500, is rumored for 2009.