Nissan Titan
Model Overview
New Nissan Titan

The 2019 Nissan Titan has been announced, but it is not yet available for purchase.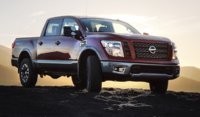 Used Nissan Titan
Nissan Titan Questions
Nissan Titan 08 4wd
My dashboard has the 4wd option on the bottom right side but there's no switch to turn it on, does that mean it's not a 4wd? And my shifter won't go down to 4321 shifter only works on P,D,N,R but ...
2008 Nissan Titan Won't Start.
Crank. No start. In limp mode. Can't pull any codes with code reader. 4x4, abs, slip lights on. What's the deal?
04 Titan Wont Start
Recently had a new chip key cut and it started engine fine for a few weeks then randomly failed to start and security light on i can hold chip next to ignition and start with door key everytime wh...
2004 Nissan Titan Won't Start
I have a 2004 Nissan Titan that ran perfect sat for 2 days and now won't start, I replaced the starter, the starter relay, battery and ignition switch it's been at a mechanic for a month they said ...
Blowing 50/30/30 Fuseable Link (blowing The 50)
what is causing the 50 amp portion of the 50/30/30 to blow?
Nissan Titan
Overview
The Nissan Titan is the auto maker's contribution to the full-sized truck market. As the name suggests, the Titan is big. It compares to trucks like the Ford F150 and the Toyota Tundra, but it sells so few that it doesn't really compete.
The Nissan Titan has been praised for its roomy, comfortable interior, wide rear doors, and other unusual features. However, it has been criticized for not offering as many body styles as similar trucks.
The Titan has been plagued with quality issues, particularly with the brakes, which tend to wear out very quickly.
A heavy-duty Titan, to compete with the likes of the Ford F250/F350 or the Dodge Ram 2500/3500, is rumored for 2009.