Toyota Sienna
Model Overview
About the Toyota Sienna
Available Now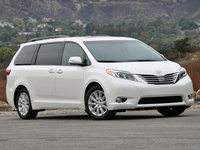 Considered one of the top minivans currently available, the Toyota Sienna delivers a safe, comfortable ride with good reliability and fuel economy. Owners and reviewers continually place the Sienna at the top of its competitive class, which includes such vehicles as the Honda Odyssey, the Chrysler Town and Country, the Kia Sedona, and the Volkswagen Routan.
The Sienna debuted in 1997 for the 1998 model year, replacing the rear-wheel-drive Previa minivan in Toyota's lineup. In creating the Sienna, Toyota used a modified front-wheel-drive platform borrowed from the Camry, resulting in a car-like ride. The Sienna was initially praised for its handling, but it lacked many of the advanced features the best-selling minivans offered. Subsequent Siennas were better equipped, offering new features like traction control, Bluetooth connectivity, and a "kid view" mirror. The Sienna now ranks as one of the best-selling minivans in the U.S.
Designed to provide maximum passenger and cargo space, the Sienna accommodates up to seven passengers in three rows. A typical configuration includes two front seats, two second-row captain's chairs, and a third-row, fold-flat bench seat, with room for three more passengers. However, in later generations, owners could expand seating capacity to eight by replacing the second-row bucket seats in certain trims with an available bench seat, which included a small, slidable middle seat for a child or infant.
In addition to its comfortable ride and eight-passenger seating, the Sienna's safety record remains one of its key assets. Throughout its production run, the Sienna has consistently posted top scores in crash tests, and when the third-generation Sienna went on sale in 2010 for the 2011 model year, it was named a Top Safety Pick by the IIHS.
For its third generation, the Sienna received an extensive makeover, which elevated it over its competitors, in the eyes of many reviewers. In addition, Toyota added a sporty SE trim to the Sienna's lineup, which also includes the Base Sienna, the LE, the XLE, and top-of-the-line Limited. In pricing and equipment, the SE slots between the LE and XLE. Owners can add all-wheel drive to the LE, XLE, and Limited trims, making the Sienna the only minivan with available AWD.
The Sienna receives a new base four-cylinder engine for 2011, which powers the Base and LE trims. The 2.7-liter engine produces 187 hp, which can leave the Sienna feeling underpowered at times when accelerating, passing, or carrying a full load of passengers or cargo. A 266-hp, 3.5-liter V6 does a better job of powering the Sienna. It comes standard in the SE, XLE, and Limited trims, and remains optional in the two lower-end trims. Fuel economy ranges from 16/26 mpg for the four-cylinder engine powering front-wheel-drive trims, to 16/22 mpg for the V6 when powering an AWD trim.
Model History
When Toyota's first minivan, the Previa, debuted in 1990, it proved unpopular for a number of reasons, including its unusual egg-shaped body and its tiny, hard-to-service engine, which was located under the front seats. To change the spark plugs, owners or mechanics had to first remove the front passenger seat. However, Toyota learned a number of lessons from the Previa, which was discontinued less than a decade after its debut, replaced in 1998 by the new Sienna.
The Sienna sported a more traditional minivan shape, a more affordable price, and a more extensive equipment list, with such features as standard antilock brakes and side supports for the front bucket seats. The Sienna sat on a wheelbase of 114.2 inches, with an overall length of 190.5, which compares to the Previa's 112.8 inches and 187 inches, respectively.
Initial trim levels included the base CE, the midrange LE, and the high-end XLE. The CE was a barebones package, while the top-of-the-line XLE came equipped with leather-trimmed seats and a power moonroof. A passenger-side sliding door provided access to second- and third-row seats, while owners of LE and XLE trims could add a driver's-side sliding door as an option. Power came from a 194-hp, 3.0-liter V6, which posted class-leading fuel economy of 18/24 mpg. Optional safety features included Toyota's Vehicle Stability Control system and front seat-mounted airbags, which resulted in high safety marks for the minivan.
In 2001, Toyota gave the Sienna a mid-generation makeover, with a redesigned front end, new headlights and taillights, and some minor interior updates, including a new center console. In addition, the CE trim received a driver's-side sliding door, which became standard equipment for all three trims. Toyota also added variable valve timing to the V6 engine, pushing horsepower from 194 to 210 hp.
The second-generation Sienna debuted at the North American International Auto Show in early 2003 for the 2004 model year. Toyota stretched the wheelbase by more than 5 inches, to 119.3 inches, and increased overall length to 200 inches. In addition, Toyota increased the Sienna's width by almost 4 inches, which resulted in 44 more cubic feet of interior space when compared to the first-generation Sienna. Toyota offered the CE and LE trims with an optional eighth seat in the second row.
Thanks to its longer platform, the second-generation Sienna displayed a low, aerodynamic look. Toyota added a new upper-end XLE Limited trim, which joined the CE, LE, and XLE trims. A third-row bench seat split 60/40, enabling owners to fold one or both sections into the floor to expand cargo space to 94.5 cubic feet. In addition, owners could remove the second-row seat, which maxed out cargo space at 148.9 cubic feet. With all three rows of seats in place, the second-generation Sienna offered 43.6 cubic feet of cargo space.
Standard features included remote keyless entry and climate control for the rear seats, while optional features included a navigation system, rear parking assist, a rear-seat DVD entertainment system, and an upgraded 10-speaker, 360-watt JBL audio system. In addition, a optional "kid-view" rear-view mirror made it easier for drivers to keep an eye on younger passengers in the back seats.
Power came from a new 230-hp, 3.3-liter V6 engine, which pushed the Sienna from 0-60 mpg in a respectable 8.3 seconds. All trims except the CE were available with AWD. The XLE Limited trim came standard with side-impact airbags for all three rows. The side-impact airbags were available as an option for the other three trims. Optional safety features included Vehicle Stability Control with traction control and brake assist.
For a mid-generation refresh in 2006, Toyota again updated the Sienna's front end, bumpers, and headlights, as well as the interior instrument cluster, which received Optitron electroluminescent gauges. The name for the XLE Limited trim was shortened to the Limited trim, and side-impact airbags became standard safety equipment across the line. In addition, the options list expanded to include a power-folding third-row seat and Bluetooth connectivity.
Updates for 2007 included a new 266-hp, 3.5-liter V6 engine, which posted fuel economy numbers of 17/23 mpg for FWD trims and 16/21 mpg for AWD trims. In addition, Toyota added available satellite capability to the Sienna's audio systems.
The Sienna's wheelbase and overall length remained essentially the same for the third generation, which debuted at the Los Angeles Auto Show in late 2009 for the 2011 model year. The SE trim debuted with a number of unique exterior features, including special taillights and 19-inch wheels, as well as a sport-tuned suspension and tighter, more responsive steering. All trims came equipped with new electronic power steering, which replaced the previous generation's hydraulic steering system. In addition, Toyota offered a number of new options for 2011, including a widescreen, dual-view DVD entertainment system and a panoramic rear-view camera.
For the third generation, the automaker also introduced leather-trimmed second-row lounge seating, which comes standard in the Sienna Limited and XLE AWD trims, but is not available in the other trims. The reclining lounge seats include an integrated padded footrest, or ottoman, which raises as the seat reclines. However, Toyota warns against use of the ottoman when the vehicle is moving for safety reasons.
Used Versions
With the recent arrival of the third-generation Sienna in showrooms, prospective buyers will find their best bets for a used Sienna among the second-generation trims, produced from 2005 to 2010. The second-generation Sienna offered 44 cubic feet of additional interior space, when compared to the first-generation Sienna, and included the high-end XLE Limited trim, later called simply the Limited, which came equipped with leather upholstery, among other features.
Buyers will find the Sienna available in a number of configurations, geared toward different requirements and needs. Those with larger families will want to seek out CE and LE trims equipped with the optional three-person second-row bench seat, in place of the second-row captain's chairs, which expanded passenger capacity to eight. In addition, all Siennas produced after 2001 came equipped with a driver's-side sliding door, which made it easier for passengers to access the second- and third-row seats.
Those who place a premium on safety will want to look for trims equipped with side-curtain impact airbags, which were standard after 2006 on all trims and standard on high-end Limited trims produced since the beginning of the second generation. Similarly, buyers who require optimal traction and stability will want to look for Sienna trims equipped with all-wheel drive. Antilock brakes were standard on all Sienna trims throughout the production run.
Although shorter and less spacious than the second and third generations, the first-generation Sienna also presents a good option for used-car buyers. While the entry-level CE trim came without such niceties as air conditioning and power windows and door locks, the mid-range LE and upper-level XLE trim were well-equipped, with the XLE receiving leather upholstery and a power moonroof as standard features. The first-generation Sienna posted good fuel-economy numbers, and buyers might find certain trims equipped with such optional features as front-seat-mounted airbags and Toyota's Vehicle Stability Control system.
New Toyota Sienna


Used Toyota Sienna