Ford F-250 Super Duty
Model Overview
New Ford F-250 Super Duty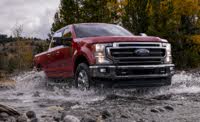 Used Ford F-250 Super Duty
Ford F-250 Super Duty Questions
Show Me 2018 New Unsold Chevy - And Ford Pick Up Truck's
Pick up trucks 2018 New unsold chevy and ford
Finance Calculators Possible Error's
How come the financed calculators CarGurus.com and Cars.com come up with different monthly payments with all the same input data? It may be only $6-$8 on $250 monthly payment but it could keep someon...
F250 Hesitant To Start With Key But Starts Good With Truck Starter
I have a 2019 f250 and I put a after market starter in it, when I start the truck with the starter it works fine. But when I use to the key I'm finding it's being hesitant, any ideas what the issu...
Oil Leak
I have a 2003 F250 Super Duty between the oil pan and the transmission it's leaking a lot of oil it's dripping on my exhaust when I cut the heater on it seems to start smoking yes off the exhaust l...
Registering A Montana Truck In New York, Will It Pass Emissions?
Hello! I'll be moving to New York in a few months with a 1997 F250 Powerstroke 7.3L. The truck has no catalytic converter. Will it be exempt from emissions? Or do I have to add a catalytic conver...
Ford F-250 Super Duty
Overview
A friend of mine came to pick me up at the airport in his Ford F-250 Super Duty. After throwing my bag in the spacious back seat, I settled in for the hour-long ride ahead of us.
I was surprised by the number of dials on the console. There were buttons to enhance towing and some "aux" buttons that my friend had not yet figured out. The cup holders in the center console held his big coffee mug and my water bottle. Compartments hidden in the seat separator thing up front and the glove compartment were roomy. The interior was very comfortable, until I got out and fell about two feet to the ground...graceful...
The ride was smooth. We were going 75 and the truck handled it with no problem. My friendnoted that unlike his old Dodge Ram 2500, this truck had very poor acceleration. He was not able to weave in and out of cars like he used to in his old truck. (Of course, I was kind of grateful for this, as his driving used to terrify me).
Parking was as good as expected for a large truck. The cornering was slightly worse than most large trucks, as they had moved the wheels further apart to make for a wider turning radius. We picked up a few friends and had six adults sitting comfortably in the truck.
Find great deals from top-rated dealersTM
Search