Ford F-250 Super Duty
Model Overview
New Ford F-250 Super Duty

2020 Ford F-250 Super Duty
The 2020 Ford F-250 Super Duty has been announced, but it is not yet available for purchase.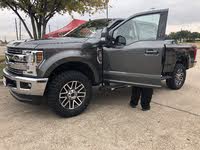 Used Ford F-250 Super Duty
Ford F-250 Super Duty Questions
2004 F250 4x4 5.4 Cranks But Wont Start Please Help
2004 f250 4x4 5.4 cranks up but wont start replaced crankshaft sensor oil pressure sensor gas fuel filter battery.
2002 Ford F250 Super Duty 5.4L Wont Start!
Hey, So i borrowed my friends truck and is was running fine when I got to work and when I went to leave it wouldn't start. Lights, stereo and display all light up no problem but that's it. I've...
Fuel Pump Module
Do all 2004 Ford F-250 have a fuel pump module , I cannot find one on mine
I Have A 2005 Ford F250 That Has Problems At The Pump, It Keeps Thinking It...
I have a 2005 Ford F250 that has problems at the pump, it keeps thinking its full and keeps shutting off the pump.
2004 5.4 Gas Superduty 3/4 Ton
What does code 0171mean
Ford F-250 Super Duty
Overview
A friend of mine came to pick me up at the airport in his Ford F-250 Super Duty. After throwing my bag in the spacious back seat, I settled in for the hour-long ride ahead of us.
I was surprised by the number of dials on the console. There were buttons to enhance towing and some "aux" buttons that my friend had not yet figured out. The cup holders in the center console held his big coffee mug and my water bottle. Compartments hidden in the seat separator thing up front and the glove compartment were roomy. The interior was very comfortable, until I got out and fell about two feet to the ground...graceful...
The ride was smooth. We were going 75 and the truck handled it with no problem. My friendnoted that unlike his old Dodge Ram 2500, this truck had very poor acceleration. He was not able to weave in and out of cars like he used to in his old truck. (Of course, I was kind of grateful for this, as his driving used to terrify me).
Parking was as good as expected for a large truck. The cornering was slightly worse than most large trucks, as they had moved the wheels further apart to make for a wider turning radius. We picked up a few friends and had six adults sitting comfortably in the truck.