Chevrolet Tahoe
Model Overview
About the Chevrolet Tahoe
Available Now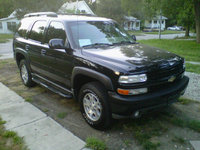 Based on the Chevy Blazer, which traces its history all the way back to the late 1960s, the Chevrolet Tahoe full-size SUV shares its DNA with several other GM vehicles, including the GMC Yukon, the Chevy Suburban, the GMC Jimmy, and the Silverado, creating a very successful family tree for GM. The Tahoe-badged version of the Blazer debuted in 1995 as a four-door, six-passenger SUV, and offered a shorter-wheelbase alternative to the longer Suburban. The Tahoe was one of the first full-size SUVs to reach showrooms and quickly became a hit with family-oriented buyers and those who sought a large, trucklike vehicle with plenty of room for passengers and cargo.
Currently in the midst of its third generation, the Tahoe last received a full redesign in 2007. Third-generation updates included new exterior styling, more powerful engines, and a new platform, which helped improved the Tahoe's handling and ride, as well as its solid towing and off-road capabilities. For 2011, the Tahoe comes in LS, LT, and LTZ trim levels, as well as a Hybrid trim, with either rear-wheel drive or four-wheel drive. A 5.3-liter V8 putting out 320 hp powers all Tahoe trims except the Hybrid, which retains its dual-mode gas/electric system. The V8 posts fuel economy numbers of 15/21 mpg, while the Hybrid version manages 20/23 mpg.
Inside, the Tahoe offers a spacious cabin with up to 109 cubic feet of storage space and seating capacity for up to nine passengers in three rows. Soft-touch surfaces and faux wood trim give the cabin an upscale feel, a welcome departure from previous generations, reviewers note. Passengers will find plenty of legroom in the first two rows, although the third-row bench seat remains tight for most adults.
Thanks to the combination of a rugged platform, well-equipped interior, solid powerplants, and relatively decent fuel economy, the Tahoe receives top marks from reviewers and owners. The Tahoe also delivers surprisingly nimble handling for a vehicle its size, although its top-heavy design results in some body lean in corners and only a middling safety rating for protecting passengers in the event of a rollover. Still, most reviewers agree that when it comes to a comfortable, capable full-size SUV, the Tahoe is hard to beat.
Despite its popularity through the years, the Tahoe faces stiff competition from the fast-growing and rapidly evolving crossover SUV market segment, putting Chevy at a bit of a crossroads. Should the Tahoe remain a full-size, truck-based SUV and risk becoming a dinosaur in the years ahead, or should it shrug off its rugged nature to run with the more fleet-footed crossover crowd? As the Tahoe awaits its next generation, Chevy reportedly is considering its options.
Model History
GM introduced the two-door Chevrolet Blazer SUV in 1969, and the following year spun off a rebadged GMC version called the Jimmy. Designed to compete against such vehicles as the Ford Bronco and the Scout from International Harvester, the Blazer/Jimmy sat on a short-wheelbase version of the same platform used by the Suburban. For the Blazer/Jimmy's third generation, which debuted in 1992, GM used a new GMT400 truck platform, borrowed from the Silverado. The new Blazer/Jimmy had a longer wheelbase than the previous generation (by 5 inches), as well as a longer overall length (by 3 inches) and increased passenger capacity (jumping from five to six).
Taking advantage of the new generation and the new platform, GM decided it was time to play around with vehicle's nomenclature as well. In 1992, GM rebranded the Jimmy as the GMC Yukon, and in 1995, the automaker introduced a four-door version of the Blazer and changed its name to the Tahoe. The new Tahoe came equipped with a restyled dashboard, new seats, and updated door panels. A driver's-side airbag also came standard.
Power for the Tahoe came from a 210-hp, 5.7-liter V8 engine, which rolled over from the Blazer. Owners could add GM's Insta-Trac four-wheel drive as an option, and disc brakes came standard on all four wheels.
For 1996, horsepower for the 5.7-liter V8 jumped from 210 to 250, and a four-speed automatic transmission came standard in all trims. Horsepower increased again, by 5 hp, for 1997, and Chevy added a passenger-side airbag as standard equipment. In addition, the Tahoe received a redesigned center console and illuminated entry. Chevy added a new full-time four-wheel-drive system, called Autotrac, in 1998. OnStar was also offered as an option for the first time.
The Tahoe's second-generation redesign, which debuted in 2000, affected all trims except the upscale Limited, which debuted in 2000 but retained the previous generation's design and platform. All second-generation Tahoes, including the Base, LS, and LT trims, received new exterior styling featuring a streamlined front end and an arched roofline, which gave the vehicle a more elegant look outside and more headroom inside.
The second-generation Tahoe sat on a new GMT800 platform, which it shared with the Silverado and the GMC Sierra, as well as the Yukon. The wheelbase stretched to 116 inches, from 111.5 inches for the previous generation. However, overall length of 198.9 inches remained about the same (199 inches for the first-generation Tahoe. Owners could choose from two new engines, including a 275-hp, 4.8-liter V8 and a beefier 285-hp, 5.3-liter V8. The Tahoe's retuned independent rear suspension ensured a smoother ride.
The 2000 Tahoe Limited trim retained the previous year's design and platform but came equipped with a number of upscale features, including two-tone leather upholstery, a unique instrument cluster, a black grille, and front foglights. Power came from a 255-hp, 5.7-liter Vortec V8 engine. The Limited trim rode on unique 16-inch, five-spoke aluminum wheels.
Chevy also offered the Tahoe in a ZR1 trim for 2000. Like the Limited, it retained the previous generation's design and platform, but added such unique exterior features as side rails, a roof rack, wheel flares, and chrome wheels. It came equipped with the same 5.7-liter V8 engine used for the Limited. Both the ZR1 and the Limited trims were available only for the 2000 model year.
Chevy added GM's StabiliTrak stability control system as an option on 5.3-liter V8 trims for 2003, and offered a number of other new options, including front side airbags, a Bose audio system, XM satellite radio, and a DVD entertainment system. For 2004, the automaker boosted horsepower for the Tahoe's two V8 powerplants by 10 hp.
The third-generation Tahoe, which debuted in 2007, again sat on a new, stiffer GMT900 platform, which it shared with such vehicles as the Yukon, Silverado, Cadillac Escalade, and Hummer H2. The wheelbase remained the same at 116 inches, but overall length stretched to 202 inches. A front coil-spring suspension and rack-and-pinion steering helped improve handling and ride, while a smoothed-out exterior improved aerodynamics. Other exterior features included a new front end and hood, as well as an updated grille.
Inside, the third-generation Tahoe received new seats, instrument gauges, and a wood-trimmed dashboard. Trims included the base LS, mid-level LT1, LT2, and LT3 trims, and the upscale LTZ. Standard features across the trim lineup included dual-zone climate control, a trip computer, a CD player with MP3 capability, and stability control, while the top-of-the-line LTZ also included leather upholstery, heated first- and second-row seats, and 20-inch wheels. All trims could accommodate up to nine passengers with an optional third-row seat.
For the third generation, Chevy introduced a new entry-level 4.8-liter V8 engine, which produced 290 hp and powered rear-wheel-drive trims. In addition, the automaker pumped up the horsepower for the 5.3-liter V8 to 320 hp. The bigger V8 managed mileage numbers of 16/22 mpg thanks to Active Fuel Management, which deactivates certain cylinders at cruising speeds to conserve fuel.
The Tahoe Hybrid debuted in late 2007 for the 2008 model year. The two-mode Hybrid powerplant featured a 332-hp, 6.0-liter Vortec V8 engine as well as two electric motors. In Mode 1, used for low speeds or when carrying light loads, the powerplant operated on electric power whenever possible, shutting down the V8 to maximize fuel efficiency. In Mode 2, for optimal power when towing or accelerating under heavy loads, the electric motors assisted the V8 engine. The Hybrid posted fuel economy numbers of 20/23 mpg, though it came with a hefty pricetag.
In 2009, Chevy added a beefy 6.2-liter V8 to the lineup. The powerplant produced 395 hp and was available as an option for the LTZ trim. A minor update in 2010 freshened the exterior design, adding a slightly revised bumper and updated side airbags.
Used Versions
Chevy Tahoes have a mid-range resale value, which means used Tahoes in good condition should be available at reasonable used-car prices. In addition, Chevy has produced hundreds of thousands of Tahoes since the SUV's introduction in the mid-'90s, so there are plenty of options from which to choose.
Prospective buyers will more than likely want to start their search for Tahoes produced in the mid to late second generation, or from around 2003 to 2006. In those years alone, Chevy produced more than a half-million Tahoes. Buyers who have an eye on safety will want to seek out second-generation trims equipped with StabiliTrak, which became an option in 2003 and a standard feature on all trims in 2006.
For more recent trims, owners can keep an eye out for Tahoes produced at the beginning of the third generation in 2007, '08, and '09. However, production tailed off sharply after 2007, dropping to under 92,000 units produced in 2008 and under 72,000 in 2009.
Owners also have some unique Tahoes from which to choose, including the Tahoe Limited and ZR1 produced in 2000, and the fuel-efficient yet quite expensive Hybrid, produced from 2008 on.
New Chevrolet Tahoe

Used Chevrolet Tahoe
Chevrolet Tahoe Questions
1996 Chevy Tahoe LT
Could a 1996 Chevy Tahoe LT have a 454 motor installed and run well without any upgrades, such as stock brakes, shocks and motor mounts
2004 Tahoe Z71 Brake Lights Not Working. I Replaced The Bulbs, Fuses, And ...
I replaced the bulbs, fuses, and brake light switch and they still are not working. Any ideas??
2000 Tahoe Instrument Cluster
Looking for the instrument cluster wiring from behind the instrument cluster does it head into the engine bay or run underneath the car? Trying to figure if it's a ground issue or something
How Do You Get Rid Of Warning Message On 2015 Tahoe ??
Security System
Left sun roof open it come a down poor about 3 inches of water in console and the hole passenger side seat was soaked. Now door looks go stupid while driving and even when car is off they will lock...
Find great deals from top-rated dealersTM
Search