Chevrolet Tahoe
Model Overview
New Chevrolet Tahoe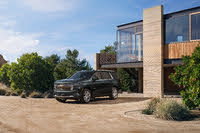 Used Chevrolet Tahoe
Chevrolet Tahoe Questions
Chevrolet Tahoe
Overview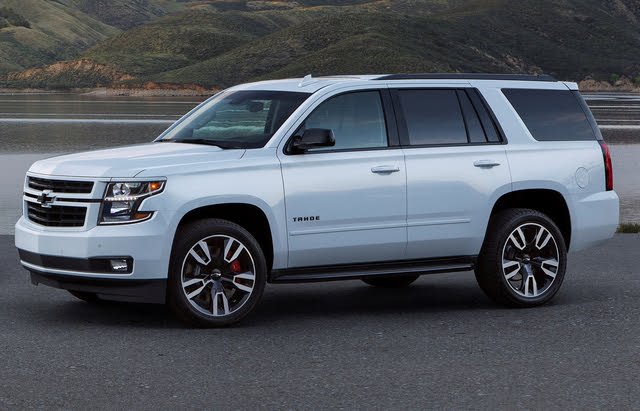 For decades, the Chevrolet Suburban has been a staple for those who need the capability of a durable truck blended with interior space on par with a small apartment. Of course, not everyone wants a vehicle quite that big, so Chevy introduced the Tahoe full-size SUV.
Essentially a shorter Suburban, the Tahoe debuted for the 1992 model year and has since offered the same rugged body-on-frame architecture as the Suburban, along with up to nine-passenger seating, albeit with less cargo room and tighter third-row accommodations. Powertrains have included a variety of V8 engines and a mild hybrid system, and buyers have had their choice of rear-wheel-drive (RWD) and 4-wheel-drive (4WD) capability.
CarGurus tested the 2018 model and gave it an unimpressive overall score of 6.7, noting that the Tahoe trailed its competitors and even some of Chevy's own crossovers in key areas.
Pros: Impressive versatility, styling, and reliability.
Cons: Poor third-row-seat room, fuel economy, towing capacity, and ride comfort.
Model Generations
2015-Present: Current Generation

The current Chevrolet Tahoe debuted for the 2015 model year and quickly garnered praise for its styling, more powerful and efficient V8 engine, improved interior design and quality, 8,600-pound towing capacity, and overall refinement. There was also a new flat-folding third-row seat that made the cargo area more useful, and upgrades such as an available front-center airbag, a wireless phone charger, a sensor-activated power liftgate, and the updated MyLink infotainment system.
In typical Chevy fashion, the 2015 Tahoe could be had in LS, LT, and LTZ flavors (in addition to fleet and special service models) riding on the buyer's choice of a RWD or 4WD chassis. All versions were powered by a 355-horsepower 5.3-liter V8 featuring cylinder deactivation. Coupled with a 6-speed automatic transmission, this engine promised to deliver 22 to 23 mpg on the highway.
For 2016, Chevrolet tweaked the Tahoe by offering an optional heads-up display (HUD), lane-keep-assist system, and standard 8-inch touch screen. The following year, Chevy dropped the LTZ to make room a new top-of-the-line Premier model, while 2018 marked the introduction of RST (Rally Sport Truck) packages availing buyers to a 420-horsepower 6.2-liter V8, 10-speed automatic transmission, and a performance-tuned Magnetic Ride Control suspension setup. CarGurus tested a 2018 Chevrolet Tahoe Premier equipped with all of the RST upgrades and, while impressed with its looks and grunt, felt the Ford Expedition or Chevrolet Traverse were better alternatives.
Since then, the Tahoe hasn't seen any significant changes, likely in anticipation of a redesigned 2021 Tahoe. Thanks to what is expected to be an all-new independent rear suspension and a broader array of engine options, the next Tahoe should be back on equal footing with its rivals.
2007-2014 Chevrolet Tahoe: 3rd Generation
With the 2007 model year came the third iteration of the Tahoe full-size SUV. Larger and arguably more attractive than the model it replaced, the 2007 could be ordered in LS, LT, or LTZ trim levels with RWD or 4WD and muscle coming from one of two engines. The first of those was a 4.8-liter V8 generating 290 horsepower, while the second was a 5.3-liter V8 boasting 320 horsepower and improved fuel efficiency over the second-generation Tahoe, thanks to cylinder deactivation technology. A 4-speed automatic was the only available transmission. As with previous Tahoes, the 2007 model provided 3 rows of seats capable of accommodating up to nine passengers.
Fresh off a redesign, the 2008 was essentially a carryover, but that was also the year Chevrolet launched the Tahoe Hybrid. Using a so-called mild hybrid system comprised of a 6.0-liter V8 mated to a pair of 80-horsepower electric motors and a 300-volt battery, the 2008 Tahoe Hybrid could operate in full electric mode for short distances and promised city fuel economy ratings of 20 mpg in RWD and 4WD configurations. And, in keeping with the utility of a full-size SUV, it could tow up to 6,200 pounds.
Chevy followed the debut of its Tahoe Hybrid with the efficiency-focused Tahoe HFE variant, as well as a newly available 395-horsepower 6.2-liter V8 that the EPA suggested would average 12 mpg in city driving. In addition, the 2009 Tahoe could now be configured with a 4- or 6-speed automatic transmission, while the list of features grew to include a standard three-passenger third-row seat and an optional blind-spot monitoring system.
No notable changes were made over the next 2 model years, but for 2012 the blind-spot monitoring system was made standard on the LTZ, the stability control system was upgraded with trailer sway control and hill start assist, and the 4.8-liter V8 engine was removed from the lineup.
After years of slow sales, the Tahoe Hybrid was discontinued for 2014, the same year base LS models were upgraded with standard power-adjustable pedals and rear parking sensors.
2000-2006 Chevrolet Tahoe: 2nd Generation
Chevy launched the Tahoe is 1995 and continued to offer Limited and Z71 versions of that truck into the 2000 model year, but the focus was on its all-new replacement. The redesigned 2000 Tahoe stood apart from earlier models with curved edges outside and a relatively plush interior offering—for the first time—an optional third-row seat. Other upgrades included standard side airbags and options such as a power moonroof, navigation system, and towing package. Buyers were limited to the Base, LS, or fancier LT trim and one of two V8 engines: a 275-horsepower 4.8-liter or a 285-horsepower 5.3-liter. Both were mated to a 4-speed automatic transmission that delivered output to the rear or all 4 wheels. EPA-rated fuel economy peaked at 18 mpg on the highway.
Updates for the 2001 model year were largely limited to a new LS Z71 variant, but the 2002 Tahoe arrived with several additional standard features including premium suspension tuning and power seats but also saw the discontinuation of the Base variant. In 2003, Chevy added a long list of available equipment with items such as a rear-seat DVD entertainment system, stability control, 3-zone climate control, and a driver information center located within the gauge cluster. A tire-pressure-monitoring system became standard for the 2004 model year, while a 10-horsepower boost brought the 5.3-liter V8's total output to 295.
Over the course of its final 2 years of production, Chevy made stability control standard on all second-generation Tahoes, and upped the 4.8-liter V8's rating to 285 horsepower.
It should be noted that overall reliability ratings for the second-generation Tahoe have been positive, but some owners did file complaints about unusual engine noises (4.8-liter and 5.3-liter), a problem commonly known as piston slap. A class-action lawsuit followed and was subsequently settled with General Motors (Chevrolet's parent company) agreeing to cover certain repairs.
Shoppers Also Consider
If there's one thing Chevrolet consistently does well, it would be selling trucks and full-size SUVs. The Tahoe is no exception, as dealers usually move at least 100,000 units off their lots each year. Indeed, the Tahoe is one of the most popular vehicles in its class, but the number of full-size SUVs currently on the market remains relatively small as buyers move to midsize crossovers that deliver improved ride and handling characteristics, superior fuel economy, and greater interior comfort.
Still, the Tahoe faces strong direct competitors like the aforementioned Ford Expedition, due in no small part to the latter's available turbocharged engine, more impressive towing capacity, and relatively spacious third-row seat. Also competing for the attention of full-size SUV shoppers are other General Motors' products including Chevy's Suburban and GMC's Yukon/Yukon XL duo, as well as the dated Toyota Sequoia and Nissan Armada.