Toyota Sequoia
Model Overview
New Toyota Sequoia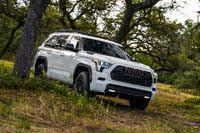 Used Toyota Sequoia
Toyota Sequoia
Overview
The Toyota Sequoia, a full-sized truck-based SUV, was introduced in 2001 to fill the gap between the smaller RAV4 and the luxurious Land Cruiser. The Sequoia boasts a lot of towing and cargo capacity, and seats up to eight people. It is only sold in the U.S. and Canada.
The most noticible thing about the Sequioa is its size. It is huge. The Sequoia is a capable tower and hauler, but there are downsides to such bulk. For one, the Sequoia can be difficult to climb into. The controls can also be hard to reach.
Despite being built on a truck platform, the Sequoia is known for handling surprisingly well, and offers a comfortable, quiet ride. Amenity-wise, the Sequoia slots between the lower-priced 4Runner and the cushy Land Cruiser.
The Sequoia is due for a redesign in 2008, and is expected to be even bigger.