Toyota Sequoia
Model Overview
New Toyota Sequoia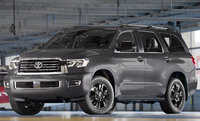 Used Toyota Sequoia
Toyota Sequoia Questions
Code C1203 And P0120
What do these 2 codes mean and how much do they vost to repair?
I Would Like To Sell My Car But The Website Wont Take My Info.
Sunroof Shattered
Have you ever heard of a sunroof suddenly and completely shattering with a loud pop, like a gun shot? Last weekend I was driving back from Banff in the mountains towards Calgary, and the whole sunr...
Trac Off And Vsc Trac System
My "TRAC OFF" and VSC TRAC" light is turning on while I'm driving. I have a TRAC OFF switch but it doesn't turn off the system when I press it off, is that normal?. How do I turn the TRAC or VSC TRA...
Where Can I Get A Radio Antena For An 01' Sequoia?!
I need an antenna I am going nuts listening to staticy stations or nothing at all. auto zone doesn't carry them... either that or i'm just an idiot and I cant find them . I believe I would need one th...
Toyota Sequoia
Overview
The Toyota Sequoia, a full-sized truck-based SUV, was introduced in 2001 to fill the gap between the smaller RAV4 and the luxurious Land Cruiser. The Sequoia boasts a lot of towing and cargo capacity, and seats up to eight people. It is only sold in the U.S. and Canada.
The most noticible thing about the Sequioa is its size. It is huge. The Sequoia is a capable tower and hauler, but there are downsides to such bulk. For one, the Sequoia can be difficult to climb into. The controls can also be hard to reach.
Despite being built on a truck platform, the Sequoia is known for handling surprisingly well, and offers a comfortable, quiet ride. Amenity-wise, the Sequoia slots between the lower-priced 4Runner and the cushy Land Cruiser.
The Sequoia is due for a redesign in 2008, and is expected to be even bigger.