Toyota Sequoia
Model Overview
New Toyota Sequoia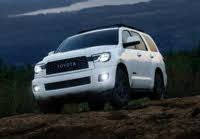 Used Toyota Sequoia
Toyota Sequoia Questions
2002 TOYOTA SEQUOIA Traction Control System
2002 TOYOTA SEQUOIA traction control system leave it off. i have the part out can i leave it out ?
Codes Peintures De Séquoia 2017
J'ai une séquoia 2002 et je veux lui changer une couleur de 2017 qui tire dans le chocolat. Pouvez-vous m'aider à trouver les codes de peinture du fabricant Toyota séquoia de 2017?
Trac Vsc And Engine Light
My check engine light trac light and vsc light all came on at once after i got an oil change it will not turn off. The trac lights normally went off after pushing the trac button and restarting it ...
2003 Toyota Sequoia
My rear window wiper doesn't work anymore but washer fluid does as well as my windshield wipers. Also I can't get the rear gate open which I understand is very common. Any help would be much appre...
Does The Sequoia Have A Timing Belt Or Timing Chain 4.7 ?
Does the Sequoia model 2002 , 4.7 v8 have a timing belt or timing chain 4.7 ?
Toyota Sequoia
Overview
The Toyota Sequoia, a full-sized truck-based SUV, was introduced in 2001 to fill the gap between the smaller RAV4 and the luxurious Land Cruiser. The Sequoia boasts a lot of towing and cargo capacity, and seats up to eight people. It is only sold in the U.S. and Canada.
The most noticible thing about the Sequioa is its size. It is huge. The Sequoia is a capable tower and hauler, but there are downsides to such bulk. For one, the Sequoia can be difficult to climb into. The controls can also be hard to reach.
Despite being built on a truck platform, the Sequoia is known for handling surprisingly well, and offers a comfortable, quiet ride. Amenity-wise, the Sequoia slots between the lower-priced 4Runner and the cushy Land Cruiser.
The Sequoia is due for a redesign in 2008, and is expected to be even bigger.
Find great deals from top-rated dealersTM
Search