Toyota Sequoia
Model Overview
New Toyota Sequoia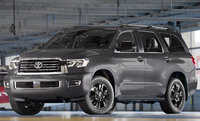 Used Toyota Sequoia
Toyota Sequoia Questions
Is The Toyota Frame Rust Not Affecting The 2008 Sequoia So Much As The Tund...
I posted this question but reviewd and realised it lacked some details. I m writing from Norway. I have Toyota sequoia 2008 with about 97000 miles on it. I have been checking and following this issu...
Is There A Fee If I Sell My Car From Cargurus?
07 Toyota Sequoia Brake Pedal To Floor Comes To Hault Vsc, Trac And Brake L...
Drove 1400 miles from Fl to NH no problems. Park car for the night get up to go to work in a.m and car wont stop. Brake pedal to the floor and the heavy thing just barley comes to a hault. Had to ...
Can You Change A Water Pump On A Toyota Sequoia 2004 With Changing Timing B...
a toyota sequoia 2004 water pump does it need the timing belt changed on 100,00 mileage
Toyota Sequoia Types
What is the difference between an SR5, a Limited, FFV, and a Platinum version of Sequoia?
Toyota Sequoia
Overview
The Toyota Sequoia, a full-sized truck-based SUV, was introduced in 2001 to fill the gap between the smaller RAV4 and the luxurious Land Cruiser. The Sequoia boasts a lot of towing and cargo capacity, and seats up to eight people. It is only sold in the U.S. and Canada.
The most noticible thing about the Sequioa is its size. It is huge. The Sequoia is a capable tower and hauler, but there are downsides to such bulk. For one, the Sequoia can be difficult to climb into. The controls can also be hard to reach.
Despite being built on a truck platform, the Sequoia is known for handling surprisingly well, and offers a comfortable, quiet ride. Amenity-wise, the Sequoia slots between the lower-priced 4Runner and the cushy Land Cruiser.
The Sequoia is due for a redesign in 2008, and is expected to be even bigger.