Nissan Armada
Model Overview
New Nissan Armada

The 2018 Nissan Armada has been announced, but it is not yet available for purchase.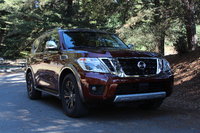 Used Nissan Armada
Nissan Armada Questions
Nissan
My Nissan won't turn on even with new battery and new fuse link only thing that turns on is the hazard light along with the abs module making a strange turning sound
How Do I Turn Off Beeping Noise When You Turn Off Car & Open Door? It Is Ve...
Do You Have Any Suggestions About 2005 Nissan Altima 3.5sl?
Hi, I am planning to buy a 2005 Nissan Altima, 3.5SL. It has all premium features (leather seats, Bose sound systmes etc.). But they are not that important to me. First of all the car has only 7000...
What Kind Gas Can I Use In A 2004 Armada
What kind of gas can i use in a 2004 Armada
2014 Nissan Armada
I noticed y'all have a 2014 Nissan Armada for sale. I saw it on your app last night for $1000.00 pymnts at $19 monthly. I have the pic with the info. Is this still available??
Nissan Armada
Overview
The introduction of the Nissan Armada in 2004 marked the entrance of the fourth SUV into the auto manufacturer's lineup, joining the Pathfinder, Xterra, and Murano. The Armada was initially a bigger version of the Pathfinder and named the Pathfinder Armada, but after one year it became its own model.
The Nissan Armada is a truck-based SUV, sharing a platform with the Nissan Titan. It has a V8 engine and 305 horsepower engine.
The Armada is big. Huge, even. It ranks with the Toyota Sequoia, Ford Expedition, and Chevy Tahoe. It seats up to eight passengers and unlike many other vehicles claiming this capacity, can actually fit adults into the third row seats. It also can tow more than 9,000 pounds, the best in its class.
The Nissan Armada has been plagued with quality issues, including troubles with the brakes, tires, and interior finishes. Some have dubbed it the "Lemonada," but others praise the SUV and say its the best in its class.