Nissan Armada
Model Overview
New Nissan Armada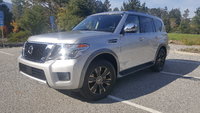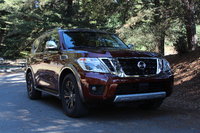 Used Nissan Armada
Nissan Armada Questions
Back Liftgate Wont Open
My remote and inside door switches will not open my back liftgate. I have to crawl inside the back cargo area, and manually unlock the liftgate before i can open it. Can u help me plwase?
2010 Nissan Armada Automatic Manual Shift Is Stuck In Gear
I hooked up a boat and was going to The Parts House and because the car's brakes are going out I put it in the manual shift mode. As I was going along I noticed I couldn't shift into third, when I ...
NISSAN ARMADA 2004
NISSAN ARMADA 2004 WHEN I DRIVING MY CAR DONT TAKE FUEL I TURN KEY OFF FOR 3 SECOND AND TURN IT ON IT WORK GOOD AND ALSO SOMETIMES THE PRESSURE OIL GONE THE LIGHT ON 2 MINUTES RETURN BAG LIKE NOTH...
2013 Nissan Armada Rear Door Wont Open From Inside / Child Lock Is Off
I have a 2013 Nissan Armada Platinum, the rear door will not open from the inside even though the child lock is set in the off position. If someone sits in the back I have to get out the car and ope...
Nissan Armada Starter Issues?
On occasion, I go to turn my Armada on and it all lights, radio, instruments, etc come on, but when I turn the key over, I just get a click, and nothing else. Usually the second time it fires right u...
Nissan Armada
Overview
The introduction of the Nissan Armada in 2004 marked the entrance of the fourth SUV into the auto manufacturer's lineup, joining the Pathfinder, Xterra, and Murano. The Armada was initially a bigger version of the Pathfinder and named the Pathfinder Armada, but after one year it became its own model.
The Nissan Armada is a truck-based SUV, sharing a platform with the Nissan Titan. It has a V8 engine and 305 horsepower engine.
The Armada is big. Huge, even. It ranks with the Toyota Sequoia, Ford Expedition, and Chevy Tahoe. It seats up to eight passengers and unlike many other vehicles claiming this capacity, can actually fit adults into the third row seats. It also can tow more than 9,000 pounds, the best in its class.
The Nissan Armada has been plagued with quality issues, including troubles with the brakes, tires, and interior finishes. Some have dubbed it the "Lemonada," but others praise the SUV and say its the best in its class.