Nissan Armada
Model Overview
New Nissan Armada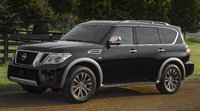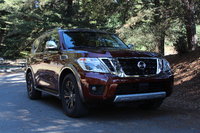 Used Nissan Armada
Nissan Armada Questions
Gps
i have a 2008 nissan armada i would like to know if it has a gps and if it does how can i look for it
2011 Armada Has 2 Different Temperature Coming Out
Even though the temperature is set the same The temperature on the driver side is not the same as passengers. Passengers side is blowing the right temperature, but drivers side is not. The dual ...
I Have A 2008 Nissan Armada. The Check Engine Light Came On. The Code Reade...
2004 Nissan Pathfinder Armada Is Having An Issue With The Rear Gate/trunk.
My 2004 armada is having an issue where in the cold (under 30 degrees) the rear gate will not open at all. You can still move the handle but nothing happens. Also the rear glass panel will not open ...
2007 Nissan Armada Front Heater Or A/c Does Not Blow Air Out Vents.
I have replaced the blower motor assembly, variable blower controller module, and relay. Any ideas? It's cold outside!! Lol! At first it went from normal to blowing only on high for both the heater an...
Nissan Armada
Overview
The introduction of the Nissan Armada in 2004 marked the entrance of the fourth SUV into the auto manufacturer's lineup, joining the Pathfinder, Xterra, and Murano. The Armada was initially a bigger version of the Pathfinder and named the Pathfinder Armada, but after one year it became its own model.
The Nissan Armada is a truck-based SUV, sharing a platform with the Nissan Titan. It has a V8 engine and 305 horsepower engine.
The Armada is big. Huge, even. It ranks with the Toyota Sequoia, Ford Expedition, and Chevy Tahoe. It seats up to eight passengers and unlike many other vehicles claiming this capacity, can actually fit adults into the third row seats. It also can tow more than 9,000 pounds, the best in its class.
The Nissan Armada has been plagued with quality issues, including troubles with the brakes, tires, and interior finishes. Some have dubbed it the "Lemonada," but others praise the SUV and say its the best in its class.