Nissan Armada
Model Overview
New Nissan Armada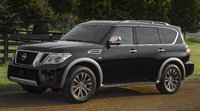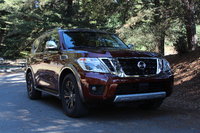 Used Nissan Armada
Nissan Armada Questions
Nissan Armada Radio/climate Display Lights
My 2017Nissan Armada Sv...I'm working during is there some kind of light for the radio/climate control display? At night I can't see anything on the lower display and I don't see any control to il...
Nissan Doesn't Want To Start But After A Bit Does
Just dead but after repeated tries it starts just fine. It has been doing this off and on for several years. The battery is fine. No clicking noises. No security light. Maybe a slight bong sound o...
Nissan Armada Starter Issues?
On occasion, I go to turn my Armada on and it all lights, radio, instruments, etc come on, but when I turn the key over, I just get a click, and nothing else. Usually the second time it fires right u...
I Have A 2006 Nissan Armada. When I The Transmission Is In Drive And I Step...
Armada Nissan Got On The Ses...and Went Off Disconecting The Neg.pol Batt.....
On the tester code 420 bank 1/
Nissan Armada
Overview
The introduction of the Nissan Armada in 2004 marked the entrance of the fourth SUV into the auto manufacturer's lineup, joining the Pathfinder, Xterra, and Murano. The Armada was initially a bigger version of the Pathfinder and named the Pathfinder Armada, but after one year it became its own model.
The Nissan Armada is a truck-based SUV, sharing a platform with the Nissan Titan. It has a V8 engine and 305 horsepower engine.
The Armada is big. Huge, even. It ranks with the Toyota Sequoia, Ford Expedition, and Chevy Tahoe. It seats up to eight passengers and unlike many other vehicles claiming this capacity, can actually fit adults into the third row seats. It also can tow more than 9,000 pounds, the best in its class.
The Nissan Armada has been plagued with quality issues, including troubles with the brakes, tires, and interior finishes. Some have dubbed it the "Lemonada," but others praise the SUV and say its the best in its class.