Mercedes-Benz C-Class
Model Overview
About the Mercedes-Benz C-Class
Available Now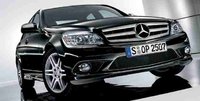 After a 10-year nap, Mercedes-Benz is back doing what it does best - although with a bit of a lingering fog. Next year promises a large coffee with a double shot of espresso, but the 2011 C-Class "Baby Benz" is left babbling in the dust of makers like Nissan - yes, that Nissan - with its similarly equipped, stunningly styled, more powerful and less pricey Maxima.
Apparently oblivious to the encroaching competition, very little has changed about the C-Class since last year. Most of the features are the same - they're just in different places - but the Dynamic Handling package is gone, and Mercedes-Benz now offers a 3-year, 30,000-mile prepaid maintenance package.
This year's lineup is very much abridged from previous years with just three flavors. At the bottom of the ladder you have the C300, available as either Luxury or Sport and powered by a 228-hp 3-liter V6 good for about 18 mpg city/26 highway.
Rear-wheel drive is standard, with 4Matic all-wheel drive available as an option for both, but the C300 Luxury is available only with a 7-speed automatic, while the C300 Sport can have either transmission with a 6-speed manual as its default.
You can expect all the modern amenities, like automatic headlights, sunroof, dual-zone automatic climate control, cruise control and Bluetooth connectivity, along with a few nice surprises like a pop-up 5-inch display, however the C300 is seriously outclassed by less-expensive competitors in performance, style and features. The only thing keeping it in demand is the three-pointed star on the hood.
The C350 Sport brings the Baby Benz a little closer to competing with the up-and-comers, but only marginally so if you don't consider the makers. Its 268-hp 3.5-liter V6 beats the Maxima to 60 mph by 0.2 seconds, but at 17/25 mpg it's less efficient with 22 fewer horses under the hood. The 7-speed automatic is the only transmission choice for this solely rear-wheel-drive machine.
Highlights in the C350 include auto-dimming mirrors, LED running lights, driver memory functions, a power-adjustable steering column, automatic wipers, heated front seats, power rear sunshade and split-folding rear seat. Sunshade and wipers aside, you could save a few grand and get the same equipment and then some in a prettier package, albeit with a Nissan wrapper.
The only Baby Benz to stand apart is the C63 AMG - and it stands very far apart with a massive 6.2-liter V6 pushing out 451 hp to the rear wheels, and as with the C350 Sport it's available only with the 7-speed automatic. The C63 AMG also borrows most of its features from the C350 Sport but adds the expected high-performance equipment and AMG finish including leather seats and aluminum shift paddles for use with the transmission's three shift modes.
While the C-Series used to be a sure-fire way to impress your colleagues on a budget, the only nods you will get for a current model - C63 AMG aside - would be from the uninitiated. The 2012 offering promises much more for your almighty buck, but the rumors have yet to be fully confirmed and even then it doesn't look like Mercedes-Benz improved on its prodigal compact very much.
Model History
The Mercedes-Benz C-Class was officially born in 1982 as a compact sedan aimed at the midrange auto market - and it was an innovator from the very beginning. Although the C-Class has fallen from grace since its ambitious beginnings, most notably due to electronics issues and fiercely able competition from less prestigious makers, it remains a serious contender for its name recognition, high safety standards, smooth ride and superb mechanical engineering.
The very first of its kind, the 201 series, is lovingly remembered for its fully encapsulated "whisper diesel" and 4-valve high-performance versions. The 202 became known for its passenger-car-first 4-valve diesel engine, supercharged technology and roomy comfort for a compact - and unlike the 201-Series 190, the 202 was the first to bear the C-Class name.
With either 4-cylinder or 6-cylinder power, these 1994 compacts didn't suffer from anemic power, half-hatched safety or cheap materials like other older cars. They came loaded with 148 to 194 hp at the outset with progressively more powerful engines as the generation came to a close in 2000, plus plenty of safety features like stability control, side airbags, and emergency brake assistance along with all the trimmings of a luxury car - but at an affordable price.
The city-streaking AMG debuted for 1995 with a C36 model good for 268 hp out of its V6. The '98 C43 could do much better with its 302-hp 4.3-liter V8. Although the AMG always has and likely always will come with an automatic transmission, it doesn't dilute the fun at all - your hands are probably best on the steering wheel anyway.
The second generation beginning in 2001 saw a massive expansion of options. Although at the outset there were just the 168-hp V6 C240 and 215-hp V6 C320 sedans, the next year brought the C320 wagon, supercharged C230 Kompressor hatchback coupe and 349-hp C32 AMG on board.
Mercedes added an all-wheel-drive 4Matic system in 2003 for its sedans and wagons. The lineup also grew to include a C320 hatchback coupe, C240 wagon, and supercharged C230 sedan. Certain models gained a Sport upgrade in 2004, and a facelift followed in 2005 along with a new 362-hp V8-powered C55 AMG.
The 2006 overhaul stuck around until the current generation's debut and included a complete trim reshuffling and the elimination of C-class wagons and hatchback coupes. This was the beginning of the Sport and Luxury naming that determined the wheel size, transmission, suspension, style and interior. The C350 Sport and Luxury received the same 268-hp V6, while the C230 Sport got a 201-hp V6 and the C280 Luxury used a 228-hp V6. 4Matic was available only on Luxury models.
The current generation debuted in 2008 with more length and just four models - the C300 Luxury and C300 Sport with a 228-hp 3-liter V6, a C350 Sport with a 268-hp 3.5-liter V6, and the high-performance C63 with a 451-hp 6.3-liter V8. The C300 could be had with 4Matic all-wheel drive, but all were available with rear-wheel drive (RWD). The RWD C300s with the optional 7-speed automatic could run on E85 fuel.
Changes since then include a new instrument cluster for the Sport in 2009 and a Dynamic Handling package for the RWD Sport that was dropped for 2011, and a back-up camera and keyless ignition and entry for 2010. Rumor has it there are more options on their way for 2012, with bigger engines and yet more innovation, but it is unlikely these changes will improve the C-Class's ability to compete with other up-and-coming midrange makers - something this nameplate has struggled with since its second generation.
Used Versions
In a first-generation C-Class, dating from 1994 to 2000, you will have to deal with some braking and clock glitches, along with the typical eventual sensor failure. The starter may corrode from washer fluid draining on it causing hard starts, but that's about the worst of it. For less than 6 grand, you can have yourself a safe, reliable purring little Mercedes-Benz.
As for the second generation, you might want to change Miss Joplin's prayer to something like, "Oh lord, won't you pay for, my Mercedes repairs?" The '06 is pretty good, but other than that you have very common issues with the mass airflow sensor, gaskets, suspension, camshafts, air conditioner, ball joints, fuel pump, radiator bolts and steering. There's more, but those are the ones that will run you a few hundred to fix.
Unfortunately, if you want a wagon or hatchback, you will have to dig into the least reliable years, as they were produced only from '02 to '05. If you do get one of these bargain Benzes for under 20k, do yourself a favor - while your Baby Benz sits in that repair shop, make sure they don't leave the keys in the ignition. When your key's battery power hits zero, say bye bye to programming and so long to starting. Hello big bills.
The most recent generation beginning in '08 does much better, but is still plagued by programming glitches, faulty suspension and bad waterproofing, causing the air conditioning to literally freeze. Some of the problems are not the easiest to figure out and can be exceptionally costly - upwards of $3,000 for some repairs, but a few are covered by Mercedes-Benz. The '09 and later model years are the most reliable, and the wide price gap between those and the '07 stands as testament to the improvements made in '08 and perfected in '09.
While most drivers applaud the C-Class's general reliability, maintenance is very costly, and the constant innovation fuels the chance for error. Avoid yearling models fresh off the drawing board and short-term one-owners - but expect to find a few diamonds in the rough years. The vast differences between each trim affords many opportunities to find a well-maintained thoroughbred with plenty of good years still ahead of it, so do your research to find the perfect one for you with a reliable track record.
New Mercedes-Benz C-Class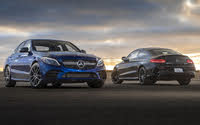 Used Mercedes-Benz C-Class
Mercedes-Benz C-Class Questions
Car Stopped Suddenly In The Way And Not Guetting Start
I was driving low speed and I push little break pedal and engine stopped and not able to start
Car Won't Start
my lights come on as well as my radio but car won't start
RADIO CODE
I BOUGHT MY MERCEDES CAR A FEW MONTHS AGO BUT THE RADIO WAS WORKING GOOD BUT THEN THE RADIO SHUTS OFF BECAUSE THE CAR BATTERY DIED, SO NOW IT DOESN'T TURN ON BECAUSE I NEED A CODE
The Car That I Ordered Never Got To Me And I Don't Know Where It Is At
That was the question and my company car that was towed in was never given back to me I don't know where it is now because on the information it said the car was released to a Robert Miller and I to...
2011 Mercedes C300
I have a 2011 Mercedes C300. It has check engine and the ESP light on and if I accelerate does not go over from 10 miles.
Older Mercedes-Benz C-Class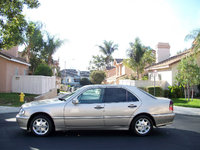 1997 Mercedes-Benz C-Class
1997 Mercedes-Benz C-Class reviews: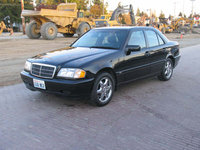 1996 Mercedes-Benz C-Class
1996 Mercedes-Benz C-Class reviews: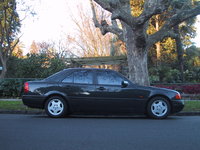 1995 Mercedes-Benz C-Class
1995 Mercedes-Benz C-Class reviews: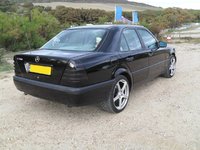 1994 Mercedes-Benz C-Class
1994 Mercedes-Benz C-Class reviews: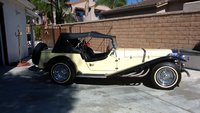 1993 Mercedes-Benz C-Class
1993 Mercedes-Benz C-Class reviews:
Find great deals from top-rated dealersTM
Search