Mercedes-Benz C-Class
Model Overview
New Mercedes-Benz C-Class


Used Mercedes-Benz C-Class
Mercedes-Benz C-Class Questions
Mercedes-Benz C-Class
Overview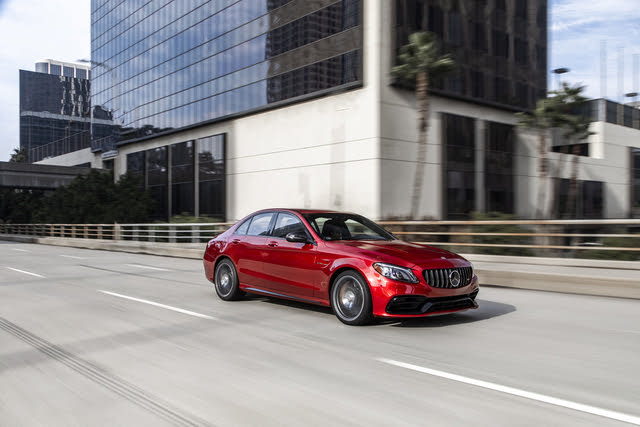 The Mercedes-Benz C-Class is made up of a lineup of small luxury cars targeted towards buyers who want a reasonably practical vehicle and are comfortable with paying a premium for German engineering and the coveted Mercedes-Benz name. The C-Class can seat four or five passengers, depending on body style. Performance is formidable and buyers have the choice of turbocharged 4-cylinder, V6, or V8 engines, with the V8s being the centerpiece of the top-end AMG trims. Rear-wheel drive (RWD) comes standard and all-wheel drive (AWD) is optional. The C-Class debuted in 1984 and was last redesigned in 2015. CarGurus recently scored the C-Class at 7.8 (2017).
Pros: Late-model C-Class cars include the choice of a sedan, coupe, or convertible body style. Recent C-Class model years also feature sophisticated and high-quality cabin designs, good crash-test ratings for models that have been tested, and cutting-edge infotainment and safety feature offerings.
Cons: The high starting price of the C-Class may be a deterrent to some potential buyers, especially since this segment offers a bunch of up-and-coming models with comparable levels of luxury at much lower prices. While Mercedes does an excellent job of keeping infotainment technology up to date with buyers' expectations in terms of features, the interface itself is often criticized for being confusing and cumbersome to learn. Apple CarPlay and Android Auto smartphone integration weren't made standard until 2019, so shop carefully if you're looking for a slightly older C-Class and these features are important to you.
Model Generations
2008-2014: 3rd Generation
Later in the C-Class' run, Mercedes came to depend heavily on 3.0- and 3.5-liter V6 engines, which powered most of this generation. A turbocharged 4-cylinder was added for 2012 and an AMG V8-powered variant was added in 2013. The 2011 model year marked the shift toward the dominance of automatic transmissions. In general, RWD was standard at the bottom end of the lineup, and AWD was included with higher-tier trims. As is common with Mercedes-Benz, trim level designations changed often to reflect updates to the powertrain lineup. Fuel-economy ratings fluctuated from as low as 15 mpg city to as high as 31 mpg highway but were generally on par with the current generation's ratings. The NHTSA database shows recalls pertaining to the widespread, ongoing airbag inflator problem affecting many manufacturers. Other recalls and problems include dim taillights, failing power steering components, and weak fuel filter housings.
2000-2007: 2nd Generation
Over these model years, the C-Class featured a series of V6 engines ranging from 2.5 to 3.5 liters as well as a handful of supercharged engine variants. A series of manual and automatic transmissions were available. RWD came standard and AWD was optional on most trims. Trim-level names changed frequently along with powertrain updates. In some of those years, hatchback and wagon versions were available. In 2007, the C-Class lineup's fuel-economy ratings ranged from 17 to 19 mpg city and 21 to 29 mpg highway, only slightly less efficient at the top end than the current lineup. According to the National Highway Traffic Safety Administration (NHTSA), this generation suffered recalls for various electrical and sensor problems, airbag modules, and seat belt buckles.
Shoppers Also Consider
In recent years, the Mercedes-Benz C-Class enjoys considerable popularity, both within the small luxury-car segment as well as within the Mercedes lineup. In fact, it's one of the best-selling Mercedes models currently available. That's despite its high entry price compared to most other vehicles in the class. Shoppers who are considering the C-Class may also take a look at small luxury cars such as the BMW 3 Series and Audi A4, which provide similar levels of prestige and practicality. Other potential alternatives for small luxury sedans may include the Genesis G70, Kia Stinger, Lexus IS, Volvo S60, Cadillac ATS, and Jaguar XE.