BMW 3 Series
Model Overview
New BMW 3 Series


Used BMW 3 Series
BMW 3 Series
Overview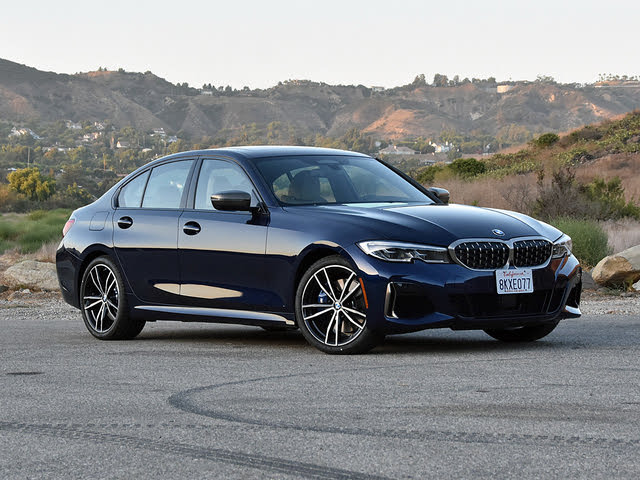 For as long as it has existed, the BMW 3 Series has been the very definition of a sport sedan, combining the driving dynamics of a sports car with the functionality of a five-passenger vehicle.
Of course, since it was first introduced to Americans for the 1977 model year, it has come in coupe, convertible, hatchback (GT), sedan, and station wagon body styles, but the car's guiding philosophy has always been clear: the BMW 3 Series is for those who love to drive.
Why? Credit BMW's expertise in building smooth and powerful engines, engineering communicative and precise steering systems, and tuning a suspension that bites into corners but doesn't punish you around town. Over the years, a dizzying array of 3 Series models were built, but they all rest on a stout, rear-wheel-drive platform, with all-wheel drive an option for most.
Some people might dismiss the BMW 3 Series as nothing more than a tired status symbol, but car enthusiasts know this car is more about driving pleasure than impressing onlookers.
Pros: It's great fun to drive and it features useful technology, available all-wheel drive, and top safety ratings.
Cons: It's expensive in its class and no longer offers a Sport Wagon. And my, what a big grille it has.
Model Generations:
2019 to Present: Current Generation
BMW introduced the seventh-generation 3 Series for 2019, and only in 330i sedan form equipped with a turbocharged 4-cylinder engine and an 8-speed sport automatic transmission. That's right; the manual gearbox was gone. For 2020, the more powerful M340i arrived with a turbocharged 6-cylinder and the 8-speed sport automatic. Both models can be equipped with BMW's xDrive AWD system.
CarGurus recommends the 330i xDrive, which provides all the power, performance, and luxury you could need in a thoroughly enjoyable package. Upcoming variants include the 330e iPerformance plug-in hybrid that will return during the 2020 model year, and a new high-performance M3 that we should see for 2020 or 2021.
According to BMW's oft-repeated 3 Series cycle, a refresh is due for 2022, with the next redesign projected around 2025.
Yes, the seventh-generation 3 Series is expensive even in its basic incarnation. Yes, adding options makes the price go sky high. But this BMW exudes refinement with quality interior materials and sophistication thanks to intuitive technology. Best of all, like every 3 Series before it, the car is fantastically fun to drive.
In 2019, CarGurus gave the 330i a score of 8.2. A review of the 2020 M340i produced the same rating.
2012 to 2018: 6th generation
The sixth-generation 3 Series arrived for the 2012 model year. Sedan, station wagon, and Gran Turismo (hatchback) body styles were available, while BMW prepared to move the coupe and convertible upscale to become the 4 Series.
Multiple powertrains were offered for the sixth-generation 3 Series. They included turbocharged 4- and 6-cylinder gas engines, a turbodiesel 4-cylinder, a hybrid, and a plug-in hybrid. Depending on the powertrain, the 3 Series had a manual or automatic transmission and rear-wheel or AWD.
Fuel economy improvements began in 2013 with the ActiveHybrid 3. Based on a turbocharged 6-cylinder, it averaged 28 mpg, the same as a much less powerful 320i. The 2014 328d diesel did even better, averaging as much as 36 mpg. The plug-in hybrid version, the 2016 330e, earned a 72 MPGe rating when using a fully charged battery and got 31 mpg in combined driving when driven as a hybrid.
Only a few recalls befouled the sixth-generation 3 Series, but one of them is serious and relates to the Takata airbag recall. These were installed in 2012 and 2013 coupes and convertibles, which were carried over fifth-generation cars. Otherwise, a cooling problem cropped up for the diesel, while the M3 required structural and driveshaft repair. Additional recalls related to the brakes and fuel pump.
As always, the best thing about the sixth-generation 3 Series is driving it, even though fans of the brand hated the car's electric steering. The unusual Gran Turismo solved for the car's cramped back seat and an iDrive update made the infotainment system easier to use.
CarGurus reviewed the 3 Series in 2016, giving it a score of 7.5.
2006 to 2011: 5th generation
For a period of time, 'flame surfacing' was a BMW design aesthetic. Though toned down for use on the fifth-generation 3 Series, it remained evident and the styling didn't strike as harmonic a chord with the public as the revered fourth-generation 3.
This was also the first version of the 3 Series to get BMW's iDrive infotainment system, which irritated purists and anyone who found the technology confusing.
Nevertheless, this 3 Series offered thrilling driving dynamics and a plethora of choices including a coupe, convertible, sedan, and wagon. Most had an inline 6-cylinder engine, and this generation was the first 3 Series to get a turbodiesel 6-cylinder in the U.S. market. It arrived in 2009 and averaged 27 mpg in combined driving. Notably, the performance-tuned M3 had a V8 engine for the first and, so far, only time. Depending on the vehicle, you could get a manual or automatic transmission, and rear-wheel or AWD.
The fifth-generation 3 Series used airbags from a Japanese supplier named Takata, and all of them were recalled. Electrical issues also required recalls, along with a suspension issue for 2006 models, a clutch issue for the 2008-09 M3, and drivetrain and cooling issues for the 2011 335i and 335d.
1999 to 2005: 4th generation
With the fourth-generation 3 Series, BMW undertook a drastic and well-received redesign for the 1999 model year. The result is the beloved E46.
Available in coupe, convertible, sedan, and station wagon form, all were powered by an inline 6-cylinder engine of various sizes, and all could be equipped with a manual or automatic transmission. Depending on the trim level, the car averaged between 18 mpg and 22 mpg in combined driving.
In 2001, BMW's xDrive all-wheel-drive (AWD) system made its debut in some versions of the 3 Series. At the time, few other luxury sport sedans offered the feature. The vaunted M3 had a twin-turbocharged 6-cylinder with a manual or an automated manual transmission BMW called a Sequential Manual Gearbox (SMG). The SMG become an option for some non-M3 versions of the car starting in 2004.
The fourth-generation 3 Series proved quite reliable in general, with few notable recalls. We still see tons of them on the road, and hopefully, their owners have taken them back to the dealership to have the original Takata airbags replaced.
Shoppers Also Consider:
Almost every luxury automaker offers a compact sedan, but the BMW 3 Series is the car that sets the bar in the segment. If you just don't want to drive a BMW, the Audi A4, Cadillac ATS, Infiniti G35 / Q50, Lexus IS, and Mercedes-Benz C-Class could make a good alternative.