New Audi A4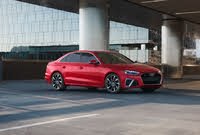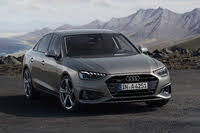 Used Audi A4
Audi A4 Questions
Audi A4 Quattro 2005 Acceleration Problem
Just bought an Audi from a private owner recently, has about 190,000 miles on it. When i drove it back home it was just driving just fine but now when i try to drive it around it has issues with the...
Audi No Power When Acceleration, Now Will Not Start
My Audi for the pass week has been running like crap. I changed coils spark plugs camshaft sensor crankshaft sensor, cleaned maf sensor, new air filter. And when I start the car I have to hold the...
Engine Swap And After Market Parts
My dad has a 2005 Audi A4 with a turbo charged 1.8t 4 cylinder. Is there any engines that would fit and are reliable with good gas millage and decent horsepower? And are there any good after market ...
Car Starts Funny Then Seems To Be Sputtering At Idle But Drives Fine
Just took my car to Audi because my car was starting funny, sometimes normal, sometimes would take longer to start. And when it is at idle it sputters a bit and acts like it's going to shut off in...
2001 Audi Quattro Won't Start PLEASE HELP
Ok so I bought a 2001 Audi Quattro a4 and it was having problems with the alternator so I replaced it. Well now it won't start at all. Even put a new battery in. I did the security code and all tha...
Audi A4
Overview
When the Audi 80 and 90, the "entry-level" Audi models in the U.S., were discontinued in 1995, they were restyled, retooled, and reborn as the Audi A4. Originally just a four-door family sedan with lots of creature comforts added on for free, this baby A6 was a bit shorter and wider than its predecessor 90, but still a great first car for budget-conscious Audi buyers (perhaps an oxymoron?) wanting to save a little money. In Europe the Audi A4 was voted the safest car and the best value-for-money vehicle ever.
The Audi A4 became very popular in the U.S., though not nearly as popular as its European counterpart, and Audi sought ways to reinvent it over the ensuing years by introducing the Avant wagon and later the sporty TT-inspired two-door Cabriolet convertible. Quattro AWD technology was available in all A4s and much loved by drivers, who said it turned the dreaded chore of driving in snow and ice into something pleasurable that some said they actually looked forward to. Coupled with Audi's always impeccably tuned suspension, shocks, and responsive steering, the A4 added a smooth, comfortable ride to its already elegant interior.
Some interesting firsts for the Audi A4 include the first pairing of a turbo engine with FSI direct fuel injection (which spit gas directly into the combustion chambers to improve fuel economy). A new CVT, or continuously variable transmission, was also introduced for the first time in a luxury sedan. Using an electric clutch, this automatic transmission was intended to deliver optimal RPM performance by anticipating gears. Owners seem to love it or hate it.
Although marketed as Audi's "budget" car, the A4 is not exactly cheap, and options such as a power sunroof and heated seats will cost you plenty. But for a lot less than the A6, you'll get comparable luxury, room for a family of four (kids rather than adults fit best in the cramped backseat), and lots of cargo space in the Avant wagon. With recent engine upgrades, the A4 now delivers enough power to make this sports sedan/wagon not only practical and utilitarian for everyday use, but a kick to take out for the occasional romp on back roads.
Find great deals from top-rated dealersTM
Search