INFINITI G35
Model Overview
Used INFINITI G35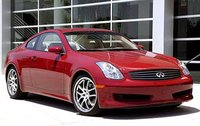 Used 2008 INFINITI G35 For Sale
| | |
| --- | --- |
| | 6 GREAT Deals |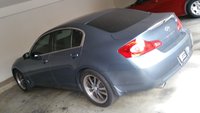 Used 2007 INFINITI G35 For Sale
| | |
| --- | --- |
| | 10 GOOD Deals |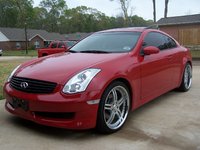 Used 2006 INFINITI G35 For Sale
| | |
| --- | --- |
| | 21 GOOD Deals |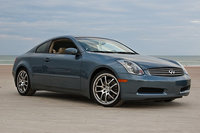 Used 2005 INFINITI G35 For Sale
| | |
| --- | --- |
| | 8 GOOD Deals |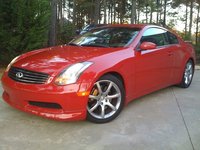 Used 2004 INFINITI G35 For Sale
| | |
| --- | --- |
| | 6 GREAT Deals |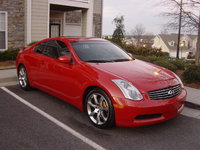 Used 2003 INFINITI G35 For Sale
| | |
| --- | --- |
| | 4 GOOD Deals |
INFINITI G35 Questions
2005 Infiniti G35 Motor Swap
Will a 2008 infiniti g35s motor bolt up without having to change anything into my 2005 infiniti g35 or what years motor can I put into my 05 without having to change anything
Why Won't My Car Won't Stay On?
Car will start but not stay on. I have replace the cams and crank sensors and also the fuel pump and module and idea on why it won't stay ideling
Should I Buy This G35 With 177k?
I have been looking for my first car for a while and I found a G35 with 177k miles on it for $2200 firm. It has some issues like a broken rear shock and part of the rear is beginning to rust, but I ...
2004 Infinit G35x C1104 Code
I just brought this 2004 infinti g35x three months ago. Previous owner said it was barely driven, with it having 65,800 miles on it. The C1106 code for wheel speed sensor keeps appearing with the ...
Car Over Heating
I have a 06 Infiniti g35x , I just replaced the thermostat last month, but now the temp gauge goes up to H and then back to mid level. What can be causing this?
INFINITI G35
Overview
Introduced in 2003, the Infiniti G35 replaced the G20 while adding more interior room and power. The sedan trims started out with a 3.5 L, 260 hp V6 that grew to 280 hp in 2005 and finally broke 300 hp after its 2007 re-design. The coupe trims had about 15-20 hp on the sedans until 2007, when the sedans caught up to and surpassed the coupe's powertrain.
As for the 2007 re-design, Infiniti re-did pretty much everything on the G35. You'll find a new interior, exterior, and a more powerful engine. Bluetooth technology helps keep the G35 up-to-date.
Early reviews indicate that this sleek sedan has made progress and that the 2007 changes indicate another step in the right direction. The G35 still has some room for improvement in terms of interior room, trunk space, and handling.
Find great deals from top-rated dealersTM
Search