INFINITI G35
Model Overview
Used INFINITI G35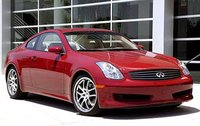 Used 2008 INFINITI G35 For Sale
| | |
| --- | --- |
| | 16 GREAT Deals |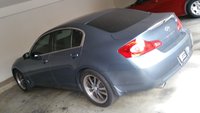 Used 2007 INFINITI G35 For Sale
| | |
| --- | --- |
| | 18 GREAT Deals |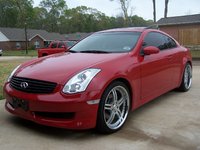 Used 2006 INFINITI G35 For Sale
| | |
| --- | --- |
| | 12 GREAT Deals |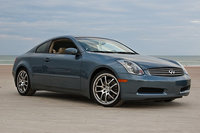 Used 2005 INFINITI G35 For Sale
| | |
| --- | --- |
| | 6 GREAT Deals |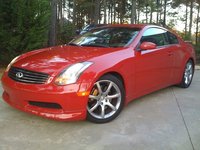 Used 2004 INFINITI G35 For Sale
| | |
| --- | --- |
| | 7 GREAT Deals |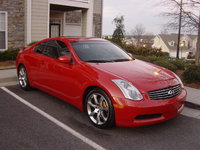 Used 2003 INFINITI G35 For Sale
| | |
| --- | --- |
| | 13 GOOD Deals |
INFINITI G35 Questions
2006 G35 My Car Started Yesterday But The Lights Didn't Come On Inside The ...
My car been acking up it ack like it don't wanna start and when I get a jump it don't wanna stay on and when I went to the store yesterday it didn't wanna start and then it stated after I set for a...
2006 Infiniti G35 Coupe Won't Start, Does Not Respond To A Jump
Hi, I'm having random circumstances where I'm stuck in a parking lot because my Infiniti G35 will not start. 80% of the time it fires right up as soon as the jumper cables are attached. But the las...
My 2003 Infinity G35 Engine Shuts Off
I have a 2003 Infinity G35 sedan the engine will die at a stop, the check engine light, slip light and VDO light will come on . I took it to a repair shop they told me it had bank 2 camshaft position...
Can A New Chip Key (no Remote Fob, The Actual Key Which Starts The Engine) ...
Aside from going to the dealership, can a new key (no remote fob, the actual key with the chip inside which starts the engine) be programmed for my 2003 Infiniti G35? If so, how?
Infiniti 03-04 G35 Can It Be A Highmileage Car?
im looking into a used 03-04 g35 but my dad is worried if I buy one with over 80k miles by the time it hits 120,000 its apparently going to give me tons of issues because hes heard they are unreliable...
INFINITI G35
Overview
Introduced in 2003, the Infiniti G35 replaced the G20 while adding more interior room and power. The sedan trims started out with a 3.5 L, 260 hp V6 that grew to 280 hp in 2005 and finally broke 300 hp after its 2007 re-design. The coupe trims had about 15-20 hp on the sedans until 2007, when the sedans caught up to and surpassed the coupe's powertrain.
As for the 2007 re-design, Infiniti re-did pretty much everything on the G35. You'll find a new interior, exterior, and a more powerful engine. Bluetooth technology helps keep the G35 up-to-date.
Early reviews indicate that this sleek sedan has made progress and that the 2007 changes indicate another step in the right direction. The G35 still has some room for improvement in terms of interior room, trunk space, and handling.