INFINITI G35
Model Overview
Used INFINITI G35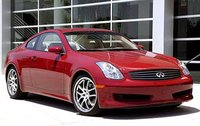 Used 2008 INFINITI G35 For Sale
| | |
| --- | --- |
| | 13 GREAT Deals |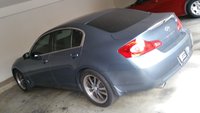 Used 2007 INFINITI G35 For Sale
| | |
| --- | --- |
| | 19 GREAT Deals |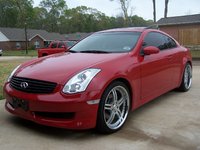 Used 2006 INFINITI G35 For Sale
| | |
| --- | --- |
| | 8 GREAT Deals |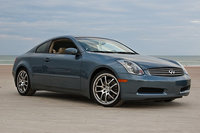 Used 2005 INFINITI G35 For Sale
| | |
| --- | --- |
| | 6 GREAT Deals |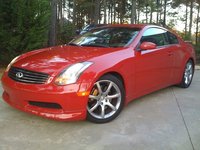 Used 2004 INFINITI G35 For Sale
| | |
| --- | --- |
| | 25 GOOD Deals |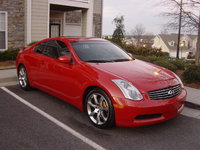 Used 2003 INFINITI G35 For Sale
| | |
| --- | --- |
| | 7 GOOD Deals |
INFINITI G35 Questions
Over Geating
I got infinity g35x AWD 2006. It is getting over heated when i drive slow. When i start my ride from my home and get on to highway it works perfectly fine, the temperature needle is in the middle....
How Can I Protect My Tires And Rims From Being Stolen?? 2008 INFINITI G 37 ...
I just purchase a 2008 infiniti g37 sport version how can i prevent it from being stolen spexially the tores and rims since where i live is not a teally nice area
High Rpm And Loud Engine
Hi, Quick q about my Infiniti g35. Rpm are not coming down when I decelerate. Its staying pretty high and become quite noisy. My engine just seems so loud all the time now. No other noises or probl...
2007 G35 Sedan Transmission Fit. 2004 G35 Coupe???
Can I Use A 2004 G35 Transmission On A 2005 G35 ?
Both transmissions are for a coupe, RWD, automatic. Not sure if there are any differences in the 2004 vs the 2005. Please help ! I'm trying to avoid a rebuild, therefore, am turning to buying a used...
INFINITI G35
Overview
Introduced in 2003, the Infiniti G35 replaced the G20 while adding more interior room and power. The sedan trims started out with a 3.5 L, 260 hp V6 that grew to 280 hp in 2005 and finally broke 300 hp after its 2007 re-design. The coupe trims had about 15-20 hp on the sedans until 2007, when the sedans caught up to and surpassed the coupe's powertrain.
As for the 2007 re-design, Infiniti re-did pretty much everything on the G35. You'll find a new interior, exterior, and a more powerful engine. Bluetooth technology helps keep the G35 up-to-date.
Early reviews indicate that this sleek sedan has made progress and that the 2007 changes indicate another step in the right direction. The G35 still has some room for improvement in terms of interior room, trunk space, and handling.