INFINITI G35
Model Overview
Used INFINITI G35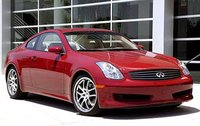 Used 2008 INFINITI G35 For Sale
| | |
| --- | --- |
| | 8 GREAT Deals |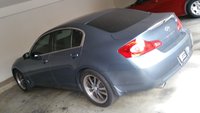 Used 2007 INFINITI G35 For Sale
| | |
| --- | --- |
| | 11 GREAT Deals |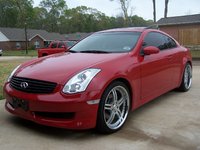 Used 2006 INFINITI G35 For Sale
| | |
| --- | --- |
| | 12 GREAT Deals |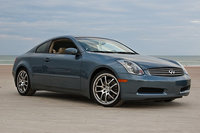 Used 2005 INFINITI G35 For Sale
| | |
| --- | --- |
| | 9 GREAT Deals |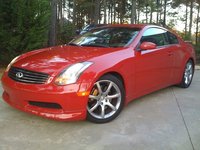 Used 2004 INFINITI G35 For Sale
| | |
| --- | --- |
| | 9 GREAT Deals |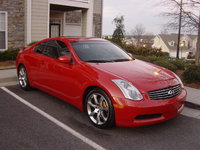 Used 2003 INFINITI G35 For Sale
| | |
| --- | --- |
| | 7 GREAT Deals |
INFINITI G35 Questions
Why Would The Transmission In A 2005 Infinity G35 Right After An Oil Change...
i CHANGED THE OIL IN MY G35, WHICH IS GREAT FUN. I CHANGED THE FILTER PUT IT ALL BACK TOGETHER.I DROVE IT THE NEXT DAY AND NOTICED THE TRANS MISSION WAS SLIPPING BAD. IT WAS FINE THE DAY BEFORE
2003 Infiniti G35 Fine Vibration Starting At 40 Mph
We had to have the seals replaced in between the engine and the transmission. They had to drop the transmission and ever since we have had a very fine vibration that starts at 40 mph. We had a bent...
Engine Shut Off
my engine shut off while i was at the stop light. it almost did the same while i was on the freeway and then the power kicked back in. what could be the issue......now the service engine soon light is...
At What Milage Should You Consider Changing Timing Chain, Belt ?
My 2005 G35 Doesn't Crank Makes Ring
My g35 gas been battery tested and is fkne as well as terminals. My car Still won't crank. I checked my engine and had my friend try and crank it. It made I little ring noise on the driver side of ...
INFINITI G35
Overview
Introduced in 2003, the Infiniti G35 replaced the G20 while adding more interior room and power. The sedan trims started out with a 3.5 L, 260 hp V6 that grew to 280 hp in 2005 and finally broke 300 hp after its 2007 re-design. The coupe trims had about 15-20 hp on the sedans until 2007, when the sedans caught up to and surpassed the coupe's powertrain.
As for the 2007 re-design, Infiniti re-did pretty much everything on the G35. You'll find a new interior, exterior, and a more powerful engine. Bluetooth technology helps keep the G35 up-to-date.
Early reviews indicate that this sleek sedan has made progress and that the 2007 changes indicate another step in the right direction. The G35 still has some room for improvement in terms of interior room, trunk space, and handling.