INFINITI G35
Model Overview
Used INFINITI G35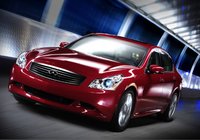 Used 2008 INFINITI G35 For Sale
| | |
| --- | --- |
| | 19 GREAT Deals |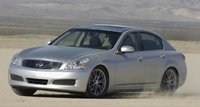 Used 2007 INFINITI G35 For Sale
| | |
| --- | --- |
| | 16 GREAT Deals |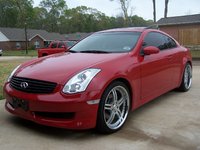 Used 2006 INFINITI G35 For Sale
| | |
| --- | --- |
| | 22 GREAT Deals |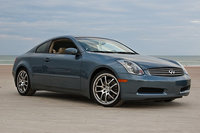 Used 2005 INFINITI G35 For Sale
| | |
| --- | --- |
| | 13 GREAT Deals |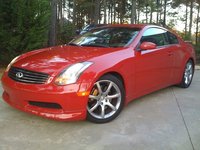 Used 2004 INFINITI G35 For Sale
| | |
| --- | --- |
| | 22 GREAT Deals |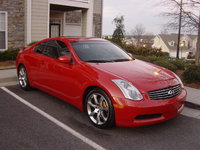 Used 2003 INFINITI G35 For Sale
| | |
| --- | --- |
| | 7 GREAT Deals |
INFINITI G35 Questions
Regarding Ownership, I'm Confused.
So I bought an Infiniti g35 a few months ago and 'owe' $500 on it. However, the place I bought it from, located in Austin, Texas, gave me the title to the car a few months back without me paying of...
My 2003 Infiniti G35 Sedan Center Climate Control Display
So my climate control display went completely out randomly and now my ac does not turn on at all, my radio and everything else functions properly besides the center dash display that tells you the ...
Center Console, Climate Control And Radio Problem
I was not aware this many people are having the same problem I am now experiencing with my center console. I have G35 Sedan Manufactured in July 2002 and apparently my car is one of the 23998 cars tha...
Any Bumper Covers That R Cheap For A Infiniti 2007 G35x Color Platinum Tita...
Electrical Problems
I'm experiencing problems in my center console. My stereo gradually stopped working. One day I was driving then the lights on the stereo went out. It still worked. Then another day the stereo cut o...
INFINITI G35
Overview
Introduced in 2003, the Infiniti G35 replaced the G20 while adding more interior room and power. The sedan trims started out with a 3.5 L, 260 hp V6 that grew to 280 hp in 2005 and finally broke 300 hp after its 2007 re-design. The coupe trims had about 15-20 hp on the sedans until 2007, when the sedans caught up to and surpassed the coupe's powertrain.
As for the 2007 re-design, Infiniti re-did pretty much everything on the G35. You'll find a new interior, exterior, and a more powerful engine. Bluetooth technology helps keep the G35 up-to-date.
Early reviews indicate that this sleek sedan has made progress and that the 2007 changes indicate another step in the right direction. The G35 still has some room for improvement in terms of interior room, trunk space, and handling.