New Volvo S60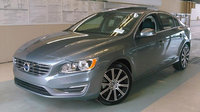 Used Volvo S60
Volvo S60 Questions
Matt 02 Volvo Skips Album Then Clears Up
My 02 volvo skips at idel then clears up
What Else Could Be Causing A Misfire??
I've been getting a misfire so i changed the plugs with autolite platinum and plugs set to .028" gap. i still got a misfire in cylinder 2 and 3. I've tried to swapping coil packs to see if the mis...
Head Lights
I have a 2001 volvo s60 the high beams work only when holding the switch on but when I let it go I have no lowbeams
Does The 2012 S60 T Volvo Comes With A Turbo?
02 Volvo S60 Vehicle Speed Sensor
Does anyone know where the vehicle speed sensor is on the 02 Volvo S60 2.4L AWD?
Volvo S60
Overview
What's in a name? A lot, according to the Swedes. The Volvo S60 started out as the 850, but not before a three-year interim as the S70.
No matter what you call it, it's the Mama Bear of Volvo sedans: right in the middle, and just the right size for many a commuter. There has been a complaint lodged by the growing Baby Bear, however, that the backseat is skimpy on legroom. But for the time being Baby Bear is as safe as can be in his child seat, with a protective side-beam on either side of him.
Yes, safety is definitely something you can count on with any Volvo product, as is comfort. The well-designed seats make long drives a pleasure, unless you're a tall person stuck in the backseat.