New Volvo S60

The 2019 Volvo S60 has been announced, but it is not yet available for purchase.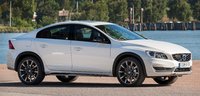 Used Volvo S60
Volvo S60 Questions
Several Issues
Ambient air temp won't show on dash. Hissing noise from under dash when a/c is on. A/c Clutch engages And proper psi in system.
Air Conditioning
Where is the air conditioning low pressure charging port for a 2016 Volvo S-60?
Gear Shifting Issue In 2008 Volvo S60
My husbands 2008 Volvo S60 (200K) will sometimes get stuck in 2nd gear. On the gear shift itself, it is easy to slide it out of drive and into D2. I am wondering if we will have to replace the tra...
Volvo S60
The engine just began shutting off at stop lights. When I accelerate it turns back on. Is this normal?
Used Auto Purchase From CarGurus Listing
Is it possible to retrieve an earlier listing. I purchased a used car and I am having all kinds of problems. I'd like to see the original listing.
Volvo S60
Overview
What's in a name? A lot, according to the Swedes. The Volvo S60 started out as the 850, but not before a three-year interim as the S70.
No matter what you call it, it's the Mama Bear of Volvo sedans: right in the middle, and just the right size for many a commuter. There has been a complaint lodged by the growing Baby Bear, however, that the backseat is skimpy on legroom. But for the time being Baby Bear is as safe as can be in his child seat, with a protective side-beam on either side of him.
Yes, safety is definitely something you can count on with any Volvo product, as is comfort. The well-designed seats make long drives a pleasure, unless you're a tall person stuck in the backseat.