New Volvo S60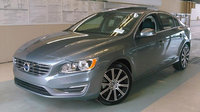 Used Volvo S60
Volvo S60 Questions
Coil Ripped, Could It Cause Problems With Idle?
I have a 2002 Volvo S60 2.4 5 cylinder I was changing out my spark plugs and my coils and one of my coils the rubber part to the coil ripped off completely the coil itself works fine but there's b...
Volvo Oil And Coolant Leak
My car is leaking oil and coolant from two separate parts. When I look at the oil it doesn't look like it's being mixed with the coolant. It's leaking pretty bad in those two different areas
Please Correct My Email Address To: Peterv2233@gmail.com
I made a mistake entering my email address tried to correct would not take new address: peterv2233@gmail.com
After Replacing The Radiator In My Volvo 2001 S60 It Keeps Shutting Off Aft...
After replacing the radiator in my volvo 2001 s60 it keeps shutting off after about a minute or two
How I Can Make Aktiv My Add....please...
How I can make Aktiv my add....Please..
Volvo S60
Overview
What's in a name? A lot, according to the Swedes. The Volvo S60 started out as the 850, but not before a three-year interim as the S70.
No matter what you call it, it's the Mama Bear of Volvo sedans: right in the middle, and just the right size for many a commuter. There has been a complaint lodged by the growing Baby Bear, however, that the backseat is skimpy on legroom. But for the time being Baby Bear is as safe as can be in his child seat, with a protective side-beam on either side of him.
Yes, safety is definitely something you can count on with any Volvo product, as is comfort. The well-designed seats make long drives a pleasure, unless you're a tall person stuck in the backseat.