New Volvo S60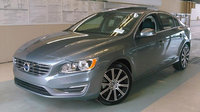 Used Volvo S60
Volvo S60 Questions
Accelerator Problem
When I start my car or try to start my car it sound like it is trying to start but won't turn on over and start and when I press to give it gas it does nothing when you press peddle
Volvo S60 2006 Check Engine Light
Can a bulb failure position light cause the check engine light to go on?
Volvo S60 2001, Interior Lights Door Locks
Door locks activate but will not lock on the driver side and interior lights coming on during the night running down the battery. The interior lights also come on when driving and hitting bumps in t...
04 Volvo S60 2.4 Non Turbo
I have a 2004 Volvo S60 2.4 engine non turbo. Once I turn my car on it shakes a little and has like a sputter sound. Once I take off it accelerates fine until I reach around 60 mph. Once I reach t...
2004 Volvo S60 2.5t
Does anyone know what this is? And what it is used for?
Volvo S60
Overview
What's in a name? A lot, according to the Swedes. The Volvo S60 started out as the 850, but not before a three-year interim as the S70.
No matter what you call it, it's the Mama Bear of Volvo sedans: right in the middle, and just the right size for many a commuter. There has been a complaint lodged by the growing Baby Bear, however, that the backseat is skimpy on legroom. But for the time being Baby Bear is as safe as can be in his child seat, with a protective side-beam on either side of him.
Yes, safety is definitely something you can count on with any Volvo product, as is comfort. The well-designed seats make long drives a pleasure, unless you're a tall person stuck in the backseat.