Dodge Charger
Model Overview
New Dodge Charger

Used Dodge Charger
Dodge Charger
Overview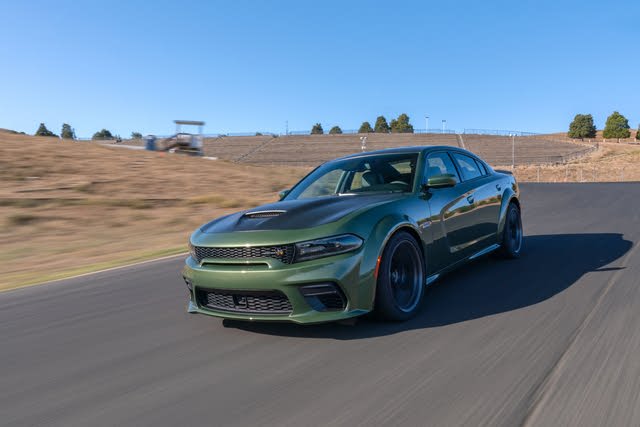 Originally introduced in 1966 as one of Chrysler's (Dodge's parent company) alternatives to the Ford Mustang and Chevrolet Camaro, the Dodge Charger may have never gained the name recognition it enjoys today if not for a hit television show. The Dukes of Hazzard's lead character, a bright orange 1969 Charger known as The General Lee, hooked millions of viewers and future car nuts with wild jumps, the thrill of speed, and the intoxicating sound of a Mopar V8 engine.
Like its competitors from Ford, Chevy, Pontiac and others, the Charger ushered in the muscle-car era with a 2-door coupe, and subsequently lived on through several iterations, including a rather forgettable front-wheel-drive (FWD), 4-cylinder model in the 1980s (the turbocharged Shelby variant being a notable exception). After about 20 years, the Charger name had run its course and was dropped by Dodge.
Fast forward to 1998. A struggling Chrysler merged with Daimler-Benz, resulting in the DaimlerChrysler company. That partnership would prove to be short-lived, but among the byproducts was an all-new Dodge Charger based in part on the Mercedes-Benz E-Class. Offered as a 5-passenger, 4-door sedan with coupe-like styling meant to pay homage to earlier examples, the 2006 Charger placed Dodge once again in the full-size, rear-wheel-drive (RWD) car segment. And, in what has come to be Charger tradition, that 2006 model was available with a potent V8 under the hood. In the years since, the Charger lineup has added several high-performance versions, available all-wheel drive (AWD), and a variety of engines.
CarGurus has tested various versions of Charger in recent years and recognized them with these commendable overall scores: 7.7 (2013); 8.3 (2014); 7.8 (2015); 8.2 (2016); 7.3 (2017); 7.3 (2018).
Pros: Powerful engines, available AWD, generous interior and trunk space, comfort
Cons: Dated platform, poor city fuel economy for even base V6 models, lacks many leading technology features
Model Generations
2011-Present Dodge Charger: 7th Generation
A redesign of the Dodge Charger is expected for 2021, which will mark 10 years since the debut of the seventh-generation model. For 2011, the Charger received what the casual observer likely perceived to be a mild refresh but was, in fact, a thorough redesign. Behind the scenes was an all-new chassis with revised suspension tuning and more responsive steering, while the exterior was made even more aggressive thanks to scowled headlights and an LED taillight panel that spanned the width of the car. Interior materials were upgraded and, for the base engine, engineers opted for a 292-horsepower 3.6-liter V6 mated to a 5-speed automatic transmission. That powertrain, found in the Charger SE, earned an EPA highway rating of 27 mpg. Less efficient was the 370-horsepower 5.7-liter Hemi V8 that powered the 2011 Dodge Charger R/T, offered in RWD and AWD configurations. Other enhancements included safety features such as a blind-spot monitoring and forward-collision warning, an 8.4-inch touch-screen UConnect infotainment system standard on the R/T, and a variety of option packages with names like Rallye and R/T Max.
For 2012, the Dodge Charger was updated with a new SXT trim level slotted in between the SE and R/T, and an available 8-speed automatic transmission that bumped highway fuel economy to 30 mpg. Also notable was the return of the Charger SRT8 model, now sporting a 470-horsepower 6.4-liter Hemi V8, throaty active exhaust system, adaptive damping suspension, and a 900-watt sound system. A wallflower, the SRT8 was not.
Dodge added a few performance-oriented option packages in 2013 and 2014 that increased the V6's output from 292 to 300, and then treated the 2015 Dodge Charger to a comprehensive restyling including some all-new body panels. Once again, the chassis was retuned and fitted with more lightweight components, and the efficient 8-speed automatic transmission became standard across the board. The AWD option was limited to SE and SXT models. Engines were carried over for the Charger SE, SXT, and R/T variants, but new R/T Scat Pack and SRT 392 versions of the Charger featured the 6.4-liter Hemi that was now good for 485 horsepower. At the top of the lineup was the 2015 Charger SRT Hellcat, noteworthy for its supercharged 6.2-liter Hemi V8 and whopping 707 horsepower.
Given all of 2015's changes, the 2016 Charger was largely unchanged except for added standard features for the SRT and a Super Track Pack option for V6 models. In 2017, Apple CarPlay and Android Auto were integrated with the UConnect infotainment system and a pair of Daytona trim levels joined the lineup. The Charger SE was discontinued for 2018, leaving the SXT as the entry-level model. Positioned above the SXT was a new AWD Charger GT powered by the 3.6-liter V6. More revisions were made to the Charger trim levels in 2019.
Entering its ninth year, the latest generation of the Dodge Charger arrived with new SRT Hellcat Wide Body and Scat Pack Wide Body models. These 2020 Chargers featured fender flares and wide tires that increased overall width by 3.5 inches.
2006-2010 Dodge Charger: 6th Generation
After a long absence, the Charger rejoined the Dodge family in 2006 as a 4-door, 5-passenger, RWD sedan available in SE, SXT, R/T, or SRT8 guise. Charger SE and SXT models featured a 250-horsepower 3.5-liter V6, whereas the R/T was equipped with a 340-horsepower 5.7-liter Hemi V8 and the Charger SRT8 used a 425-horsepower 6.1-liter Hemi V8. All engines were paired with a 5-speed automatic transmission. Based on EPA estimates, drivers of the SE or SXT could expect up to 24 mpg on the highway. All 2006 Dodge Chargers performed well in government crash tests and were well equipped, though buyers could opt for desirable options such as a rear DVD entertainment system or UConnect touch-screen infotainment system.
Just 1 year after its introduction, the Dodge Charger lineup was expanded with the addition of AWD SXT and R/T variants, as well as a new 190-horsepower 2.7-liter V6 engine optional on the base SE. The 2008 Charger followed with only minor changes, but more noteworthy updates were in store. For 2009, Dodge's large sedan received restyled taillights and interior trim, standard aluminum wheels on all models, efficient cylinder deactivation technology and more power for the 5.7-liter V8, and several extra features for the Charger SRT8. Standard side-curtain airbags were added for the 2010 model year.
Shoppers Also Consider
Dodge typically sells fewer than 100,000 Chargers each year, which reflects buyers' shifting preference for crossovers and SUVs of all shapes and sizes. Be that as it may, for shoppers who want space and comfort in sedan form, the dated Charger sedan remains a solid choice, especially given the departure of competitors such as the Chevrolet Impala, Buick LaCrosse, and Ford Taurus. The Charger's corporate twin, the Chrysler 300, is still sold in relatively small numbers, as is Toyota's flagship Avalon model. Though not direct alternatives, the Honda Accord, Nissan Maxima, and Toyota Camry are also cross-shopped by those considering the purchase of a Charger.