Toyota Avalon
Model Overview
New Toyota Avalon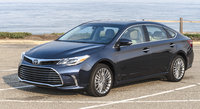 Used Toyota Avalon
Toyota Avalon Questions
2008 Avalon Transmission
I have a 2008 Toyota Avalon. When I start my car in put it into drive the car will not go into drive right away. When the rpm gauge drops In between the 1 in the 0 it goes into gear.
I Have A 2005 Toyota Avalon With 130,000 Miles, How Often Should I Change T...
I
2006 Avalon With 200,000 + Miles, Should I Change Shocks Or Any Other Parts...
I have a 2006 Toyota Avalon and am planning to keep if for another 100 to 200,000 miles. Great car! So here is my question... what should I do to make the ride feel better? Shocks, Struts???
2000 Avalon Timing Belt - Miles Or Years?
My 2000 Avalon has only 44,000 original miles. The schedule says to change the timing belt at 90,000 mi. My mechanic is saying 90,000 miles or 8 years. Since it's 14 years old should I replace the tim...
Does The 2006 Avalon Have A Recommended Mileage For Changing The Timing Bel...
Older Toyota Avalon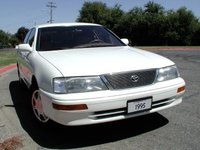 1995 Toyota Avalon reviews:





Toyota Avalon
Overview
Toyota built its first full-sized sedan, the Avalon, to fill the gap left by the cancellation of the upper mid-sized Cressida. First released in 1994, the Avalon is based on the Camry platform but is much roomier and more luxurious. The Toyota Avalon is Toyota's answer to big American cars.
The Avalon, and the Cressida before it, brought a few automotive innovations to the market. For instance, it was the first car to have a built-in 115V AC power inverter.
The Avalon sells well in the U.S., but attempts to market it overseas have failed, and it has been discontinued in places like Japan and Australia.
The Avalon has been criticized throughout its life for having boring, conservative styling, and is seen as an example of Toyota's uncreative design department. However, the latest version of the Avalon is much more stylish and contemporary.