Buick LaCrosse
Model Overview
New Buick LaCrosse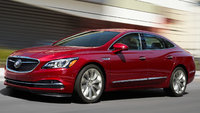 Used Buick LaCrosse
Buick LaCrosse Questions
How Do I Turn On The Interior Lights Of A 2017 Buick Lacrosse
dark in the interior. no lights come on when I open car with remote or open door.
My Stabitrak And Abs Warning Light Came On
This is the 2nd time. The first time I did what the manual said and turned the engine off and back on . The lights did not come back on. This morning 3 weeks later the warning lights came on. I di...
Engine Light On And Making A Grinding Sound
Engine Swap
I have a 06 Buick lacrosse and its a 3.6l v6 I was wondering if a 3800 motor from a 06-08 Buick Lucerne would fit and work for my lacrosse.
How Can I Pull Up An Old Sales Listing That Is No Longer Available Online?
I bought a car that was advertised here and would like to see the ad again. Is this possible?
Buick LaCrosse
Overview
With the departure of the Regal and Century mid-size sedans, Buick introduced the LaCrosse in 2005 to fill their shoes and hopefully attract a younger audience to its lineup. Though it uses the same platform and engine choices (a 3.6 and 3.8 V6) as the older models, the exterior and interior have been redesigned, with a focus on comfort and quality.
Three trim offerings vary from base to sporty to luxury and carry a good deal of standard features, such as ABS brakes, OnStar, remote keyless entry and start, and power driver's seat. The LaCrosse is trying to compete with more luxurious, but also more expensive sedans by loading up on features. Buick has reinforced the steel body paneling and added sound insulation for more safety and less road noise.
A retuned and stronger suspension improves handling and turning ratios, and traction control is standard across the line. Long saddled with the stigma of being an old person's car, Buick is hoping its updates and active nameplate will entice a new generation of drivers. But despite the reported styling changes, the LaCrosse looks very similar to older style Buicks and though its improved handling does help add to its sportier aspirations, an outdated 4-speed automatic is not likely to be a big selling point. Inside, the backseat can get cramped, with limited headroom due to a sloping roofline.

It still may be too early to tell how the new Buick LaCrosse will fair in the mid-size sedan market. It certainly has a cheaper price tag than other well-appointed competitors and is generally believed to be one of the best U.S.-produced cars on the market, but it still lags behind in style, performance, and upscale features.