Honda Accord
Model Overview
About the Honda Accord
Available Now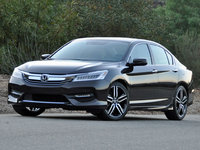 The Honda Accord claims a number of "firsts" in its storied history. In 1982, it became the first Japanese-owned passenger car manufactured in the U.S. In 1986, it was the first front-wheel-drive car with a racing-inspired four-wheel double-wishbone suspension, which gave it a sporty feel. In 2000, it became the first mass-produced Super Ultra Low Emissions Vehicle. And in 2005, it was among the first vehicles in its segment to offer side-curtain airbags as standard equipment. No wonder the Accord has sold nearly 10 million units since its introduction in 1976 and remains one of the bestselling vehicles in the U.S.
The Honda Accord can best be described as well-rounded, since it excels in a number of areas, including reliability, comfort, performance, safety, and affordability. For 2011, the Accord comes in a number of variations, including sedan and coupe trims, as well as the new Accord-based Crosstour crossover utility vehicle, or CUV. The Crosstour comes equipped with a rear tailgate, providing access to its versatile cargo area. Sedan offerings include the LX, SE, and EX trim levels. Owners can add optional packages for the LX and EX, upgrading them to LX-P and EX-L, respectively, while the new SE is a standalone trim.
Standard power for the Accord comes in the form of a 177-hp, 2.4-liter four-cylinder engine with variable valve timing. It posts fuel economy numbers of 23/33 mpg. Accord EX and EX-L trims also come equipped with a four-cylinder engine, though it generates 190 hp. Owners can add an optional 271-hp, 3.5-liter V6 to EX and EX-L trims, which manages still-respectable fuel economy numbers of 20/30.
The Accord consistently ranks high in the opinions of reviewers and owners, and has been named one of Car and Driver's 10 Best an impressive 21 times. Reviewers like its well-rounded nature, and the Accord meets owners' expectations in just about every category. It performs and handles well, looks contemporary and stylish, and offers a roomy, well-equipped, and well-thought-out interior. In addition, the Accord consistently achieves high safety ratings and excels in reliability and affordability.
The Accord currently faces stiff competition in its category, and some reviewers feel it may be losing ground to better designed and more aggressive competitors. But Honda continues to hold on to its reputation for quality when other automakers (such as Toyota) haven't fared so well. Competitive sedans built by Ford and Hyundai, to name just two automakers, will continue to put pressure on the Accord, but its longevity and well-regarded brand name will continue to make it a viable choice for prospective buyers seeking a practical, reliable, well-designed daily commuter.
With the introduction of the Accord's eighth generation in 2008 and the debut of the Accord Crosstour in 2010, a ninth-generation Accord remains several years in the future. However, some reviewers consider the Accord slightly dated, and Honda has responded by regularly updating the Accord's interior and exterior. The automaker made minor updates to the interior in 2010, and for 2011 revised the Accord's grille, front bumper, trunk, and wheels. More extensive revisions, however, will more than likely have to wait for a generation change around 2012 or 2013.
Model History
Building on the legacy of the popular, fuel-efficient Honda Civic, the Accord debuted in 1976 and proved popular with buyers right out of the gate, in part because it entered a global economy in the midst of an energy crisis. Facing long lines at the pumps, many buyers were ready for more fuel-efficient transportation that didn't compromise on performance, comfort, style, reliability, or practicality. The Accord fit the bill perfectly.
As the Civic's larger, better-equipped older brother, the Accord arrived in a single two-door hatchback trim sitting on a 93.7-inch wheelbase (the Civic's wheelbase, by comparison, was 86.6 inches). Its 68-hp, 1.6-liter four-cylinder engine featured an all-aluminum cylinder head, innovative at the time, and powered the Accord through the front axle. The generous standard equipment list included an AM/FM stereo radio, remote hatch release, and rear-window defroster with a wiper and washer. An upscale Accord LX debuted in 1978, and a four-door sedan with a 72-hp, 1.8-liter engine hit the streets in 1979. In 1981, an SE (Special Edition) trim with leather upholstery, power windows, audio system with cassette player, and alloy wheels helped build the Accord's reputation for quality and comfort. The first-generation Accord proved so popular that demand overshot supply, and dealer markups were not uncommon.
In late 1981, Honda introduced the second-generation Accord, slated for the 1982 model year. Featuring sedans built in the U.S. at a plant in Marysville, Ohio, the second-generation Accord was longer than its predecessor. Honda stretched the wheelbase by about 3 inches and overall length by a little less than 2 inches. The automaker also restyled the Accord's body to give it a more upscale look. Trims included the base two-door hatchback, the LX two-door hatchback, and a four-door sedan. In 1984, Honda introduced an optional four-speed automatic transmission, replacing the previous three-speed, and in 1985 the automaker introduced a new trim, the SE-i, powered by a fuel-injected 1.8-liter engine, which added 24 hp.
The Accord got bigger in just about every way for its third generation. The wheelbase grew again, by 5.9 inches to 102.4 inches, and the Accord rode on a redesigned suspension with double wishbones at all four corners. The powerplant grew as well, to 2.0 liters, and produced 98 hp in the base carbureted version (for DX hatchback/sedan and LX sedan trims) and 110 hp in the fuel-injected version, which powered the new upper-level LXi hatchback and sedan. Also part of this generation, a new Accord Coupe, in DX and LXi trim levels, debuted in 1988, while fuel-injected SEi versions of the sedan and coupe, featuring a Honda/Bose music system as part of the standard equipment list, came along a year later.
The fourth-generation Accord debuted in the fall of 1989 for the 1990 model year. Again, Honda stretched the wheelbase, to 107.1 inches, which moved the Accord from he compact to the midsize automotive segment. Perhaps as a result of the Accord's lengthening wheelbase, the hatchback disappeared from the lineup, which now included sedans and coupes at DX and LX trim levels, as well as at a new high-end EX level. In addition, in 1991, Honda introduced a new Accord wagon trim, available at the LX and EX trim levels. A new 2.2-liter, 130-hp four-cylinder engine powered the fourth-generation Accord. It produced 125 hp for DX and LX trims, and 130 hp for the top-of-the-line EX trims. In 1992, all Accords received a driver's-side airbag as standard equipment.
Highlights of the fifth generation, which incorporated the 1994 to 1997 model years, included the introduction of the Accord's first V6 engine in 1995. This 2.7-liter powerplant, which Honda borrowed from the Acura Legend, generated 170 hp and reduced 0-60 times for V6-equipped trims to about 8.5 seconds. The automaker offered the V6 in LX and EX trims, which featured a slightly longer nose and a unique chrome grille. Some reviewers considered the exterior design of the fifth-generation Accord somewhat clunky, especially when compared to the more refined design of the previous generation. Once again, the Accord's wheelbase grew in length, to 106.9 inches, which resulted in more interior space.
In 1998, the sixth-generation Accord arrived in showrooms, with distinctive styling for sedan and coupe trims. Honda also smoothed out the clunkier lines of the previous generation. In addition, the coupe rode on a slightly shorter 105.1 wheelbase, while the sedan retained the previous generation's 106.9-inch wheelbase. For the sixth generation, Honda dropped the wagon from the lineup. Dual front airbags became standard, while side airbags were standard in EX trims and available for the DX and LX trim levels. In 2000, the Accord became the first internal combustion, gas-powered vehicle to achieve Super Ultra Low Emissions Vehicle (SULEV) standard. SULEV Accord EX sedans were offered in California to comply with that state's stringent emissions standards.
The seventh generation bowed in 2003 with extensive retooling inside and out. Once again, Honda abandoned the Accord's sleek exterior lines in favor of a solid yet less fluid look. The Accord rode on a more tightly tuned double-wishbone suspension, which provided more precise handling, while the interior excelled in form and function. Still front-wheel driven, the Accord offered a choice of a 160-hp four-cylinder or a 240-hp V6 engine and three transmissions, including a new five-speed automatic, which came standard in V6 trims, and a new six-speed manual, which was available only in the V6 coupe. With the seventh generation, Honda introduced an optional navigation system for the Accord and made dual front and side-curtain airbags standard on every Accord trim in 2005. In addition, the Accord Hybrid, with a unique powerplant generating 253 hp, debuted in 2005.
By the time the current eighth generation arrived in 2008, the Accord's wheelbase had stretched 16.5 inches longer than the original Accord's in 1976, and was 8.9 inches wider, according to the automaker. Accord highlights for the eighth generation include the incorporation of Honda's Advanced Compatibility Engineering body structure, which further improves ride and handling, and the inclusion of the automaker's Vehicle Stability Assist as standard equipment in every trim.
Throughout its history, the Accord has consistently won numerous awards. In 2008 alone, with the introduction of the eighth generation, the Accord was named the International Car of the Year by Road & Travel magazine and was designated a Consumer Guide Best Buy. It also was a finalist for Motor Trend's Car of the Year.
Used Versions
Consumer Reports tapped V6-powered Accords built in 2005-07, including the Accord Hybrid, as particularly good used-car buys. However, some feel the Hybrid's slightly better fuel economy numbers (when compared to a four-cylinder-powered Accord) do not justify its higher price tag.
Prospective buyers with an eye toward safety may want to consider used Accords built after 2005, when front and side-curtain airbags became standard equipment in every trim. A year later, Honda offered optional stability control, so buyers should keep an eye out for Accord trims equipped with that system. The tightly tuned suspension of the seventh-generation Accord (2003-2007) provided a comfortable ride, but some reviewers report less-than-stellar brakes and handling for cars manufactured during this period.
Reviewers had similar comments about the sixth-generation Accord (1998-2002), which offered a roomy cabin and good reliability, but delivered a rather dull drive. However, in head-to-head driving comparisons with competitive vehicles, the Accord performed very well and remains a good used-car option.
The more-affordable fifth-generation Accords (1994-97) also make good used-car options for buyers. Again, buyers may want to keep an eye out for V6-powered trims, and even the top-of-the-line EX trims from this generation will be affordable to budget-minded buyers.
New Honda Accord

The 2023 Honda Accord has been announced, but it is not yet available for purchase.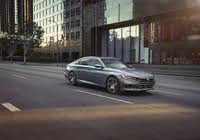 Used Honda Accord