Toyota Highlander Hybrid
Model Overview
New Toyota Highlander Hybrid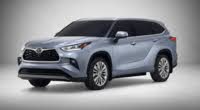 The 2020 Toyota Highlander Hybrid has been announced, but it is not yet available for purchase.
CarGuru's preview of the 2020 Toyota Highlander Hybrid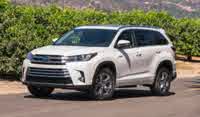 Used Toyota Highlander Hybrid
Toyota Highlander Hybrid Questions
3008 Highlander Hybrid Won't Start
My HH wouldn't start. When depressing the brake and pressing the ignition button (which did turn green) some of the dash lights flickered on. Thought it was the battery so I got a jump. With the c...
VSC L
Toyota Highlander 2007. Battery is good, but car doesn't start. Light to check VSC. What could be the problem
When Purchasing A Vechile Through You Guys And Using The Monthly Payment Me...
Toyota Highlander 2011 Hybrid, 170k Miles
I am looking to buy Toyota Highlander 170k miles hybrid for $8500. I want to know if it is a good deal or not and will it last me about three years or more. I will drive it to work and stuff only f...
06 Highlander Hybrid Heat Doesn't Come On Until I Get On The Highway. Do An...
Toyota Highlander Hybrid
Overview
When the Highlander Hybrid was introduced for the 2006 model year, Toyota was the only car manufacturer to offer both a sedan and an SUV as a hybrid. The Highlander was also the first seven-passenger hybrid SUV on the market. The Highlander is a car-based SUV, making for easier handling and a smoother ride than a truck-based SUV. The Highlander uses the same platform as the Lexus RX330 but is much more affordable.
The Toyota Highlander looks much the same as the regular Highlander, with the exception of a chrome grille, LED headlights, and badging. The Hybrid gets slightly better gas mileage than the Highlander, but where it really shines is in emissions output.
The Highlander Hybrid is not meant to be taken off-road, unlike other Toyota offerings like the RAV4 and the Land Cruiser. Instead, the Highlander is geared towards buyers who use SUVs to cart around their family, sport gear, groceries, and pets.
The Highlander Hybrid is popular for the "cool-factor," but it is significantly more expensive than the conventional Highlander.
Toyota Highlander Hybrid Experts
View All