Toyota Highlander Hybrid
Model Overview
New Toyota Highlander Hybrid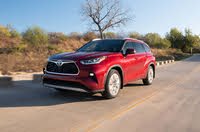 Used Toyota Highlander Hybrid
Toyota Highlander Hybrid Questions
Toyota Highlander Hybrid
Overview
When the Highlander Hybrid was introduced for the 2006 model year, Toyota was the only car manufacturer to offer both a sedan and an SUV as a hybrid. The Highlander was also the first seven-passenger hybrid SUV on the market. The Highlander is a car-based SUV, making for easier handling and a smoother ride than a truck-based SUV. The Highlander uses the same platform as the Lexus RX330 but is much more affordable.
The Toyota Highlander looks much the same as the regular Highlander, with the exception of a chrome grille, LED headlights, and badging. The Hybrid gets slightly better gas mileage than the Highlander, but where it really shines is in emissions output.
The Highlander Hybrid is not meant to be taken off-road, unlike other Toyota offerings like the RAV4 and the Land Cruiser. Instead, the Highlander is geared towards buyers who use SUVs to cart around their family, sport gear, groceries, and pets.
The Highlander Hybrid is popular for the "cool-factor," but it is significantly more expensive than the conventional Highlander.
Toyota Highlander Hybrid Experts
View All