Mazda MX-5 Miata
Model Overview
New Mazda MX-5 Miata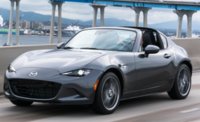 Used Mazda MX-5 Miata
Mazda MX-5 Miata Questions
Bought A New 2016 MX-5 Club And It Had No Jack, Lug Wrench, Tie Down/tow Ho...
Roughly Ow Many Exterior Decibels Full Throttle Does A 2018 2l MX5 Reach?
1991 Mazda Miata
I have a 1996 Mazda mx5 Miata , with the special Corona engine in it . The body is rotted out and I'm looking at buying a 1991 Mazda Miata that is in mint condition except needing a new engine. I...
The Tns Module On A 1990 Miata
where is the tns relay on a 1990 mists if it is not on the rail in the motor compartment on the drivers side by the clutch resevoir
Fuel Pump And Injectors Not Engaging/ Electrical?
I have a 1991 Mazda Miata and I can't get her to start. She'll crank but wont catch (she sounds like she right there but just wont turn over). At first the electric drivin fuel pump wouldn't go so I r...
Mazda MX-5 Miata
Overview
If the RX-7, introduced in 1979, was the car that put Mazda on the map (as far as U.S. buyers were concerned), the MX-5 Miata was the car that solidified the automaker's Zoom Zoom appeal. Introduced in the summer of 1989 as a 1990 model, the MX-5 Miata was designed to continue the tradition of the classic British roadsters of the 1950s and '60s, such as the MG, Triumph, and Austin-Healey roadsters.
From its inception, the MX-5 Miata was a front-engined, rear-wheel-drive convertible two-seater. Initially it was available with a manually operated soft top, although a removable hardtop was an option from the beginning. In 2007, Mazda improved its drop-top by introducing a power retractable hardtop, which raises and lowers at the push of a button. The lightweight, three-section hardtop folds and stows itself into the Miata's truck in just 12 seconds. A new Z-fold soft convertible top is also available on current MX-5 Miatas.
The original engine in the MX-5 Miata was a 116-horsepower, 1.6-liter, double-overhead-cam four-cylinder engine with multi-port electronic fuel injection. Power was increased through the years and through two redesigns (in 1999 and 2006). Currently, the MX-5 Miata is powered by a 166-horsepower 2.0-liter four-cylinder with variable valve timing.
In its first year, the MX-5 was available only in a Base model. In later years, higher-end LS and SE versions were added. Currently, the MX-5 Miata is available in SV, Sport, Touring, and Grand Touring trim packages, with a wide range of standard and optional features available, including power windows, dual front and side airbags, power exterior mirrors, a glass rear window, anti-lock brakes, a CD player, air conditioning, power door locks, and leather seats.